Andrew H. Walker/Getty Images
Michael Beasley to the Knicks?
Editor's note: The following is the second in a two-part wrap-up from the Tribeca ESPN Sports Film Festival. For part one, click here.
NEW YORK CITY -- They're laughing at Michael Beasley. It seemed like a good idea. The Kansas state frosh, the mile-a-minute talker expected to be the No. 1 pick in the NBA draft next month, would ditch his suit for a sweatshirt to play a little game before a bunch of Hollywood hipsters. But now these glittery girls and Johnny Square Pockets who know the name and saw his game simply can't believe their eyes as Beasley, wide-eyed and sweaty, flaps his arms like a rat on Red Bull, misfires on moon balls, commits other mind-boggling errors and -- perhaps for the first time in his life -- gets whupped. One girl, who I'm told is a former Vogue cover model, even boos. And that's that. Beasley's had enough. He's got to explain himself. "I can't play to save my life. I suck at pingpong." No kidding. If Beasley declared for the USA Table Tennis League draft, he'd be selected somewhere between, oh, never and forget about it. And that was clear before he was officially eliminated by Texas A&M frosh DeAndre Jordan -- who plays a bit less poorly -- at a pingpong tourney on the top floor of a Tribeca penthouse at the exclusive after-party for the premiere of "Gunnin' for that #1 Spot." The documentary from Beastie Boys founding member Adam Yauch (aka MCA) chronicles the first annual Elite 24 prep all-star game held in 2006 at Harlem's legendary Rucker Park. Included are profiles on then-preps/now-studs like Beasley, Kevin Love (UCLA), Jerryd Bayless (Arizona), Kyle Singler (Duke) and others in the face of street-court heat. As Beasley can now testify, however, pingpong -- and this strange new Hollywood thing -- are different games altogether.
Joining Beasley and Jordan at the gnarly red-carpet scene outside the Borough of Manhattan Community College screening a few hours earlier were prep stars Tyreke Evans (a senior at American Christian High School in Aston, Pa.) and Lance Stephenson (a junior at Lincoln High in Brooklyn), two of the eight players profiled in the movie, both dressed like, you know, kids. "I got out of school early and came straight here, so I wasn't prepared for this at all," said Evans, the Memphis Tigers' future 6-6 guard. "I wish Mike would've tipped me off." Right, but Mike, who wisely wore a suit at the suggestion of his agent, wasn't any more prepared. "I mean, Rucker Park is the Mecca of basketball, it's historic, but I didn't feel the pressure," he explained. "But this? This is crazy. I'm kind of nervous." You would be, too, if celeb-rag parasites shrilly shouted your name (and, on a few occasions, the wrong name) so they can spear you with their mic to get your thoughts on Nick Cannon and Mariah Carey. And, of course, there was that question:
Do you even know who the Beastie Boys are?
"Sort of. I've seen them on MTV and VH1," Beasley would tell me. "They're a pretty successful group." Offered Stephenson, who's led his Lincoln team to two straight state championships: "Yeah, I heard their stuff. My father used to play them sometimes." Ouch. Can't blame these kids, though. Most young ballers would be hard-pressed to pick the all-grown-up, all-white, all-short Beastie Boys out of a lineup. Yauch, now 43 and all silver hair, looks like your favorite math teacher. Adam Horovitz (Ad-Rock) was wearing your grandpa's newsboy cap. Michael Diamond (Mike D) was holding an umbrella and wearing what looked like an Old Navy zip-up. And one of these dudes directed a doc about a Rucker game? Judging by the reaction of the audience, though, Yauch did something right. The flick's high-flying, elbow-flinging streetball action set against a rim-ratting hip-hop soundtrack had the hoops heads roaring their approval. And though it took nearly 10 minutes to pry the players out of their seats and on stage for an impromptu Q&A session after the screening, the gun-shy ballers warmed up to the adoring crowd. Beasley, in particular, was a big hit, partly because he's the clown of the movie -- we're told he cut off a classmate's ponytail in kindergarten and mooned his teacher in the first grade ("My pants were loose," he argued) -- and partly because fans of the local sad-sap pro squad had seen the future. When one lout lobbied for his verbal commitment, Beasley didn't miss a beat. "I'd love to play for the Knicks," he told me outside the screening. "I'm from D.C., so I'm a huge city dude anyway. That'd be real fun." Fun?
The Knicks?
"All their drama could be turned around real quick," he said, clearly drunk with power, before taking note of the hullabaloo around him. "And all this? I could get used to this." Of course, that was before the massacre on Greenwich Street, a pingpong match that Jordan spent keeled over in laughter. Sure, the projected lottery pick wasn't even profiled in the movie. ("I may have my lawyer stop this whole thing and have them do it over," he'd joke.) But, as he put it, "At least I don't suck at pingpong." Then, after the sorry pongers had retired, a funny thing happened. Yauch, the math teacher, motioned for a paddle, peeled off his Old Navy windbreaker and, with a scowl that'd fry any man's nerves, proceeded to whup on his pals, his producers, and even his poor young daughter. Then he points the paddle in my direction: "Let's go."
In the next 10 minutes, I learn that Yauch, unlike a certain Page 2 reporter, does not play pong with a drink in his free hand; that diving to your knees to return Yauch's missiles is, in fact, not cool; that he doesn't care if you aren't ready -- Mr. Yauch is serving anyway; that it seems he feels smiling is for the weak; and that the math teacher was, indeed, the right might to direct a Rucker movie. After a very awkward midmatch disagreement about the score -- the math teacher is also a dirty rotten cheater! -- the verdict was in: Beastie Boy 11, Page 2 6. Humiliated, I'm ready to scram, but first, I muster the strength to thank Yauch like, you know, a gentleman. Here, he teaches me this final lesson: Any man holding a drink should stay far away from the backswing of any no-nonsense pingpong-playing Beastie Boy. Surveying my now soaked, burnt orange-stained jacket, Yauch shrugs, then: "Shouldn't have got in my backswing," he offers. With that, Yauch slings his backpack over his shoulder and heads for the stairs. He walks home, alone, disappearing into the dark rainy night like a samurai, his mission complete: Dude brought uptown streetball to the downtown bourgeoisie, and I couldn't hang. But at least I'm better than Michael Beasley.
---
Where's the Beef?
I hit up a stuffy party held in honor of "The Chicken, The Fish, and The King Crab" -- a doc that follows famed Spanish chef Jesus Almagro through the Bocuse d'Or cooking competition in France -- because I'm a top-level representative of the World Wide Leader, a professional of the highest order here to do a job … and not at all because it was held at Mario Batali's Del Pesto where I could rub shoulders with Marisa Tomei (three times … I counted) while waiting for fine foods to be served. "It's like futbol," said Almagro, when asked what a cooking film is doing at a sports flick festival. "I spend five hours on one plate. Repeat it, like a training, like a futbol." Sweet. With that out of the way, let's eat. I waited 25 minutes as Almagro settled into his cooking station to prepare a dish that centered on an egg "from a little, little bird," he explained, "cooked at 64 degrees only!" Also included in the martini-glass-sized dish: crispy chorizo, a foamy substance, reddish oil and some green stuff. Then, when it was done, I sat through the whole process a second time because a bunch of noisy suits and their wives cut in line. And, by the way, it tasted like warm liquid egg. So, yeah, it's a lot like futbol.
---
Kicking It: An Interview With …
Ted Leonsis, producer of "Kicking It," owner of the Washington Capitals and Washington Wizards
Ted Leonsis owns two pro franchises that recently were eliminated from their league's respective playoffs. So, naturally, the gentleman is … um, smiling like a bouncing baby boy? This, it turns out, is not so mind-boggling because Leonsis is also the proud producer of the doc "Kicking It." Narrated by Colin Farrell and directed by Susan Koch ("Mario's Story"), the flick profiles seven homeless men from six different countries who are inspired to overcome their circumstances at the fourth annual Homeless World Cup, held in 2006 in Cape Town, South Africa. Those attending the premiere at the AMC 7 last week (the day of Wizards-Cavs Game 4) included Russian coach Arkady Tyurin, U.S. player Craig Holley and the man whose soul they've stirred.
What was it about this film that got your attention?
We've been pursuing a concept called filmanthropy, using film and other media platforms to catalyze social change and actively give back to society. This film can make a difference. The players, the people involved in the Homeless World Cup, they're beautiful people. I know they've affected me, personally.
How has this changed your view of the homeless?
I'm ashamed to admit there were times in my life when I'd see a homeless person and cross the street. They were invisible. I didn't really think about them. But they're people with dignity. They deserve our respect. They've overcome great odds. It's amazing that a $1.99 ball can be so transforming.
What's the plan for the future?
We're going to do what's called a day-and-date release. With the Homeless World Cup in August -- it'll be in Australia this year -- we'll have the movie on ESPN, in theaters and on Netflix all on the same day in September during the MLS season. Before that, we're actually bringing the Homeless World Cup U.S. trials to D.C. That'll be held the same weekend when the L.A. Galaxy and the DC United play on ESPN in D.C. Just working that synergy angle (laughs).
Your Wizards played Game 4 just a few hours ago. You missed it. Where are your priorities, man?
(laughs) Well, I couldn't do them both. The Wizards played at 1 p.m., and the screening is at 5 p.m. in New York. So I decided to fly into New York, check right into my hotel and watch the game on TV. And then, of course, we lose at the buzzer on a 3 from Delonte West. But I had to be here. The movie is very, very important to me. And we brought here heroes from the movie: Craig from the U.S. team and the Russian coach, who was homeless for a number of years, sleeping in streets and in tents. And look at him now! See, you become friends with them. That's what the lesson was here. They have dignity and hope, and teamwork has transformed their lives. You want to support them.
Your Caps are out of the playoffs. The Wizards are down. It's a good test for your movie: Can it lift your spirits? Or will you lock yourself into your hotel room tonight and raid the wet bar?
(laughs) Well, the Caps were eliminated after losing Game 7 in overtime. And both teams are playoff perennials now. Hey, there's always next year. And if anything can help me get over it, it's this wonderful film.
MORE FROM THE FESTIVAL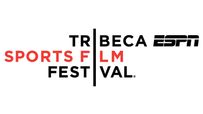 PODCAST: 'BALL DON'T LIE'
Based on a book by ex-University of the Pacific point guard Matt de la Pena, directed by former Div. III baller (Vassar) Brin Hill and starring And 1's Grayson "The Professor" Boucher, the hoops scenes in "Ball Don't Lie" pop. The real drama, though, is off the court in this surprisingly affecting coming-of-age tale about a go-it-alone L.A. streetballer (Boucher) who rises through the foster care system lifted by the love of a girl, his love for the game and some unlikely mentors (including Chris "Ludacris" Bridges). Also dramatic: The flick's after-party, where a disturbingly large number of goofy middle-aged white men, perhaps emboldened by Boucher's performance (think: the Rocky effect), took to the dance floor to hilarious results. (You rocked, Steve Guttenberg!) The next morning, I met up with Boucher and co-star Nick Cannon -- who plays an abusive father figure -- to talk about the flick, their game and making sweet, fictional love.
• PODCAST

GIRL POWER: 'FOOTBALL UNDER COVER'
I was in Iran reporting a story for ESPN The Magazine about a local female who'd just won an auto racing championship -- and against men, no less -- when I first heard the rumblings: The Iranian women's national soccer team, long starving for international competition, would be hosting a German club in a friendly in Tehran. "No way! … We have a women's national soccer team?" was the typical reaction on the streets that winter of 2005. The match would take place at Tehran's Ararat Stadium before a jubilant all-female crowd, but not until many months and several cancellations and restarts later. The struggle to stage (and, in a case of filmmakers-as-subjects, shoot) that friendly is documented in "Football Under Cover." Despite frustratingly arbitrary bureaucratic barriers, filmmakers Ayat Najafi, 31, and David Assman, 29, say they never lost hope, inspired in part by the persistence of the Iranian players who must battle systematic oppression -- and restrictive fire-suit-like uniforms -- to pursue their passion. "It is now clear to me that the future of Iran will be led by women," explained Iranian born Najafi, a resident of Berlin, at the AMC 7 premiere. "The future of change is their future. They are living in a country that does not want them to be presented to society because that is problematic for fundamentalism. They are to be hidden from everything. But when you have to fight for your representation, it makes you strong. When you are ignored, the result goes the other way: Women are now stronger than men." Of course, the struggle continues for Iran's lady footballers. The match in Tehran was to be the first in a home-and-home, but the follow-up in Berlin was cancelled. The message from the Iranian authorities: "technical difficulties." Iran's sports-flick fans, too, must deal with disappointment. "If they could see this movie in Iran, it would be very nice," said Najafi, "but unfortunately, with this type of film, we knew that cannot be the case. "Who knows, maybe one day."
NOT TOO OLD TO DANCE
Yesterday, I called up my grandma just to tell her I love her -- and, also, that she's a lazy bum. I felt compelled to do this after hanging with the 12 geezers who shook their lively rumps in the lobby outside Pace University's theater in a musicless hip-hop dance number, heralding the premiere of their film
"Gotta Dance."
Dori Bernstein's doc chronicles the adventures these NETSationals, the New Jersey Nets' senior hip-hop dance team, from auditions to back-tweaking numbers through game-day stardom. "I've witnessed a lot of age discrimination in business, in Hollywood, and it bothered me tremendously," Bernstein explained. "I wanted to make a film that wasn't in your face about that subject, but something that celebrated aging, that celebrated 80-year-olds who can shake up an arena with 20,000 fans." "Oh dear, I just love hip-hop," said spunky senior Betty Walkup, 61, a schoolteacher who loves to "let loose," but on the down low. "I didn't want anyone to know, so I changed my name," she explained. "Betsy is a very calm and mannerly local school teacher. But, Betty, oh dear, she's the hip-hop dancer. And perhaps not as mannerly." Joe B., 62, the only male dancer who "didn't know hip-hop from a hole in the wall," said he joined the team to win a $300 bet with his three sons. "I did swing dancing in the '60s because it was the only way to meet girls back then. And nothing's changed, except now I meet older girls," he explained. "They're my harem." All the seniors cited bossman Jay-Z as their favorite artist, but they weren't afraid to dish some advice. "Like us, maybe the Nets need to dedicate themselves to a team effort," Joe offered. "And hopefully soon. I'd love to be dancing in the playoffs."
WHAT PAGE 2 LEARNED AT TRIBECA …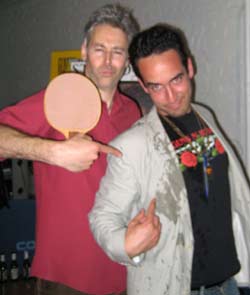 Never take your glass of [lemonade] near the backswing of a ping-pong playing Beastie Boy. "Gunnin'" director Adam Yauch (left) is the perp -- and the dude picking up Media Blitz's laundry bill.
MOVIE MAYHEM: AMERICA, YOU'RE STUPID
The
best football flick of all time
as voted by fans in the Tribeca Film Festival's "Movie Mayhem" bracket-style online tournament is … "We Are Marshall"? Really? It's a good flick and all, but … fools! You're all fools! Anyhoo, it's too late for a recount -- the winning flick screened at the Tribeca Drive-In, a makeshift outdoor theater at World Financial Center -- so we asked some festivalgoers to chime in. DeAndre Jordan, Texas A&M: "'Remember the Titans.' History, adversity, and Denzel. A classic."
Jeremy Sisto, actor ("Law & Order"): "'Rudy.' Little Sean Astin got me. I remember my ex-wife and I thought we were so cool at the time. Then we came out of the theater bawling."
Zach Gilford, actor ("Friday Night Lights"): "'Friday Night Lights.' Duh."
Sam Alipour, writer: "Point Break." And yes, that totally counts. (Sports fans, feel free to discuss your pick for the best football flick of all time in the comments section below. And don't blow it this time.)
KEY PLAYERS
Lance Stephenson, 6-6 guard, Lincoln High School (Brooklyn): In Rucker's Elite 24 game captured in "Gunnin'," Stephenson drilled a half-court shot at the buzzer (and then danced his butt off) and busted Kevin Love in the mouth with his elbow. "It was a mistake, though!" he said after the screening. "I swear I didn't do it on purpose." And then potential future lottery pick had to go. "My dad's waiting with the car." Tyreke Evans, 6-6 guard, American Christian High School (Aston, Pa.): The "Gunnin'" star on his father, John Holmes, who passed away during last year's Elite 24 game: "It's great knowing that I can remember my dad through this movie. I wish I could talk to him one more time, but I know he's looking down at me right now and smiling."
ESPN Top Headlines