LOS ANGELES -- One of the greatest rivalries in all of sports doesn't taste so sweet when you can taste your sweat while fighting off fans of both the Lakers and Celtics to barter with shysters.
They say that the modern sports fan has been priced out, and I've come to the corner of Figueroa Street and 11th Street, home of Staples Center, for Game 3 of the NBA Finals to prove them wrong, or at least not get arrested. The assignment is this: Can an everyday nine-to-fiver -- or more accurately, a 10:15-to-fiver -- struggling with home foreclosure, soaring gas prices and that pricier Taco Bell menu score the hottest ticket in the country armed with only a mediocre smile and $250 cash?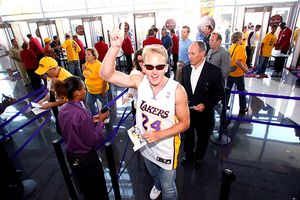 Jack Arent/NBAE/Getty Images
Would our correspondent be able to join these fans on the right side of the turnstile?
Not at the box office. The cheapest seat at Staples runs $360, medical treatment for excessive nosebleeds not included. (The most expensive seat in the house has a face value of $4,000, just a tad over my limit.)
Not online, either. According to StubHub, a leader in the burgeoning online ticket brokering industry, the average resale price for Game 3 of the NBA Finals is $844 ($942 for Thursday's game), up from $330 for last year's Cavs-Spurs Finals. (Word in Hollywood is that two courtside seats cost a certain movie star $50,000 and change, if you count change in the thousands.)
I was sure things would be different down on the streets, where traditional scalping leaves room for haggling, and prices are adjusted as game time approaches. So, with the clock on my side -- it reads 5:15, only 45 minutes 'til game time -- and armed with the lessons my dad taught me (you know, decide what you're willing to spend, keep that cash in your front pocket, and never hesitate to walk away), I hit Staples to seek out the scalpers, the gatekeepers to a rivalry renewed.
If only I can find them. At the NBA Finals, sellers along this sun-bleached slab of concrete are everywhere. They're selling bootleg purple-and-gold gear, bootleg CDs, sex and religion. One preacher swears God is a Celtics fan, which explains the 405 freeway.
Time was, any man asking for tickets was also selling them. Not today, it seems. Not at Lakers versus Celtics. Most people who say they need tickets actually need tickets, and badly. The scalping hotspot is one block east of the arena, at 11th and Flower Street -- close to the crowd but far enough from Staples to avoid heat. Plus, it's situated just outside the Palm Steakhouse, where scalpers can target the fancy eatery's clientele.
One seller, a short, round man wearing a Lakers jersey who says he "needs tickets" has a seat 20 rows from the court in the lower bowl, behind the basket. Shorty's price: $1,400. I laugh nervously, so he does, too.
"How much you looking to spend?" Shorty asks, and when I tell him, he stares at me for several seconds, squinting. Then a smile creases his face, as if he's figured something out.
"S---, you're police!" Shorty says, rather proud of himself.
"Um, no. I'm not."
"You know you gotta tell me if you are," he counters.
"I'm really not. Swear."
"Then you're one dumb $*&*$#@!," Shorty replies, so I turn my attention to a very tall man with a protruding gut who also "needs tickets," but not for $250.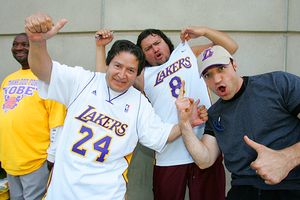 Melissa Majchrzak/NBAE/Getty Images
If you're this fired up, you must have tickets, right?
"Not even a nosebleed?" I plead.
"S---, I'll give you a nosebleed," the large man mumbles, but I don't think he was talking about seats.
Then I ask a chap with stringy hair and a kind disposition for help: Can you, good sir, please tell me what can I get for $250?
"A counterfeit."
"Come on," I say. "For real."
"Hey Shelly!" Stringy shouts, unprompted, to a large group of men nearby. "What can this dude get for $250?"
"A counterfeit!" a man (Shelly, presume) shouts back.
Man, I hadn't thought of that. I got duped at a San Francisco Giants game three years back, and I don't mean by Barry Bonds. I'd bought a ticket, below face value, from a scalper in the third inning while on a date, only to discover that I'd bought a fake. (After I exhibited signs of a heart attack, a kind usher let us in anyway.) Counterfeits are a dastardly phenomenon, a buyer's worst nightmare. That's how online brokers such as StubHub, with its guarantee policy, have come to thrive.
Anyway, I might have to rethink things. That's when a young woman hands me a pocket-size flyer. It reads: "Great Lakers/Celtics Tickets still available! Free gift with purchase." It's a wonder street scalpers don't offer Lakers car flags.
At 5:30, 30 minutes 'til game time, I follow the directions on the flyer to the Holiday Inn lobby across the street, where Barry's Tickets -- "Los Angeles' #1 Ticket Broker," according to the sign -- has set up a shop. Barry's would pass for a hotel gift shop, with a business license in full view, except it's more like the DMV: You wait in line to talk to an ill-tempered dude seated behind a counter.
"$1,500 for lower, $395 for upper," the man barks. "No floor seats left."
Shoot, it's more expensive than the streets. What's worse, the prices are non-negotiable. And, unlike street scalpers, Barry isn't fond of lowering prices according to the clock, and not even after tip-off. "That's very, very rare," says an employee who wasn't authorized to talk to me. "And it's pretty much guaranteed it'll never go to face value. Let's say they buy it for $400. They'd rather take a loss and give it to an employee. Lowering it and setting that precedent is bad for business, I guess."
I guess I'll have to do this the old-fashioned way. On my way back to Palm, I run into Matthew Berry, ESPN's Fantasy Guru, who's in full Lakers regalia. I let him in on my mission, and though he has season seats, he doesn't have a spare. "By the way, you realize $250 is below face value, right?" Berry adds, and he might very well be our Scalping Guru, too.
Back at Flower and 11th, it seems I've earned a nickname. Several, actually. Some of the scalpers call me "Po-Po." Others call me "Cheap-ass," which is nice, because now I have a nifty handle for my editors. But mostly they call me "Two-Fitty." Or "Mr. Two-Fitty," which I prefer.
"Hey, Two-Fitty," says Shady Al. "You still lookin'?"
Shady Al is a runner (he actually does run quite a bit). Runners, or middlemen, don't have tickets, per se, but they "need tickets," and they earn their cut by leading buyers to a man who knows a man who knows a man who's selling. "My buddy's got something for you," says the third man.
I'm led back to Shorty, who came across two nosebleed tickets. He's selling them for $300 a pop. Not bad, but I tell him I'll wait for a $250. "S---, I bought them for $250," he says. "My price ain't never coming down. USC against Texas, I made more money at halftime. I got kids to feed."
Just then, a cop car rolls up, and the officer in the passenger seat rolls down the window to make a show of staring us down. Shorty tells me to "be cool," which is typically hard for me to do. Scalping is legal in California as long as you're off the grounds of the venue, unless you're selling counterfeits, of course, so I wonder what the deal is. Then, Shorty shouts at the cops: "I thought there's supposed to be a war on terror!"
"There is a war on terror," the cop shouts back.
"Not from where I'm sitting."
"There's a war on scalpers," Shorty tells me, unprompted, once the coast is clear. "Used to be, there was a war on drugs. Then it was a war on terror, a war on health, a war on education. Now it's a war on scalpers? I'm just trying to make a living."
And that service is provided to Celtics fans, too. Just minutes before tip-off, two men decked out in green and incapable of pronouncing their R's shell out $600 for Shorty's nosebleeds. Again, Shorty is wearing a Lakers jersey. So, I ask him, what gives?
"Celtics fans come a long way, so they'll pay anything," he says, adding that although he is, indeed, a true Lakers fan, "I'll sell to Celtics, to Spurs, to Suns. S---, I'll sell to $*(@!*(@! Al Qaeda if they pay me enough."
So much for that war on terror.
It's now game time. My plan is to head to the Palm bar to catch the first quarter, returning to the street in time for the start of the second when prices will surely be in my favor.
I grab a stool next to a young fella who's stirring his gin and tonic while blankly staring at the wall-mounted screen. The young fella, Steve, says he's "the second assistant to a pretty big producer." (He won't tell me who, but he lets it slip two gin and tonics later.)
"I'm (screwed)," Steve whispers, explaining that he'd been ordered here to track down two lower bowl seats for no more than $600 apiece. "[Steve's boss] owns a $4 million home but he doesn't want to cough up for Lakers-Celtics?" I ask.
"He's such a cheap-ass," Steve says, finally lifting his head. "So, what's your deal?"
Same deal, I tell him.
Sam Alipour is based in Los Angeles. His Media Blitz column appears in ESPN The Magazine and regularly on Page 2. You can reach him at sam.alipour@gmail.com.
2008 NBA FINALS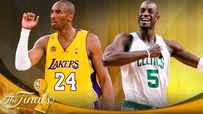 And then there were two -- the Lakers and Celtics. Who will win the NBA Finals? Let the games begin.
Finals schedule | Playoff bracket | Playoff home
Daily Dime
•
Celtics win 17th championship title
•
Did C's lose Regret Game?
•
A little help from Kobe's friends
•
Time for L.A. to go small
•
The Finals Can't Shake Donaghy Mess
•
Unlikely Game 4 comeback gives C's 3-1 lead
•
Rondo's ankle could change L.A.'s game plan
•
Kobe leads Lakers to Game 3 win
•
Lakers need to attack the paint
•
Lakers learn Powe's name in Game 2
•
Time for Gasol to step up
•
Lakers need better defense in Game 2
•
Pierce sparks Celtics in Game 1 victory
•
Expert predictions, clutch stats
•
Pierce loves playing Lakers
•
Celtics to meet L.A. in the Finals
Lakers vs. Celtics
•
Stein: Q&A after six-game "sweep"
•
MacMullan: Pierce's long road to greatness
•
Hollinger: From camp to champs
•
Stein: Boston's big three shine
•
Adande: Questions loom over Lakers' future
•
Hollinger: Celtics commit to defense
•
Scouts Inc.: Game 6 breakdown
•
Hollinger: Farmer steps up in Game 5
•
Sheridan: Late-game letdown for Celtics
•
Stein: Lakers ready to make history?
•
Adande: Greatness eluding Phil and Kobe
•
MacMullan: Doc adheres to dad's lessons
•
Jackson: Time for L.A.'s concession speech?
•
Stein: Game 4 not Kobe's finest hour
•
Adande: KG dominates Gasol again
•
Hollinger: Rivers makes all the right moves
•
Hill: Kobe's Laker legacy on the line
•
Hollinger: Vujacic lends helping hand in Game 3
•
Jackson: Jump shot Jesus has returned
•
Stein: Lakers need to earn sympathy
•
Adande: Lakers feel foul over whistle disparity
•
Jackson: Leading role suits Pierce
•
Adande: Kobe turns away from the pass late
•
Stein: Pierce's knee key to rest of series
•
Finals factor 1: Kobe Bryant
•
Finals factor 2: Celtics Defense
•
Finals factor 3: Paul Pierce
•
Finals factor 4: Home-court advantage
•
Finals factor 5: Battle of the benches
•
Hollinger: Lakers offense vs. Celtics defense
•
Broussard: Turning back the clock

•
Adande: How did Kobe get here?
•
Scouts Inc. breakdown: Lakers vs. Celtics
•
Coaching comparison: Red vs. Phil
•
Smith: Kobe's moving forward
•
Scoop: Fiendin' for a ring
•
Top 10 moments of Lakers-Celtics rivalry
•
ESPN Classic schedule: Relive the rivalry
TrueHoop
•
TrueHoop: Finals reflections
•
TrueHoop: Doc Rivers' redemption
•
TrueHoop: Lakers got Rondo'd
•
Tough night for Allen
•
Game 5 live blogging
•
Laker nation vs. NBA refs
•
Pierce and the evaporating knee story
•
Game 2 live blogging
•
Coaxing Kobe Bryant into hero mode
•
Game 1 live blogging
•
Today's game isn't so different
Simmons
•
Notes from the C's winning night
•
Boston's X factors
•
Game 4 running diary
•
Time for NBA Finals answers
•
The C's and city both look good
•
The Truth comes out in Game 1
•
NBA Finals forecast
•
Chat: NBA Finals preview
•
Simmons: You want a piece of Kobe, Boston?
ESPN The Magazine
•
Sporting Equivalency: NBA Finals meets hip hop
•
Broussard: Reporting from the NBA Finals
Fantasy
•
Join the fun of NBA Finals: Playcaller
Audio
•
Dish: NBA Finals recap
•
Wyc Grossbeck on C's championship
•
Ray Allen on how the Celtics evolved
•
Bob Ryan compares '86 C's to current one
•
Jon Barry credits Tom Thibodeau's team defense
•
Game 4 reactions
•
Rajon Rondo on Pierce, Game 2 plans
•
Bill Walton on Celtics-Lakers history
•
Dr. J on Finals, '80s hoops
ESPN Top Headlines