Commentary
Blood feuds and beauties at the Mansion
Originally Published:
July 15, 2009
By
Sam Alipour
| Page 2
Editor's Note: This is the first in a series of reports from ESPYS week.
It's ESPYS week, and all is as it should be at Hugh Hefner's annual Pre-ESPYS party at the Playboy Mansion. Six naked women wrestle in the pool, while other less-naked women work the rooms. DJ Samantha Ronson spins tunes before giving way to a performance by The Pussycat Dolls. And friendly jocks talk shop with fans at the open bar. Just another night at the Mansion.
But things take a strange turn at around 10 p.m., when a taxi pulls into the driveway and out steps Chad Ochocinco, wanting to know only one thing.
"Where's Shawne at?" the Bengals' wideout asked, his head on a swivel. "As soon as I see him, I'm swinging."
The 2009 ESPY awards: Where blood battles are consummated!
For several weeks, Ochocinco and Chargers Pro Bowler Shawne Merriman have been in the throes of a war of Twitter words. It is believed to have begun on June 24, when Ochocinco (@OGOchoCinco) tweeted: "Somebody please tell Shawne Merriman thats is ass on Dec. 20th," when the Bengals are set to play the Chargers.
"Are you serious???????" replied Merriman (@shawnemerriman).
"Damit I didn't stutter," Ocho tweeted back. "You heard me loud and clear, and we can get in the boxing ring to [sic]."
And so it continued, with the barbs getting more pointed as time went on. Now, Ochocinco, whose offseason training includes heavy doses of boxing, is in Los Angeles for ESPYS week. Shawne Merriman, who trains in Muay Thai and is expected to attend several ESPYS-related events, is in L.A., too. And Ocho, for one, is looking to finish what he started -- or didn't.
"I don't remember how it started, but I'm going to finish it," Ochocinco says. "Ain't no talking. As soon as I see him, it's on."
And how will it end?
"It's probably going to end with a left hand to his jaw, laying him out, putting him to sleep. Then we'll wake him up with some Red Bull or something."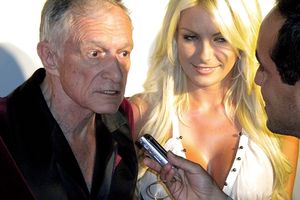 Chris Palmer"Um ... I'm sorry? Who is this LeBron guy?"
We'll save the boxing versus Muay Thai debate for another day. But Ochocinco claims his regimen in the ring has him in the best shape of his life. He even took a moment to serve notice to the professional boxing world -- and his franchise.
"I'll be boxing professionally by next summer, most definitely. Most definitely," he promised. "Ain't nothing going to stop me."
Not even the Bengals' front office?
"It's going to be interesting. I'm not sure what they're going to say. But do I ever follow the rules?"
No, Ocho, you don't. And that's why ESPYS week just got a whole lot more interesting. As word of the potential Merriman-Ocho bout spread, several partygoers looked as eager as an onlooker at a school-yard brawl. "If Shawne sees him coming, Chad will be in trouble," Texans O-lineman Chester Pitts offered. "But if he sneaks him? Knockout, no question. I mean, Chad's being trained by the same man who trains Manny Pacquiao!"
Merriman, for his part, would be a no-show at the Mansion. Ocho seemed to know as much, tweeting at about midnight: "Looking for Shawne Merriman at the mansion, can't find him but got damn the WOMEN are all naked!!! WOW."
Other quick notes from the ESPYS pre-party at Playboy Mansion:
• Sure, Hugh Hefner's ears require a hearing aid, but he still commands a bevy of ladies, including two tall and blonde twin sisters. ("I can tell them apart by certain features," he said.) And he still knows how to throw an ESPYS party: "It's not a whole lot different [than other parties]. You need the right kind of ambience, and lots of pretty ladies. And the grotto doesn't hurt." And about hosting his former girlfriend Kendra Wilkinson's nuptials with Eagles WR Hank Baskett: "I didn't actually give her away: He had to come and take her. But it was my pleasure and honor." He even shared his thoughts on Kobe Bryant versus LeBron James: Hefner's going with Bryant! "I don't really know who LeBron is," one of his ladies added. Said Hef: "I don't either." (Boy, rough summer for LeBron.)
• Per usual, the ESPYS bash hosted a healthy mix of Mansion regulars and wide-eyed first-timers. Among the veterans: NFLers Tony Gonzalez, Kirk Morrison ("I come for the food," he swore) and Pitts, who said, "The trick is to look at as much goodies as you can, but don't touch. There are cameras everywhere, so I won't be doing cannonballs in the grotto -- not in front of people like you anyway." Among the rookies: Derrick Rose, Andre Iguodala ("I'm not closing my eyes all night," he said, and he pretty much didn't) and Danny Granger, who swears he's never perused a single Playboy magazine, which is why he fears that "in a few hours, you may see me with my shirt off and panties on my head."
• Hornets center Tyson Chandler is a better man than most: He brought his wife, Kimberly, to the Mansion. "We don't get out much," she said. "So we thought this would be a fun getaway." Fun, and dangerous. But Chandler says he has a trick to keeping his eyes front and center: "You gotta recognize that your wife is the most beautiful person in the world, and if you do, she'll always be the most beautiful person at the Mansion, too."
• In his effort to win his Twitter bet with Chris Bosh (the first to 50,000 followers wins, well, something) Charlie Villanueva wisely enlisted partygoers to follow him @CV31. @ChrisBosh: You're slackin', fool!
• Update on Merriman versus Ocho: At 9:30 a.m. Tuesday, Ochocinco tweeted to Merriman's teammate, "@ShaunPhillips95 I still want to fight Shawne damit!!!! he knew i was there last night so he didnt show up, let him know i am in LA."
• Update 2 on Merriman versus Ocho: At 9:45 a.m., Merriman wrote, "@OGOchoCinco i know where U workout i got your whole schedule from my trainer i know what U gonna eat today i know what time U taking a nap!"
See you in the ring ...
Sam Alipour is based in Los Angeles. His Media Blitz column appears regularly in ESPN The Magazine. You can reach him at sam.alipour@gmail.com.
ESPN The Magazine
Sam Alipour (
@SamAlipour
) is a senior writer for ESPN The Magazine, ESPN.com and the host of Hang Time.