Commentary
Athletes dish on the summer movies
Originally Published:
September 11, 2009
By
Sam Alipour
| Special to Page 2
Hollywood did something right this summer. American ticket buyers forked over $4.26 billion to the studios, making this the highest-grossing summer ever.
What that right thing is, I have no clue. But then, as I often do when I have no clue about something, I thought of Shaquille O'Neal, who has many clues about many things. Recently he shared with me his thoughts about a highly anticipated movie that was disliked by all non-fanboys when it was released in March. "'Watchmen' wasn't bad," Shaq told me. "It was different."
Then Shaq looked me square in the eyes and tilted his noggin ever so slightly.
"Not bad," he repeated. "Different."
I'm pretty sure he was attempting some sort of Vulcan mind meld. And it worked. Movies, especially the big fun ones that hit during the summer, aren't good or bad. They're different. Different things to different people. So we asked -- and, in a few cases, texted or tweeted -- about 50 people to help us rank the season's schlock, sci-fi sequels and super-racy comedies.
What qualified: Any movie released after May 7, when "Star Trek" bowed. What we learned: Athletes dig Denzel Washington and Megan Fox (for different reasons); "Bruno" made some folks uncomfortable (for the same reason); some people don't know genius when they see it ("Star Trek" and "Inglourious Basterds"); and everyone loves a good bachelor-party flick (except Andre Iguodala).
And now, the best and worst movies from the summer of 2009, as determined by a bunch of people who have enough money to make the time to see a lot of movies.
THE SUMMER'S BEST
1. "THE HANGOVER"
Stars: Bradley Cooper, Ed Helms, Zach Galifianakis
Box office: $272 million
The gist: Todd Phillips, the director of "Old School," tosses a new batch of middle-aged dudes into a wilder party setting. The result: The year's highest-grossing laugher, what Ryan Sheckler called "outrageous comedy" and what most of our athletes called the best movie of the summer.
[+] Enlarge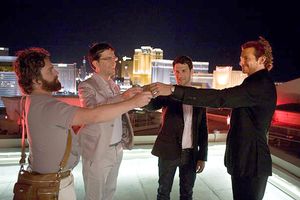 Courtesy Warner Bros. Pictures"The Hangover" was the surprise hit of the summer.
Among the fans …
"No question, best movie was 'Hangover.' It's a classic. I couldn't stop laughing. My favorite character was … what's his name with the beard? … but they were all great. And my favorite scene was when that Asian guy jumped out the trunk. Man, that was hilarious. I loved it so much, I saw it twice with my girlfriend. She's a fan, too."
-- Chris Paul, New Orleans Hornets
"A man's man movie. It gives you those deep-down laughs, which are good for the soul. What's amazing is, they used four random actors that, personally, I've never seen that much of. Who knew these guys could be so funny? That's why my hat goes off to the writers. The storyline is something a lot of women may not like, but hey, that's what happens when guys get together. Not at my bachelor party, though. I fell asleep during mine. Fell asleep in the club, in the party bus, you name it."
-- Paul Spicer, New Orleans Saints
"It was the first movie in a long time where I fell out of my seat laughing. We just got done with a bachelor party in Vegas the week B4 I saw it. I could relate to the end, when they went over pics to remember what had happened the night B4!"
-- Travis Pastrana, motorsports (via text)
"Everybody I know thinks it's freaking great. I've spent just enough time in Vegas to know it's dangerous, but it's still worth watching."
-- Carl Edwards, NASCAR
"There aren't too many good funny movies. They're all stupid, or for kids. But this was crazy. And that dude with the beard? Just his sarcasm alone did it for me."
-- Lamar Odom, Los Angeles Lakers
BLITZ PICKS: BEST
1. "Star Trek": In our acting days, we immersed ourselves in Trek mythology for a stint as a Ferengi at Great America, the NorCal theme park. So yeah, we're biased. And dorky. But this flick hits all the right notes.
2. "The Hangover": We expect to see the sequel at the top of our 2011 rankings. Unless, of course, Phillips dares to tamper with the cast and chemistry, now commonly known as "pulling a Mitch Kupchak."
3. "Inglourious Basterds": Quentin Tarantino's bloody, bold and brilliant take on World War II had one weak link: Brad Pitt.
4. "Public Enemies": We'll follow Michael Mann ("Last of the Mohicans," "Heat," "Insider," "Miami Vice") anywhere. Well, except Miami -- and anywhere Colin Farrell is.
5. "The Hurt Locker": A smart summer action flick. About as rare as a smart offseason transaction by Al Davis.
"I've never done a Vegas bachelor party, so it's good to see someone in that position who's not me, and get some laughs out of it."
-- Dwyane Wade, Miami Heat
"I thought it was hilarious. I haven't done a bachelor party yet, but I'm hoping one of my buddies gets engaged soon so I can test the movie out."
-- Matthew Stafford, Detroit Lions
"I mean, I've had some experience with Vegas, but not with live animals. That was hilarious, man. I laughed through the whole show."
-- Brandon Marshall, Denver Broncos
"If you've ever been to Vegas, you understand. This summer, we had an experience like that, where we did our thing and had to recap the night the next day. I can't share what happened. But I can tell you that it didn't involve tigers. It did involve a live animal, though … no, just playing, no live animals either."
-- Kirk Morrison, Oakland Raiders
"Everybody knows what happens in Vegas, but they explained it perfectly."
-- Mike Spinner, BMX
"It was the funniest movie I've ever seen. But there won't be a Vegas bachelor party in my future after that. Having those types of friends wouldn't be very good for my career."
-- Blake Griffin, Los Angeles Clippers
The lone detractor …
"'Hangover' was just OK. I didn't laugh that much. But I've never done a bachelor party, so maybe that's why."
-- Andre Iguodala, Philadelphia 76ers
2. "THE TAKING OF PELHAM 123"
Stars: Denzel Washington, John Travolta

Box office: $65 million
The gist: It's "Die Hard" in a subway, but with Denzel and his pal, director Tony Scott. Ridley Scott's younger brother (and my former boss) is responsible for some of the most successful guy flicks of the past two decades (dating back to "Top Gun") and -- attention, jocks! -- four Denzel flicks, with a fifth on the way.
Among the fans …
"Best movie of the summer! Pretty much any movie Denzel's in, I like. He's the best actor out there. Travolta did a good job, too, and the action was good. What I thought was cool was the fact that it's set in New York, on a train, something everyone's ridden and everyone can relate to. I did it once, when my agent talked me into taking a train, and the thing stopped halfway. After this, I'm definitely never doing that again."
-- Derrek Lee, Chicago Cubs
"Between Denzel and Travolta, there was some awesome acting in this. Travolta really impressed me. He's my hero after this. He kind of makes me want to act in movies."
-- James Stewart, motocross
"I'm a huge fan of Denzel's anyway, but it's special for us because we saw it in Orlando together, as a team, and it got us ready for the championship push."
-- Jordan Farmar, Los Angeles Lakers
"We got to see it before anyone else at a private screening. Denzel did a great job, again. And it was a good storyline. It taught me to not be scared to seize the moment. It's about carpe diem, and not being afraid to get out there and handle your business."
-- Shannon Brown, Los Angeles Lakers
3. "TRANSFORMERS: REVENGE OF THE FALLEN"
Stars: Shia LaBeouf, Megan Fox
Box office: $401 million
The gist: Does anyone do loud, dumb and accessible better than director Michael Bay ("Armageddon," "Bad Boys" movies, "The Rock")? Critics deplored it, but our athletes, for the most part, dug it, and ticket buyers made it the summer's highest grosser.
Among the fans …
"My favorite movie of the summer by far. First off, Megan Fox is a beautiful girl. And whoever's responsible for those beautiful shots of that beautiful girl leaning over cars -- that person should get a raise. Besides that, it hit every note. It had action, comedy, revenge. And you really identified with Shia. I even got a little teary-eyed, like when the parents were like, 'Son, go ahead, don't worry about us.' Now, I didn't shed an actual tear. But my eyes got real moist. There's a difference."
-- Dwight Freeney, Indianapolis Colts
[+] Enlarge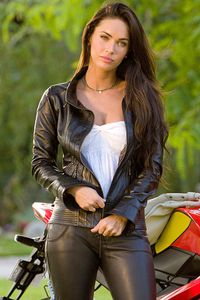 Courtesy Paramount PicturesBest part of the "Transformers: Revenge of the Fallen"? Yep, Megan Fox.
"I didn't think after the first one it could get any better. But the ending was better. The plot was great. And Megan Fox? What more do you need?"
-- Kevin Durant, Oklahoma City Thunder
"I'm a big sci-fi and machines type of guy, so this was the perfect movie."
-- Danny Granger, Indiana Pacers
"'Transformers 2' was crazy. It was long but didn't disappoint me a bit. They also threw a little bit of comedy in it."
-- Dahntay Jones, Indiana Pacers (via Twitter)
Among the detractors …
"I mean, the robots and action were cool, I guess, but there was a bit of a letdown with the lovey-dovey parts. That was a little over the top."
-- Shaun White, snowboarder/skateboarder
"I really didn't care about what was going on. And no action movie should be two-and-a-half hours long. Unless it's 'Batman.'"
-- Brandon Jennings, Milwaukee Bucks
"I grew up on Transformers. I saw the first movie, the animated one, so I can't really say nothing bad about Transformers, but that movie was just way too long. That was the downfall."
-- Paul Spicer, New Orleans Saints
OTHER FAVORITES
"THE FINAL DESTINATION"
Stars: Bobby Campo, Shantel VanSanten, Nick Zano
Box office: $50.5 million
The gist: People try to cheat death -- again -- but this time in 3-D.
"The first one, I didn't like. And I saw the second one by accident, when I went to see another movie and walked into that one instead. But then, I'm sitting there watching as that [expletive] log goes through that lady's head, and I'm like, what? So then I started watching 'em. And this one's in 3-D, so there's blood and crap flyin'. Love that new 3-D technology."
-- Shaquille O'Neal, Cleveland Cavaliers
"G.I. JOE: THE RISE OF COBRA"
Stars: Dennis Quaid, Channing Tatum
Box office: $141 million
The gist: In the hands of Stephen Sommers (director of the "Mummy" movies) the live-action telling of the beloved toys/cartoon series was profitable cheese.
"It's a good, action-packed movie with a good plot, and they did a good job of continuing the story of the cartoon and action figures. The action was real good, especially the 'Matrix' stuff with the cars."
-- Russell Westbrook, Oklahoma City Thunder
BLITZ PICKS: WORST
1. "Transformers: Revenge of the Fallen": I have a strict no-potty-break policy, but I went potty twice, walked the lobby three times, smoked two cigarettes and got shot down by one young lady. An awful night at the movies.
2. "X-Men Origins: Wolverine": Kill the series, save the world.
3. "Terminator Salvation": We pray for James Cameron's return to the franchise he birthed.
"ORPHAN"
Stars: Peter Sarsgaard, Vera Farmiga
Box office: $41 million
The gist: Another "nice family adopts crazy girl" flick -- and proof that horror, always low-cost, won't go away.
"Saw it like three times. It's a really entertaining movie. I didn't pee my pants or nothing, but some of those scenes, I had to turn my eyes -- like when she turns off the lights and stabs the dad up. That was crazy. After that, I'll have to be real careful if I ever adopt a kid."
-- Brandon Jennings, Milwaukee Bucks
"STAR TREK"
Stars: Chris Pine, Zachary Quinto
Box office: $257 million
The gist: The most well-reviewed of the summer blockbusters; the franchise reboot goes where no previous entry has gone before -- somewhere smart and daring.
"'Star Trek' was amazing. I grew up on Trek. Me and my dad nerded out on it. But I wasn't expecting it to be good. But as a stuntman who works in the industry, I can tell you they nailed the action. And the way they wrote the story was super-smart. Spock didn't stick directly to the lore, but that's OK. Now they can go wherever they want with him."
-- Mike "Rooftop" Escamilla, BMX
"NIGHT AT THE MUSEUM: BATTLE OF THE SMITHSONIAN"
Stars: Ben Stiller, Amy Adams, Owen Wilson, Robin Williams
Box office: $177 million
The gist: Dude gets stuck in another museum.
"I loved it. It was fun. I like not only the movie, but I like Ben Stiller. All of the movies that he made, I try to watch. I even like the talking animals."
-- Sandro Dias, skateboarder
"FOOD, INC."
Box office: $4 million
The gist: A drier but more potent "Super Size Me."
"My favorite was 'Food, Inc.' I think everybody in America should see this documentary. It shows you exactly where your food comes from, and that's important. Once people know that, they'll know how to eat better and live healthier."
-- Tony Gonzalez, Atlanta Falcons
THE SUMMER'S WORST
1. "BRUNO"
Stars: Sacha Baron Cohen
Box office: $60 million
The gist: The man who was Borat has been called a comedic genius. But his latest cinematic social experiment rubbed some folks the wrong way.
Among the haters …
"Man, did I make a mistake watching 'Bruno.' That movie scared me. It was hard to watch, dude. We almost left. There was a few parts where we were like, 'This movie is [expletive].' But it's all right."
-- Ryan Sheckler, skateboarder
"I didn't like it, and I wasn't the only one. People were walking out of the theater when I saw it. It was just too much for me. Way over the top."
-- Kirk Morrison, Oakland Raiders
BEST PERFORMANCES (THE JOCKS VOTE)
1. Denzel Washington ("The Taking of Pelham 123")
2. Dude with the Beard (Zach Galifianakis, "The Hangover")
3. Megan Fox ("Transformers: Revenge of the Fallen")
4. The Asian Guy Who Jumps out of the Trunk (Ken Jeong, "The Hangover")
"They milked that joke, man. I had to cover my eyes for a lot of the movie. I'm just not there with that. Whatever that is, I'm not there."
-- Danny Granger, Indiana Pacers
"'Borat' was funnier because he came off like a real person. 'Bruno' is taking the [expletive] thing way too far."
-- Shawne Merriman, San Diego Chargers (via Twitter)
2. "PUBLIC ENEMIES"
Stars: Johnny Depp, Christian Bale
Box office: $97 million
The gist: Guy-movie director Michael Mann ("Heat," "Miami Vice," "Ali") is among the best at immersing you in time and place. But a few jocks wanted out of gangland-era Chicago.
Among the haters …
"I was expecting more, something crazy, from a Johnny Depp bank-robbing movie."
-- Brandon Marshall, Denver Broncos
"The Johnny Depp movie was so slow, I ended up leaving. I was expecting more action."
-- Blake Griffin, Los Angeles Clippers
3. "TERMINATOR SALVATION"
Stars: Christian Bale
Box office: $125 million
The gist: This bleak-as-hell installment in the venerable franchise made money, but critics and athletes weren't too kind.
Among the haters …
"I liked it when they brought Arnold into it. And from an action standpoint -- things blowing up -- it was good. But it had so much more potential. I left the movie having questions. OK, fine, this guy doesn't know he's a robot, but how does he all of a sudden know to go to that mainframe computer? And when the robot is dead on the ground, John Connor decides to jump-start him like a car? What are the chances of that working? And it works on the first try?! And where did that hot fighter pilot come from? Are there really hot fighter pilots out there? We should research that one."
-- Dwight Freeney, Indianapolis Colts
THE REST OF THE WORST
[+] Enlarge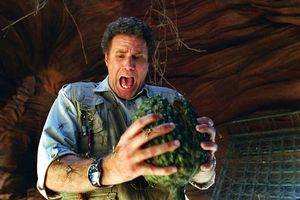 Universal PicturesWill Ferrell has had some bad luck at the box office lately.
"LAND OF THE LOST"
Stars: Will Ferrell, Danny McBride
Box office: $49 million
The gist: Ferrell hits a wall and up-and-comer McBride ("Eastbound and Down") hits a speed bump in this epic box-office bomb based on some old TV series nobody under 50 has heard of.
"Will Ferrell is usually good, but 'Land of the Lost' was terrible. Maybe I've grown out of the kids-and-dinosaurs thing. It's weird to say it, but I'm an adult now, I guess."
-- Kevin Durant, Oklahoma City Thunder
"IMAGINE THAT"
Stars: Eddie Murphy
Box office: $16 million
The gist: Eddie continues his slide. It's like a waterslide, littered with colorful playthings. And it stinks.
"Eddie's smart for doing kids movies, which are can't-miss. And I'm a big Eddie fan. But it wasn't one of my favorite Eddie movies, let's put it that way. I saw it for my daughter."
-- Derrek Lee, Chicago Cubs
"DRAG ME TO HELL"
Stars: Alison Lohman
Box office: $42 million
The gist: Someone gets dragged to hell, we're guessing.
"I thought 'Drag Me To Hell' was worthless. It was one of those movies where a woman gets thrown 60 feet and then she pops up like it's no thing, hair still perfect. Forget it."
-- James Stewart, motocross
"YEAR ONE"
Stars: Jack Black, Michael Cera
Box office: $43 million
The gist: Meet your (not-so-funny) ancestors.
"I like Jack Black, but it was a little repetitive and a little too slow for me. It's hard because there's just too much placed in one setting, so it got boring after a while."
-- Ryan Sheckler, skateboarder
"HARRY POTTER AND THE HALF-BLOOD PRINCE"
Stars: Daniel Radcliffe, Emma Watson, Rupert Grint
Box office: $297 million
The gist: The kid wizards are back.
"[Expletive] Harry Potter! That dude is like 35 years old, and he's still a boy wizard?"
-- Mike "Rooftop" Escamilla, BMX
Sam Alipour is based in Los Angeles. His Media Blitz column appears regularly in ESPN The Magazine and occasionally on Page 2. You can reach him at sam.alipour@gmail.com.
ESPN The Magazine
Sam Alipour (
@SamAlipour
) is a senior writer for ESPN The Magazine, ESPN.com and the host of Hang Time.