Commentary
Kobe vs. Carmelo, via joysticks
Originally Published:
September 25, 2009
By
Sam Alipour
| Special to Page 2
HOLLYWOOD, Calif. -- Standing under a spotlight, in the corner of a makeshift stage at a steamy Cahuenga Boulevard nightclub, Kobe Bryant nervously bounces in place with a strained smile splattered across his face, looking like a prizefighter who knows he's about to suffer a beatdown.
Tonight's showdown: Kobe Bryant versus Carmelo Anthony, head-to-head in a game of "NBA 2K10" on Xbox 360 -- some friendly competition before the combatants submit to the rigors of training camp and the real battle begins. Historically, Bryant's Lakers have owned Anthony's Nuggets, with a record of 12-8 in the regular season and 8-2 in the playoffs. But Kobe versus Melo, in front of a gaming console and a packed house? This is foreign territory for Bryant, and a mismatch in the other direction. "I'm about as good at this game as Melo is at beating us in the playoffs," Bryant says.
Kobe isn't a skilled gamer. Last time I covered a Kobe-hosted video game event, at a Boys & Girls Club in east L.A. several years ago, the man got whupped by a pudgy 12-year-old with pimples. Carmelo isn't 12. His skin is clear. He's not pudgy, either. (More on that below.) Carmelo is an NBA star with a world-class basketball mind. He's also an active gamer, playing almost daily with teammate J.R. Smith. Melo's experience should come in handy tonight. "NBA 2K10," the 10th-anniversary edition of the No. 1-selling NBA video game series, is as advanced and complex as these games come, a hoops gamer's hoops game. The techies at 2K have captured 9,000 animations for the game, double that of its predecessor. So there are roughly 9,000 ways in which Kobe, the game's cover athlete, can get confused. What's worse for Kobe: The whole darn thing is being filmed by VersusSport for a live webcast, so folks at home can watch (on VersusSport.com) as Kobe's once-jutting chin gets pounded into the back of his head.
But it doesn't play out that way, and the first clue comes just moments before tipoff.
Turning to his corner guys -- teammate Josh Powell and myself -- with a dangerous look in his eye, Kobe calmly but pointedly unleashes a torrent of rather comical Melo-related trash talk that can't be repeated here, in part because he asked us to not repeat it. "I'm gonna save that for my Hall of Fame induction speech," Bryant says, in a wink to Michael Jordan's recent spoken takedown of, well, everybody.
[+] Enlarge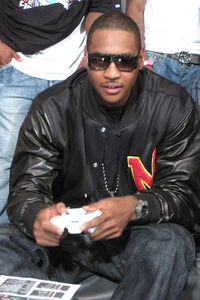 Courtesy Sam Alipour'Melo's looking very slick these days, isn't he?
Then, it begins. Playing in front of a friendly crowd -- attendees included Penny Marshall and Dr. Dre -- the virtual Lakers jump out to a 4-0 lead on back-to-back floaters from Bryant and Lamar Odom. (The Lakers' offense, directed by Kobe's clumsy thumbs, isn't as much the triangle as it is a straight line -- whoever brings the ball up gets to shoot.) As was the case in the '09 playoffs, Bryant's supporting cast does its fair share of damage: Odom chimes in with a few putbacks; Pau Gasol defends the paint like a guard dog; and Ron Artest comes through with … actually, the Lakers' prized offseason acquisition does squat.
But it's enough. Soon, it's Melo who is on his heels, scowling and sweating, adjusting his shades and looking rather flustered. An "NBA 2K10" techie feels so bad for the guy, he starts whispering tips into Melo's ear. And it works. In the second half, Melo barrels to the rim repeatedly for easy layups. "We saw that in the playoffs," Kobe says. "He's just bullying guys right now." Melo ties the score at 30-30 late in the fourth quarter. With 12 seconds showing on the game clock, and the audience holding its collective breath, Kobe drives the length of the floor, splits a gaggle of defenders, and rips his way to the rim for a seemingly impossible layup and …
Kobe wins! On a buzzer-beater by Kobe. OK, maybe that's not so shocking, really.
That might be why Kobe's celebration is muted. He just points to his long-sleeved T-shirt. Emlazoned on its front, a black-and-white rendering of four NBA title rings. Melo can only bow his head in shame, vanquished once again by KB24. Bryant attempts to comfort his former Team USA cohort as only Bryant can. "Just come to L.A.," Kobe says. "We'll get you a ring."
An hour before the showdown and well before the postgame celebration in the upstairs VIP area -- where Kobe pantomimed his game-winning shot for all to see and Melo pretended not to care about any of it -- the combatants took a few minutes to talk about the showdown, and some other equally important stuff.
Alipour: As you know, I'm a professional, and I did my homework. And my homework suggests that you're a garbage gamer, man!
Kobe: (Laughs) Absolutely, no question. No question. I mean, look, I don't have the time to play games all the time like some of the other guys. It's still fun though. Just because I'm terrible doesn't mean I can't have fun, right? But I'll say this: If Melo beats me tonight, if he talks any trash whatsoever, it's gonna come back around when we play the Nuggets next season. I'm gonna turn it into a positive, use it to my advantage.
Shouldn't there be a minimum skill requirement for video game cover athletes?
Naw. I mean, the video game cover is based on reality. It's based on my game. But in terms of my video game skills? Look, if the cover was an image of me playing the game, then we'd have a problem. Know what I'm sayin'? That'd be false advertising.
[+] Enlarge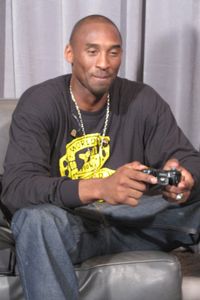 Courtesy Sam AlipourKobe's not much of a gamer, but he did his best against Carmelo.
Your gaming prime was back in the day. What was your game growing up?
My game was "Double Dribble." Yeah, old-school. That and "Tecmo Bowl." Damn, I'm showing my age now.
Trivia time: Whose voice was it saying "Double Dribble"?
I have no idea.
MJ.
Is it really?
Read it on Wikipedia. But Wikipedia probably says you're a competent gamer, too.
They don't know what the hell they're taking about, obviously.
Seriously, do you even own a console?
I do. But see, my girls, they're always playing the fun, easy games, like on [Nintendo] Wii. They're not really into the high-end games. So my game suffers because of that.
Seeing that you're Kobe Bryant, do you have a custom-made console -- maybe one that talks to you, like KITT in "Knight Rider"? Like, "Hi Kobe? Wanna play?"
(Laughs.) Naw. That's not a bad idea though. I'd like to have one of those.
Who's the Lakers' worst gamer? Besides you, of course? My guess would be Derek Fisher.
Naw, the worst gamer has to be D.J. Mbenga. Gotta be. I don't think he's ever played a video game in his life. Ever.
When Sasha Vujacic plays as the Lakers, do you think he has you coming off the bench so he can start?
I doubt it. Even though it's a video game, Sasha is one of those guys who still wants to win. (Laughs) But as long as we win, I'm cool with being on the bench. I've always thought it'd be kind of fun to win Sixth Man of the Year.
Don't give PJ (Phil Jackson) any ideas. Hey, in this edition, is Sasha's jumper as broke as it was last season, or did the designers cut him a little slack for seasons past?
No, not really. You know, Sasha has spots where he gets hot in this. But yeah, his shot is not as automatic as it was in last year's version. His shot was kind of off last season, and the game reflects that. They really did a good job of making this game real.
"NBA 2K10" REVIEW
Click here for the ESPN Video Games
review of "NBA 2K10."
Do you ever play as the Cavs, just to have LeBron launch a few air balls and turn the ball over to Kobe?
(Laughs) Naw. (Laughs) Actually, you know, I've never thought about that. But I might try it. And then I can call him up and talk some trash, tell him how much he sucks.
When you're playing the game out in season mode, will you try to make a midseason trade to get the virtual Trevor Ariza back?
(Laughs) I love Trevor, man. I'd love to have him back.
Who would you give up for him?
That's tough, man. (Pauses, searching for an answer.) Maybe I can have them switch the rules up, add one more player.
Walk me through your typical summer day.
On a typical day, I'll wake up in the morning, come down and make some breakfast, or my wife will make breakfast. We'll eat, then we'll go swimming. Maybe we'll play some miniature golf. Then we'll catch a movie. That's the dream day, having fun with my family.
How much of your summer is spent working out to Ron Artest's jams?
You know what? I've never heard his stuff. Not one song.
Would you be cool with it if he took control of the team iPod and played his stuff on loop?
I don't give a (crap) what he does, as long as it gets him pumped up and ready to go.
CARMELO Q&A
Before the showdown, Melo exuded confidence. After? Let's just say we wouldn't want to be J.R. Smith right now.
Alipour: Kobe just admitted that he's a garbage gamer. Does that give you a boost?
Carmelo: He said that? Oh man, you can't tell a competitor like me that. I smell the blood already. It's over.
They're filming this, so this could get embarrassing for Kobe. How about a mercy rule?
Aw, man, no mercy rule. This is payback. I told him earlier, he beat us in the playoffs two years in a row, so there's no way I'm losing in a video game, too.
What's the key to your gaming prowess?
A lot of it is repetition for me. J.R. Smith and I, we play all the time. J.R.'s got me at college football. LeBron and Chris Paul, I guess they're pretty good at college football too. But nobody can beat me in "Madden." I know The Game and Bow Wow be playing, but I'll put whatever on that. Nobody beat me.
Being from Baltimore, do you roll with the Ravens in "Madden"?
Of course. Don't sleep on my Ravens, now. Don't sleep on us. We got offense this season, with Willis McGahee, Joe Flacco, Mark Clayton, Derrick Mason. We good, man.
How's the virtual Melo in "2K10"?
He fits me almost to a T. I remember once they had me at an 83 rating. I was highly, highly upset about it. My fans was really upset too. Hopefully they fixed it.
What have you improved over the offseason that the game's designers may not have known about?
You'll see a new and improved Carmelo, no question. I've been keeping my weight down. I think I dropped 12 pounds. That's going to be huge for me. Been eating right, training hard. It's not that I wasn't eating right before, but you realize as you get older that you have to really watch what you eat. I've never been more excited about a season. It's just that time. I'm about to take off.
Your prediction for Kobe versus Melo?
I'll win by six. (Laughs.) I'm just being modest.
How much of that time is spent working out to Lil Wayne's "Kobe" jam?
(Laughs) You know, when I did my Asian tour this summer, I heard that song every day at every single event. It's crazy. All the kids knew every word of the song. All the words. It was amazing. Him doing that song was really cool, man. You're talking about one of the greatest artists to ever do it. So it's a huge honor to have that take place, especially right before the [NBA] Finals. I mean, he sent that directly to me right before Game 1 of the Finals. I was just like, "Damn!" When I got to the locker room, the entire team is such music-heads, they'd heard it too. They already knew the words. That was a cool experience.
They sure love you in Asia. I've got a half-Chinese cousin who takes me to authentic Chinese joints and tries to make me eat fish heads. You into fish heads, or more of a P.F. Chang's guy?
Naw, I'll try anything. I mean, within reason. But I'm open to stuff like that. I love it in China. The food there is excellent. That's part of the experience when you're learning a new culture.
I've heard "2K10" has the virtual Kobe doing your jutting-chin game face. How much of your summer was spent in the mirror, working on a new game face?
Oh yeah, I spent countless hours perfecting my game face. (Laughs) Naw, man. You know, if I had a dollar for every time someone asked me this summer to do that face, I'd have Bill Gates money. Seriously, everyone's like, "Do the face! Do the face!" I'm like, what the hell you mean, do the face? Oh, OK, lemme do the face. Come on, I'm not doing the face, man. Get outta here.
I think it'd be cool if you messed everybody up this season and introduced a really wack face. Like maybe when you hit a crunch-time basket, you cross your eyes.
That's funny. I might try that. But I didn't even know I did that one until people told me about it. Sometimes these things just happen.
Another summer highlight for you, I'm sure: How did your appearance at the Michael Jackson memorial come about?
His mother actually had one of their representatives call the office and ask if I would speak. Michael was really excited about the championship we'd just won. She indicated that he would've wanted me to speak.
Can you top Magic Johnson's KFC-with-MJ story?
The conversations Michael and I had in the past, those were really about something we had in common: being perfectionists in our fields. Our conversations always tended to float around that topic, and the beauty there is in that. Like, in his video for "Smooth Criminal," he was in a zone. That was like his moment, the moment when he said everything was quick and he was so sharp and precise. He was like, that was it.
In honor of Patrick Swayze: Are you a "Road House" guy, a "Point Break" guy, or a "Dirty Dancing" guy?
Come on, "Road House" was the best. After that, I thought it would've been pretty cool to be a bouncer. Kick ass and take names, like he was doing.
You also went on a vacation to Europe this summer. Do you get to do the sights, or is that hard when you're Kobe Bryant?
It's very tough to do that. Very tough. You really have to select your hours, call ahead, maybe go during quiet time, or sometimes they'll close it down for you, stuff like that. But we do like to make it out. I mean, hey, we want to be out there being tourists just like everyone else.
When you and Vanessa want a photo in front of the Eiffel Tower, who's the photographer?
You know what, it depends, but usually we'll just stop a stranger who's there and ask. They're usually pretty cool about it.
Which type of person are you -- the kind that has the patience to wait until you upload the photos to your computer to review the pictures, or are you one of those instant-gratification people who has to immediately review the photo to see if it turned out right?
No, you have to review it. It's a digital camera. Come on, you have to review it. It would suck to fly all that way, take a (crappy) picture, go home and be like, "What the hell is this? The Eiffel Tower ain't even in the picture!"
If the photo does suck, I have no problem asking the random volunteer photographer to take another one. Is that rude?
Oh, not at all. I do the same thing, absolutely. Because, see, we'll return the favor. They're with their family too, and they want a good picture as well, so we'll just return the favor.
You're almost a bigger star overseas than you are here. Sometimes, American stars will endorse products overseas that they wouldn't feel comfortable pushing here in America. Like, George Clooney will appear in a cologne ad, or whatever. What's the strangest product you've ever been associated with?
I haven't done anything really weird yet. We're pretty selective. But I wouldn't mind doing something strange sometime. Like maybe dental floss. I'd do dental floss.
Until then, I guess the weirdest product you've promoted is a video game, seeing as how you're a terrible gamer.
Right. Maybe that's it.
Sam Alipour is based in Los Angeles. His Media Blitz column appears regularly in ESPN The Magazine and occasionally on Page 2. You can reach him at sam.alipour@gmail.com.
ESPN The Magazine
Sam Alipour (
@SamAlipour
) is a senior writer for ESPN The Magazine, ESPN.com and the host of Hang Time.