CUPCAKE SEASON 2008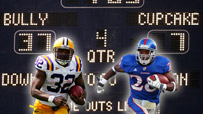 My alma mater has produced more than 150 NFL players, eight first-round NFL draft picks, two NFL MVPs, two current NFL head coaches … and zero signature wins in more than a generation.
Since the formation of the BCS in 1998, San Diego State is 1-26 against the big boys. The win was a four-touchdown romp at downtrodden Kansas in 1999 -- hardly something to hang your hat on. Then the Jayhawks canceled a return game in San Diego.
In the past 20 years there have been close calls against national powerhouses, but not a single victory that has raised eyebrows north of San Clemente or east of Yuma -- even during the Marshall Faulk glory years of 1991-1993.
The closest thing was a 51-31 romp over Oklahoma at then-San Diego Jack Murphy Stadium in 1996, but the Sooners were down at the time, and the win didn't resonate.
On June 1, 2004, however, the Aztecs got a carrot for switching game dates so that BYU could be freed up to play Notre Dame on ESPN. The Irish would play host to the Aztecs in 2008, and I made a mental note to be there.
Here we are on the eve of that matchup, and some of the luster has been taken off the game, to put it mildly. The Irish are coming off a disastrous 3-9 season. The Aztecs, who haven't had a winning season in 10 years, lost to Football Championship Subdivision -- née Division I-AA -- member Cal Poly last Saturday. Yikes.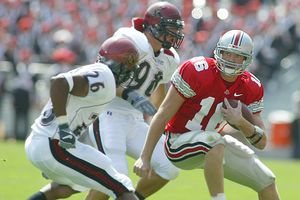 AP Photo/Jay LaPrete
The Aztecs were 32-point underdogs at Ohio State in 2003 and lost despite not allowing an offensive TD.
But, it's still Notre Dame. It's still the stuff of movies. It's still the largest TV audience the Aztecs could fathom. It's still a pigskin pilgrimage.
"It's a map game," Aztecs coach Chuck Long said. "It puts you on the map. It gives a face to the program."
It's exclusive company, too. SDSU joins BYU and the service academies as the only teams outside the BCS to play the Irish since 1989. So, although the Aztecs' words are grounded -- "No matter where we go or what we do, it's a business trip," says linebacker Russell Allen -- one has to wonder if a relatively young SDSU team will be overwhelmed by the environment and a program determined to restore its tradition.
Missed opportunities
A sampling of SDSU's star-crossed search for a signature win:
Iowa 39, SDSU 38 (1986)
SDSU blows a 14-point, fourth-quarter lead in the Holiday Bowl and loses on a last-second field goal.
Miami 30, SDSU 28 (1990)
SDSU misses three fourth-quarter field goals. The Hurricanes finish the season ranked No. 3 in the nation.
USC 31, SDSU 31 (1992)
SDSU settles for a tie after missing two field goals in the last minute. Marshall Faulk runs for 220 yards and scores three touchdowns.
USC 24, SDSU 21 (1999)
SDSU, a 23-point underdog, rallies from a 17-0 deficit, but falls short in the last minute.
Ohio State 27, SDSU 12 (2001)
SDSU leads 12-6 at the half, then turns the ball over five times in the second half, including three times in a five-snap sequence.
Arizona State 39, SDSU 28 (2002)
SDSU takes a 22-0 lead, but can't hold off the Sun Devils as Andrew Walter throws four TD passes to Shaun McDonald.
Ohio State 16, SDSU 13 (2003)
Ohio State was to play this game in San Diego. Instead, SDSU sold the game back for $2.4 million and lost to the No. 2 Buckeyes 16-13 despite not allowing an offensive touchdown.
Michigan 24, SDSU 21 (2004)
SDSU opens the playbook to take a 21-14 halftime lead, then goes conservative and misses two field goals.
Still, the Aztecs' freshman quarterback, Ryan Lindley, says he's a lot more concerned about crowd noise than mystique, even though he realizes the significance of the game for SDSU.
"It definitely made me even more excited to play here," Lindley said.
Las Vegas has made the Aztecs 22-point underdogs, and some wonder if that's an optimistic number for a team with a freshman quarterback and a defense already beset by injuries. San Diego Union-Tribune columnist Nick Canepa suggests it "could be uglier than a blind date in prison."
Nevertheless, longtime Aztecs fan Tom Ables, 82, intends to be at Notre Dame Stadium for what will be his 500th consecutive SDSU football game. He has missed just one Aztecs game since 1946, having attended 670 as of last weekend.
"This is a high point in my mind," Ables said. "[Notre Dame has] more tradition than anyone in the country. It's a special occasion. … I'd be lying if I told you I thought we were going to win, but I hope we play a good game and leave with our heads held high."
Still, incredibly surprising things can happen on a football field. Appalachian State can stun Michigan. Stanford can win at USC as a 39-point underdog. Is it unthinkable that the Aztecs could, somehow, get that signature win on Saturday?
"If they were to win the game, no matter how good or bad Notre Dame is, I would think it would be as big a win as they've ever had," said Canepa, who has covered the Aztecs since Don Coryell coached the team in the 1960s. "It would be way beyond an accomplishment."
Amen.
Thomas Neumann is an editor for Page 2. You can contact him here.