CUPCAKE SEASON 2008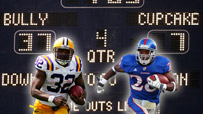 SOUTH BEND, Ind. -- Six inches … if that.
That's how close San Diego State came to finally getting its first signature victory in decades. Despite coming into the most hallowed cathedral in college football as 22-point underdogs -- and one week removed from a humbling loss to Football Championship Subdivision member Cal Poly -- the Aztecs were about to put Notre Dame on the ropes.
On 1st-and-goal at the Notre Dame 4, with a 13-7 lead and just over 12 minutes left in the game, SDSU running back Brandon Sullivan wrestled his way to the goal line … where Fighting Irish safety David Bruton delivered a hit that separated Sullivan from the ball and SDSU from school history.
Notre Dame recovered in the end zone, and 2:12 later the Irish took the lead for good on a 38-yard touchdown pass from Jimmy Clausen to Golden Tate. Never mind that the Irish were 3-9 last season. It's still Notre Dame. It's still Touchdown Jesus, the golden dome and national network television. This would've been the biggest win ever for San Diego State. Instead, it was a 21-13 victory for the Irish, No. 825 in their storied history.
"It's just a tough pill to swallow," said SDSU coach Chuck Long. "We've got to close the deal. [A win] would've meant a lot, but I hope we represented San Diego well."
They did. Freshman quarterback Ryan Lindley threw for 274 yards, with one touchdown and one interception. A depleted and inexperienced defensive line -- with senior linebacker Russell Allen playing defensive end for the first time since his junior year in high school -- allowed only 105 rushing yards after Irish coach Charlie Weis said he wanted to "pound" the ball on the ground. But it wasn't enough to win.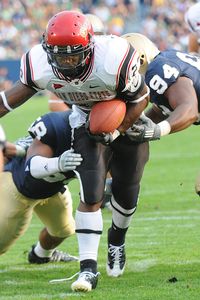 AP Photo/Joe Raymond
Brandon Sullivan appears headed for the end zone and San Diego State history, but the Irish forced a game-turning fumble an instant after this photo was snapped.
Eight years before Long quarterbacked Iowa to a Big Ten title and a trip to the Rose Bowl, the Aztecs earned their last win over an opponent with a national profile -- Florida State in 1977. Saturday, thousands of SDSU fans were at Notre Dame Stadium hoping to see the next one.
Wearing red and black face paint and a frizzy red wig, SDSU student Nick Huckaby was still optimistic when Notre Dame took a 14-13 lead with 9:43 left.
"We've been driving on them," Huckaby said. "So I think we've got a shot."
As it turned out, the Aztecs already had their shot.
To that point, Notre Dame had lost two fumbles, thrown two interceptions, missed one field-goal attempt and botched the hold on another, and extended an SDSU drive with a fourth-down penalty. When a team gets that much help from the opposition and still trails on the scoreboard, odds are opportunity will get tired of knocking. It did.
The Aztecs went three and out, and then Irish wide receiver David Grimes scored the clinching touchdown with 2:08 remaining.
Standing in the top row of the stadium with his father and brother as the game ended, SDSU season-ticket holder Mike Rodriguez lamented the loss of a winnable game. Like so many of his fellow rooters, he believes the elusive win over a football powerhouse can translate into more visibility for the Aztecs, better recruits and ultimately a consistent winner.
"For us, I feel like if we ever get that signature win, it would put us over the top," Rodriguez said.
Instead, the Aztecs fell just short again, adding Notre Dame to the school's list of close calls against the football factories, right alongside Miami, Michigan, Ohio State and USC.
"For us, once again, it's right there," said SDSU alum Paul Locher. "It's right there. It could've been 20-7 with [12] minutes to go. … We had their crowd quiet for three quarters. We had 'em worried. But we don't just want to have 'em worried."