Mariano Rivera has an ERA better than 2.00 again. Joakim Soria of the Royals is blowing hitters away. Joe Nathan and Jonathan Papelbon have been lights-out.
Boring. We've seen all that before.
Here are some unique relief seasons -- marks held by the relievers who pushed the envelope in terms of usage and results, both for the better and for worse.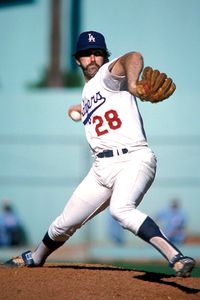 Darryl Norenberg/WireImage
In 1974, Dodgers reliever Mike Marshall went 15-12 while pitching in 106 games.
Most appearances
106: Mike Marshall, 1974 Dodgers
94: Salomon Torres, 2006 Pirates
94: Kent Tekulve, 1979 Pirates
92: Mike Marshall, 1973 Expos
91: Kent Tekulve, 1978 Pirates
Marshall's 1974 season -- he pitched 208 1/3 innings -- remains one of the great endurance runs of modern baseball. Not only did he pitch four times a week, but he also stayed in the game for extended periods. His '73 and '74 seasons are ranked 12th and 13th all time in batters faced per relief appearance (minimum 50 appearances). Is Marshall's 34-year-old record in any way soft? Probably not. Two years ago, Torres became the first pitcher to crack 90 appearances since Tekulve did it in 1987. One could picture a specialist's being brought in to face a batter or two for quite a few games -- but for more than 100? That doesn't seem likely.
Up until 1964, the record for games pitched was a 19th-century holdover from the days when one starting pitcher threw the majority of a team's innings. Then the record went from 76 to 106 within the next 10 years. It has held ever since.
Most wins in relief
18: Roy Face, 1959 Pirates
17: Bill Campbell, 1976 Twins
17: John Hiller, 1974 Tigers
After the recent passing of Jerome Holtzman, much was made of how he came up with the idea for the save rule. This has been attributed to Holtzman: "The Cubs had two relief pitchers: right-hander Don Elston and left-hander Bill Henry. They were constantly protecting leads and no one even knew about it. The year Elroy Face was 18-1 he blew 10 leads. Did you know that? But they had such a good-hitting team they came back in the last inning and won the game for him. Elston and Henry were terrific. I thought it was not fair and that there should be some kind of index for the effectiveness of a relief pitcher."
No disrespect for the dead, but Holtzman was wrong. In Face's 18 victories in 1959, he allowed runs only seven times. Let's examine Face's seven victories in which he allowed a run:
Win No. 1 on the season, April 22: The Pirates were trailing Cincinnati 7-0 when they exploded for seven runs in the home seventh. Face came on in the eighth and allowed a run to break the tie, then pitched a scoreless ninth. He earned the victory when the Pirates rallied for two runs in the ninth to win it.
Win No. 2, April 24: Two days later, Face entered the game with two outs in the seventh and the Buccos up 4-3 in Philadelphia. He allowed two runs in the eighth to put his team down 5-4. The Pirates ran home four runs in the top of the ninth, and Face closed the game in the home half.
BEST SEASONS
Here are the best relief seasons, according to the Baseball Prospectus stat WXRL, which is expected wins added over a replacement-level pitcher and adjusted for level of opposing hitters.

1. John Hiller, 1973 Tigers (9.64)
10-5, 38 saves, 1.44 ERA, 125.1 IP, 89 H, 39 BB, 124 SO

2. Eric Gagne, 2003 Dodgers (9.24)
2-3, 55 saves, 1.20 ERA, 82.1 IP, 37 H, 20 BB, 137 SO

3. Willie Hernandez, 2004 Tigers (9.14)
9-3, 32 saves, 1.92 ERA, 140.1 IP, 96 H, 36 BB, 112 SO

4. Stu Miller, 1965 Orioles (8.96)
14-7, 24 saves, 1.89 ERA, 119.1 IP, 87 H, 32 BB, 104 SO

5. Troy Percival, 1996 Angels (8.31)
0-2, 36 saves, 2.31 ERA, 74 IP, 38 H, 31 BB, 100 SO

6. Trevor Hoffman, 1998 Padres (8.29)
4-2, 53 saves, 1.48 ERA, 73 IP, 41 H, 21 BB, 86 SO

7. Keith Foulke, 2000 White Sox (8.21)
3-1, 34 saves, 2.97 ERA, 88 IP, 66 H, 22 BB, 91 SO

8. Eric Gagne, 2002 Dodgers (8.20)
4-1, 52 saves, 1.97 ERA, 82.1 IP, 55 H, 16 BB, 114 SO

9. Dan Quisenberry, 1980 Royals (8.20)
12-7, 33 saves, 3.09 ERA, 128.1 IP, 27 BB, 37 SO

10. Brad Lidge, 2004 Astros (8.10)
6-5, 29 saves, 1.90 ERA, 94.2 IP, 57 H, 30 BB, 157 SO

Win No. 6, May 24: The Pirates raced out to a 6-1 lead in Los Angeles, but starter Bob Friend couldn't hold it. By the time he exited in the eighth, the score was 6-3 and the tying run was at the plate with one out. Face entered and allowed both baserunners to score as well as one of his own, leaving the game tied. Pittsburgh's Dick Stuart homered in the top of the ninth, and Face pitched a scoreless ninth.
Win No. 9, June 11: With the Pirates leading the Giants 7-5, Face was brought in to relieve Friend with men on first and second and nobody out in the top of the eighth. After recording an out, he surrendered a three-run, pinch-hit homer to Willie Mays. Pittsburgh wiped out that lead with a five-spot in the home half. Face allowed another run in the ninth, making the final 12-9.
Win No. 14, July 12: In the first game of a doubleheader, Face relieved Harvey Haddix in the eighth with two out and two men on. He got the final out, preserving the 5-4 lead, only to surrender it an inning later on a Bill White single. The Pirates walked off with the win in the ninth.
Win No. 15, Aug. 9: Face was brought in to start the eighth inning with the Pirates trailing Philadelphia 2-1. He immediately ran into trouble and allowed an unearned run. But his teammates tied the game with two in the top of the ninth and scored the go-ahead run in the 10th. Face shut out the Phils in the ninth and 10th for the 4-3 win.
Win No. 18, Sept. 19: Face had lost his perfect 17-0 record during his previous outing when he let a 4-2 lead against the Dodgers get away from him. This time, hosting the Reds, he was brought in to start the ninth inning with the score tied 2-2. He pitched three shutout innings before allowing a run in the top of the 12th. Bill Mazeroski won the game with a two-run triple.
So, in only seven of Face's 18 victories did he even allow a run, and two of those times the runs came when the game was tied and one came with Pittsburgh trailing. That leaves four of his wins that were genuine blown saves, the kind that so allegedly outraged Holtzman that he decided to grace the world with the save rule. Face did blow five other saves in games in which he did not get a decision.
Best winning percentage in relief (minimum 10 decisions)
1.000 (11-0): Dennis Lamp, 1985 Blue Jays
.947 (18-1): Roy Face, 1959 Pirates
.933 (14-1): Phil Regan, 1966 Dodgers
Only one of Lamp's victories came about after he blew a save opportunity. In fact, he allowed runs in just three of his 11 wins. On the other two occasions, he entered the game in the fifth inning with Toronto already in front when the starter couldn't go any further. He allowed runs, but did not surrender the lead and was credited with the decision.
Regan allegedly was given his nickname, "The Vulture," by Sandy Koufax because Koufax and Don Drysdale would limit opponents for the majority of the game only to have the Dodgers wake up in late innings and score the go-ahead run after Regan had become the pitcher of record. Was this actually the case? And how! The most glaring example of this came on Aug. 1, 1966, when Koufax kept the Pirates in hand for seven innings, giving way to Regan with the score tied at 1. The Dodgers then scored four runs in the ninth, improving Regan's record to 10-1. In Regan's 14 wins, the Dodgers scored just 20 runs in the 95 2/3 innings in which the starters were in the game. When Regan was in the game, however, they scored 28 runs in 28 innings.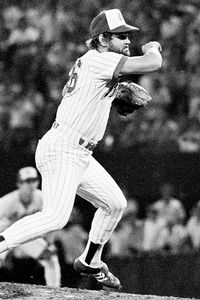 AP Photo
Gene Garber had 218 saves in his career, but lost 16 games in 1979.
Most losses in relief
16: Gene Garber, 1979 Braves
14: Darold Knowles, 1970 Senators
14: John Hiller, 1974 Tigers
14: Mike Marshall, 1979 Twins
To paraphrase former MLB pitcher Roger Craig's comment about losing 20 games in a season, it takes a great pitcher to lose 16 games in relief. Well, not really. Garber had some very good years, but 1979 was not one of them. He was the bullpen workhorse for a Braves team that lost 94 games. Garber was 2-5 in games in which he blew saves.
Knowles won just two games for the woeful Senators, but he did preserve 24 of their rare victories. Three years later, he set a record for appearing in all seven games of the 1973 World Series for the Oakland A's.
Hiller holds the record for decisions in relief with 31 in 1974. He also holds the record for a Baseball Prospectus statistic called WXRL, a lineup-adjusted version of WXR, which calculates "expected wins added over a replacement-level pitcher. WXR uses win expectancy calculations to assess how relievers have changed the outcome of games." It was not for his famous 1974 season, though, but for the year before in which he went 10-5 with a 1.44 ERA and 38 saves in 125 1/3 innings. He also set the new mark for saves that year with 38, a record that lasted until 1983 when Dan Quisenberry logged 45.
Best inherited runners scored record (zero allowed)
22: Randy Myers, 1998 Blue Jays and Padres
18: Eric Gagne, 2004 Dodgers
16: Ray Lamb, 1972 Indians
16: Phil Norton, 2003 Cubs and Reds
16: Gregg Olson, 1998 Diamondbacks
Many pitchers have gotten through a season without allowing an inherited runner to score, but these five stranded the most in their zero-tolerance inheritance. With 50 games left in this season, Brian Wilson of the Giants has a shot at this record. So far, he's stranded 15. Francisco Rodriguez, the man who has the season saves record in his sights, has zero. So much for the concept of "the fireman."
Worst inherited runners scored record (minimum 10 baserunners)
86 percent scored: Derrick Turnbow, 2007 Brewers
84 percent scored: Calvin Schiraldi, 1990 Padres
81 percent scored: Hoyt Wilhelm, 1969 Angels and Braves
This is the opposite side of the coin -- the pitchers who cleared the bases of their predecessors' obligations with alarming thoroughness. Turnbow arrived with 14 men on, and all but two scored. Schiraldi stranded just three of 19 while Wilhelm allowed 13 of 16 to reach home plate. Removing the 10-baserunner minimum, the Indians' Juan Rincon has allowed all seven runners he inherited to score so far this season.
Most inherited baserunners, season
112: Wayne Granger, 1969 Reds
104: Bob Lacey, 1978 A's
103: Sid Monge, 1979 Indians
99: Sparky Lyle, 1977 Yankees
99: Goose Gossage, 1975 White Sox
Granger must have seen baserunners in his sleep in 1969 (he pitched 90 games and 144 innings that year), although Monge actually saw more per appearance. All of these guys must have felt like the man who married the widow with 10 kids.
Batters faced per appearance (minimum 50 appearances)
9.24: Hoyt Wilhelm, 1953 Giants
9.10: Hoyt Wilhelm, 1952 Giants
9.01: Bill Campbell, 1976 Twins
Campbell parlayed his big season (17-5, 3.01 ERA in 167 2/3 relief innings) into one of the early free-agent paydays. He signed with the Red Sox for $1 million for four seasons (about $3.6 million adjusting for inflation), and Boston proceeded to try to get every penny's worth out of him. In 1977, he posted the seventh-highest batters faced per appearance figure of a reliever. (He threw 140 innings.) By 1978, his arm was raggedy, and he averaged less than 50 innings per season during the next four years. Dropping the 50-appearance minimum, we find the astounding 1978 season of Boston's Bob Stanley. He came into 49 games for the Red Sox and faced an average of just more than 11 men per appearance. He had one appearance of 8 1/3 innings and several more of such duration that, had they been starts, he would have been eligible for a victory. He went 15-2 and was switched to the starting rotation the next season.
Best bullpen trios
2003 Los Angeles Dodgers -- Eric Gagne, Guillermo Mota and Paul Quantrill (16.36 WXRL)
1997 Baltimore Orioles -- Randy Myers, Armando Benitez and Arthur Rhodes (15.74 WXRL)
2002 Atlanta Braves -- John Smoltz, Mike Remlinger and Chris Hammond (15.07 WXRL)
2003 Houston Astros -- Billy Wagner, Octavio Dotel and Brad Lidge (14.42 WXRL)
The main criterion here is this: All three pitchers must have posted one of the top 1,000 WXRL seasons of the past 50 years. That means, on average, that they were one of the 20 best relievers in a given year. This way, we avoid what I like to call the Tommie Aaron Syndrome, so named for the old trivia question about which brothers had the most home runs in baseball history. Tommie, with his 13, didn't contribute much to the cause anchored by brother Hank, who hit 755. By setting a minimum floor, we are guaranteed that all three relievers in the trio were contributing at a fairly high level.
Gagne, of course, didn't blow a save in 55 chances that year (well, other than in the All-Star Game), and all three had ERAs better than 2.00 and WHIPs around 1.00 or below. If the Dodgers could have scored any runs that year (they finished last in that category), the sky might have been the limit.
Only one team in the past 50 years has had four relief pitchers whose combined WXRL was in the top 1,000, and you probably cannot guess which team. J.C. Romero, Eddie Guardado, LaTroy Hawkins and Tony Fiore were the stalwarts of the Minnesota Twins' bullpen in 2002, contributing to the team's division crown. Consider, too, that Johan Santana added 13 games out of the pen.
Jim Baker is a regular contributor to Page 2 and Baseball Prospectus.