By Jeff Merron
Page 2 columnist
Editor's Note: This is the ninth report card in Page 2's summerlong series rating all 30 ballparks in Major League Baseball.
BOSTON -- "I love Fenway," wrote Red Sox fan Stephen King. "I love it in spite of the things about it that I hate."
REPORT CARD
Fenway Park
Capacity: 33,993 (night); 33,577 (day)
Opened: April 20, 1912
Surface: Grass Our Ratings:
Seat comfort: 0
Hot dogs: 5
Concessions: 1
Signature food: 5
Beer: 2.5
Bathrooms: 2.5
Scoreboard: 5
P.A. system: 5
Fun stuff: 5
Souvenirs: 3.5
Tickets: 3
Exterior: 5
Interior: 4
Access: 4
Ushers: 5
Trading up: 2
Fan knowledge: 5
7th inning stretch: 4
Local scene: 5
Wild card: 10

---

Total: 81.5
My feelings are pretty much the same. In the late 1970s, I attended my first games at Fenway. I'd go with my future brother-in-law, who attended nearby Northeastern University, and we'd just head to the park on game day and stand in line and buy bleacher tickets for a buck or two.
It was good fun -- plenty of beer, fine baseball and a small sense that history happened here.
But in the years since, everything about Fenway has changed by, paradoxically, remaining pretty much the same. By just standing still, Fenway Park has become a national treasure.
You're in a living, breathing time capsule. For three hours, you share the air with 34,000 real people and tens of millions of friendly ghosts who were once in the same exact spot. They watched Babe Ruth pitch, or Ted Williams hit, or Yaz play the Green Monster like a pinball wizard, or Carlton Fisk slam his 12th inning homer to win the sixth game of the 1975 World Series.
Or they saw Tony Conigliaro. Rico Petrocelli. Walt Dropo. Oil Can Boyd. Names -- names -- that just ooze Red Sox red.
I'll resist getting all weepy. But if they could put Fenway in a pill, the folks who make Prozac would be out of business.
The ratings:
1. Seat comfort: Fenway's seats give real meaning to the cliché "sit tight." I've seen some people explain that the tiny, cramped seats are a historical artifact -- the gist being that the average fan in 1912 was much smaller than today's average Joe. I don't buy it,. I'm the size of an average male, circa 1912, but by the end of the game I'd been squeezed so much for so long that I'd lost two inches around the waist, and gained two inches in height.
My right field grandstand seat directly faced the outfield and the Monster. For the first four innings (until the sun went down), we all did the Fenway Salute: right hand angled low over furrowed brow, paying grand honor to the visitor's dugout. Blue Jays manager Carlos Tosca must have thought we were taking the term "field general" literally, and paying the ultimate honor by saluting the enemy.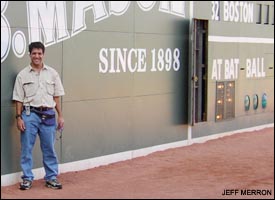 Jeff Merron found out that The Green Monster is larger than life at Fenway.
Even with the effort of a steady 70-degree neck turn and the salute, my view of the entire infield was blocked for most of the first four innings, just by the fans sitting in front of me, vendors and people walking the aisles. And there was, of course, a Monster Green pesky pole, necessary to support the awning above, but hiding from view at least one infielder at any given moment.
I later learned my section was among the worst in the house. The bleachers cost less and afford a much better view. But the actual seats are awful everywhere. Points: 0
2. Quality of hot dogs: Fenway Franks. You can't do any better. 5
3. Quality/selection of other concession-stand fare: Remember the Fenway scene from "Field of Dreams"? Ray Kinsella (Kevin Costner) and Terence Mann (James Earl Jones) are walking and talking after they enter the ballpark. They stop. It's an intense moment. There's a concession stand in the background.
Ray: "So what do you want?"
Terence: "I want them to stop looking to me for answers, begging me to speak again, write again, be a leader. I want them to start thinking for themselves. I want my privacy!"
Ray (gesturing toward the concession stand): "No, I mean, what do you want?"
Terence: "Oh. Dog and a beer."
That's realism. There just aren't that many other choices. 1
FENWAY PARK BUDGET
Here's what Page 2's Jeff Merron spent during his day at Fenway Park: Ticket: $33 ($27 face value, $6 Ticketmaster charge) Parking: $0

Papa Gino's Pizza: $5

Poland Springs Water, 24 oz. "sport" bottle: $4.25

"Cool Dog" ice cream thingee: $4.75

Two "T" tokens: $2

Total: $49
4. Signature concession item: They stick with what they know: the Frank. 5
5. Beer: Bud Light on tap. Amstel Light in cans. Sam Adams at one or two stands. $4.95 for the Bud and Amstel, $6.25 for Sam. Long lines, but slightly lower prices than most parks. 2.5
6. Bathrooms: Based on rumor and hearsay, I was ready to don a Level 4 biohazard suit before entering the men's room. But under the bleachers, at least, the loo was passable.
A longtime Red Sox fan told me recently that the only thing she doesn't like about Fenway is that she can't drink beer during the game, because she will not enter a woman's room there.
But at the game a gracious young woman hawking Red Sox "affinity" credit cards offered a second opinion of the ladies' rooms. "They're clean," she said. "They're pretty good. Especially here under the outfield seats, where they have newer fixtures. The closer you get to home plate, though, the worse they get. And they get pretty bad." Lines were also of varying length, from long behind home plate to nonexistent under the bleachers. 2.5
7. Scoreboard: The old manually operated board does the job in classic fashion. At one point, the big video scoreboard showed Nomar, live, coming up swinging a bright green bat. Then, for a while at least, everything had a greenish tint.
Another scoreboard provides pitcher info (ERA, pitch count, strikes, strike percentage), and batter info, including timely situational stats which offer plenty of fodder for in-game chatter. 5
8. Quality of public address system: I've never heard a more beautiful rendition of the National Anthem. Opera singer and teacher Todd Angilly sang it on the night I attended, and it sounded miraculous. Note to MLB: Book Mr. Angilly for the World Series.
When the PA system rocked, it faltered a bit, but all spoken info was crystal. 5
9. Fun stuff to do besides the game: Between-innings scoreboard entertainment was excellent, with highlight films (the All-Star Game, a tribute to Ted Williams, bloopers) providing a terrific way to pass some time. But New Englanders don't go in for much nonsense, so I people-watched and soaked it all in. To me, that's a heckuva lot more fun that watching three Cheetos in a fake scoreboard race. 5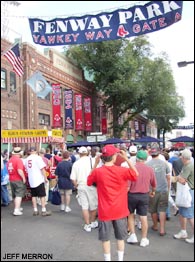 Life's is a party on Yawkey Way outside Fenway Park.
10. Price/selection of baseball souvenirs: Seems that MLB licensed "collectibles" have taken over the business inside every stadium -- go to three ballparks, and you've seen it all. And sports souvenir prices may be the only thing keeping deflation at bay.
That said, I didn't have enough time to really look for one at the ballpark, but I really covet a Red Sox bullpen car. 3.5
11. Ticket price/availability: About 10 days before the July 17 game I attended, I logged on to the Red Sox Web site to check out what was available. Early in the morning, I could have scored a pair of mid-level bleacher seats for $20 each. By noon, the bleachers were sold out, although you could get a pair of ducats in a couple of other spots. By 4 p.m., only singles were available, in the far section of the right-field grandstand.
I grabbed one. It was an expensive mistake; I should have waited and paid a scalper an outrageously high sum for a good seat. That way I would have actually seen the game. 3
12. Exterior architecture: It doesn't get any better. The Green Monster looms large as you approach the park. Take time to circumnavigate the stadium and savor the real old brick exterior, chipped and aged and all. Look at all those old metal vents and grates installed, back in the 1910s, by some company that's probably gone the way of the horse and buggy. The main entrance to the stadium, on Yawkey Way, is a sight to behold, with "FENWAY PARK" etched in red stone above the colorful banners celebrating Beantown's salad days a century or so ago. 5
13. Interior architecture: If you haven't been there, you've seen it on TV: the playing field, the Green Monster, the seats, even the poles that hold the whole thing up -- classically beautiful. For fans, though, the interior is a practical nightmare. Picture Kate Moss and Tyra Banks trying to walk past each other. They couldn't do it in a Fenway aisle without stripping down and greasing up.
There's plenty of new space in a big concourse under the bleachers, though, with picnic tables surrounded by concession stands. Nice addition, but it would help if they'd scatter a few TV monitors around out there. 4
14. Access: I took the "T" from my hotel near State Street, and even in a packed subway car, I was glad not to be driving. Finding anything in Boston's street maze isn't easy, even if you know the city. And the park could be renamed, as Dan Shaughnessy once wrote, "Fenway No-Park." But if you're smart and use public transport, it's easy as pie, cheap, and you get to know Boston natives up close and personal.
The streets circling Fenway are closed off to most traffic before and after the game. The big crowd got a bit backed up in some narrow gateways on the way in, and on the way out Yawkey Way came to a standstill, even though fans were heading one way on a wide street. The crowd buzzed about a brawl somewhere among the masses ahead, and after that broke up, the jam eased. 4
15. Ushers: Nice, helpful and, it appeared, as happy as the fans to just be inside the old ballpark. 5
16. Trading-up factor: There is none -- the game was sold out and nobody leaves until it's over. There's no free space to stand for more than a few minutes to get another view of the game. But you can't blame the ballpark for attracting hordes of dedicated faithful. And you can give it some credit for putting most seats very close to the action in the first place. 2
17. Knowledge of local fans: Suffering leads to insight. 5
18. Seventh-inning stretch: The Park became eerily quiet after people rose in the middle of the seventh. As the stretch neared the end, I made out the faintest murmurs of "Take me out ..." I don't know if it was the acoustics (I was standing behind home plate near a concession stand at the time), or the fact that the Blue Jays were shutting the Sox down. I suspect the latter. Which is kind of cool. 4
19. Pre-and-postgame bar-and-restaurant scene: Yawkey Way is a street fair before the game, with sausage vendors, souvenir shops, and lots of boisterous Red Sox rooters. Don't miss the the Upper Deck store on Yawkey Way, which features a tremendous selection of real Red Sox memorabilia -- baseball cards, old photos and posters, yearbooks and programs from years past. The same store also carried a $45 life-size cardboard standup of ... Derek Jeter. I can only imagine what Sox fans who buy that item do with it.
Surrounding the park, Boston Beer Works, Cask 'n Flagon, and other bars and restaurants do boffo postgame business. 5
20. Wild-card: The field (85 percent Kentucky bluegrass, 15 percent perennial ryegrass) is like a canvas cut for Picasso, maintained by turf maestro David Mellor. The fans are polite and friendly and full of good, useful info (as in, what happened when that guy blocked my view?). The skinny: There's something in the air. Fenway lifts you up and holds you in baseball heaven long after you've left the park. 10
TOTAL SCORE FOR FENWAY PARK: 81.5