By Jim Caple
Page 2 staff
Editor's Note: Last summer, Page 2 toured and rated all 30 Major League Baseball stadiums. This season, two new ballparks have opened, so it's time to bring our rankings up to date. Today, Jim Caple reviews the new stadium in San Diego. Coming soon: a report card on Philadelphia's new stadium.
SAN DIEGO -- Let me begin by saying that I will not refer to this stadium by its "official bought and paid for'' name. I've made my feelings clear -- many times -- about corporate names on publicly-financed stadiums. And ESPN.com readers have made their feelings about the name of San Diego's new park, in particular, so clear that even David Wells could understand.
"Embarrassing'' is probably the most frequent term I heard when I asked for opinions on the subject last winter, though "insulting'' wasn't far behind. When I asked for alternative names, the one most frequently submitted was "Mission Field'' -- so that's how I'll refer to the stadium throughout. And if a certain pet store chain doesn't like that ... well, they can always send me a check for $100 million, too, and I'll reconsider my policy.
REPORT CARD
PETCO Park
Capacity: 42,500
Opened: 2004
Surface: Grass Our Ratings:
Seat comfort: 5
Hot dogs: 3
Concessions: 4
Signature food: 5
Beer: 3.5
Bathrooms: 4
Scoreboard: 4
P.A. system: 5
Fun stuff: 5
Souvenirs: 4
Tickets: 3
Exterior: 3
Interior: 4
Access: 2
Ushers: 4.5
Trading up: 3.5
Fan knowledge: 3
7th inning stretch: 3
Local scene: 3.5
Wild card: 8

---

Total: 80
So how is Mission Field? Pretty darn nice, like all the new stadiums. It has a great old warehouse in left field, nice sightlines and plenty of wide concourses lined with concession stands offering enough food to please even Wells.
Still ...
I know Jack Murphy Stadium was no great shakes, especially after seats were added for the Chargers. But as I paid $20 to park five blocks from Mission Field (after driving around and cursing for 20 minutes), and as I stared at the pocket schedule showing ticket prices ranging from $55 on a private mezzanine level to $34 for the right field corner, and as I walked past Mission Field's exterior of sandstone imported from India, and as I thought of a Padres' roster that isn't all that different from the previous season's ... I couldn't help but ask why Mission Field is supposed to be such a good deal for the fans and whether it is really worth all that money and all those lawsuits.
The answer, I suppose, depends on San Diego's winning percentage and whether you can afford a ticket. And to be completely fair, this answer didn't appear to be much of a mystery to the other 40,000-plus fans cramming the park when I visited.
1. Exterior architecture: Mission Field cost nearly $500 million ($450 million, to be exact), which is incredible when you consider that Camden Yards cost $110 million a dozen years ago. Where did the money go? Well, for one thing, the Padres imported sandstone from India. Seriously. This is the description in the media guide: "The stone, quarried in India, is a shade called 'Padres Gold,' selected to duplicate those rich ochre earth tones (of nearby Torrey Pines).'' Excuse me a minute while I puke up some rich ochre earth tones. What is this,anyway? A ballpark, or a Ralph Lauren catalogue? I'm going to give them the benefit of the doubt for not having the stadium face the water because there were probably some sun and wind issues, but they should have worried less about the sandstone and more about the view. Points: 3
2. Interior architecture: It's not as good as the B&O warehouse at Camden Yards, but I love the way they incorporated an old warehouse into left field. And overall, it's a very, very good-looking park. But where are the palm trees from Jack Murphy? Where, for that matter, is anything that says San Diego? You've got a park in one of the most beautiful cities in the country, and yet you wouldn't know that when you walk into the stadium. The media guide says the structural steel of the stands has "a white marine finish that reflects the city's nautical heritage;'' but mostly, it just reflects boring beige. Some color would go a long way towards making the place more intimate. And finally, the standard has been set for new stadiums. Regardless of your ticket, you should be able to walk unencumbered around the entire stadium with a view of the game at all times. Here, there are too many spots where your view is blocked -- and in one strange corner, you have to keep going down steps and ramps. 4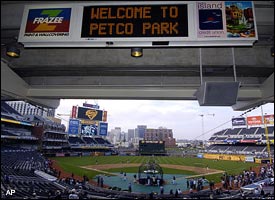 Jim Caple doesn't welcome you to PETCO, but does welcome you to Mission Field.
3. Quality/selection of concession stand fare: It's a pretty wide assortment, ranging from hot dogs to sushi to fish tacos. But some locals claim the food was better at the Murph. And stay away from the Pacific Coast League restaurant. You can sit down for a more elaborate meal (I made the mistake of ordering a Dungeness crab salad) there, but you can't see the game at all. Before the game begins, expect a long wait because there aren't enough waiters to handle the crowd. And because every stadium requires one fat old player to put his name on a concession, there's Randy Jones' barbecue stand. The Padres missed out on a golden opportunity here, though, by not setting up a Gwynn Brothers Donut Stand. 4
4. Signature concession item: The good news is that Rubio's fish tacos are still here. The bad news is you have to hunt for them because they aren't sold in their own stands anymore. They're worth the extra effort. And make sure you buy two so you don't have to stand in line again. 5
5. Ticket price/availability: Well, it's a new park so the seats are expensive. Bleacher tickets are only $8, but the section is situated in such a way that the scoreboard blocks half the field. The seats have ridiculously large amounts of legroom -- Manute Bol could stretch out here and still have room for his carry-on bags -- but the view is terrible. 3
6. Ushers: They're in San Diego and they're working at a baseball stadium. Why wouldn't they be pleasant? 4.5
7. Seventh-inning stretch: Here's a marketing tip for day games. To make this otherwise-average moment special, the Padres should station some beautiful women sunbathing in bikinis on the sand beyond right field. Then, when everyone sings "Take me Out to the Ballgame,'' the hotties should stand up, stretch, and then rearrange their beach towels so they can lie directly in the sun again. 3
8. Bathrooms: There didn't seem to be very many, but there were no lines and no waiting despite capacity crowds and all those tacos and burritos being sold. 4
9. Scoreboard: The video replay board (which is billed as FriarVision) is superb. The out-of-town scoreboard, however, is electronic and is used for advertising between innings. This is inexcusable. If you want to be taken seriously at a new park, you must be able to see the other scores at all times. 4
10. Quality of hot dogs: Seats in the terrace section are $55 apiece and access to that level is restricted, because, of course, people paying $55 for a ticket shouldn't be exposed to the riff-raff while waiting in line at the concession stand. But here's the beauty of that VIP section. The hot dog prices are higher there. Hah! Choke on that, you elitist bastards. 3
11. Access: Evidently, the ballpark designers didn't realize that San Diego is in Southern California and that Southern Californians wouldn't dream of walking anywhere, even on the beach and even if it means saving a stranded whale. Whatever you do, don't drive to the park. There is just no parking. I drove around for 20 minutes looking for a lot before a stadium worker handed me a map of "official'' parking lots, including some that are 20 blocks away. I'm not sure, but I think one was even in Tijuana. When you need to hand out maps of the parking lots, you have a major problem.
Take the trolley, which is convenient as long as you can get to a stop easily. 2
12. Fun stuff to do besides the game: There is a great "Park inside the Park'' play area beyond the centerfield fence where kids can play on a small diamond or just run around on the grass. There also is a sandbox/beach for the kids in front of the bleachers, which is nice. There is a bar and a restaurant and all the other requirements of a new stadium, including clowns painting faces. But personally, I enjoyed reading the pet store sponsor's stupid Fan-imal facts, which are constantly displayed on the revolving advertising boards. A sample: What kind of pet does the Loretta family own? Answer: Goldfish. What percent of a cat's day is spent sleeping? Answer: 70 percent. What is the most popular name for a dog? Answer: Max. I kept waiting for them to ask, "What is the largest mammal in the world?" Answer: David Wells, followed by the blue whale.'' 5
13. Price/selection of baseball souvenirs: You can buy all the standard shirts and caps. But I found it interesting that there weren't many fans actually wearing Padres shirts. Oddly popular are those brown-and-mustard "vintage'' jerseys from the early '80s. They were probably the ugliest jerseys in baseball history, and yet now they are considered retro and hip. As Giants' catcher AJ Pierzynski told me before the game: "You just never know. Every fashion that you think no one will ever go for again, it eventually comes back and they're wearing it again.'' God, does that mean I have to wear a leisure suit in a couple years? 4
14. Beer: It's $5 for a cup of lousy Bud, but you can buy wine and vodka, which is nice. 3.5
15. Seat comfort: Nice and roomy. Tony Gwynn would fit comfortably here. 5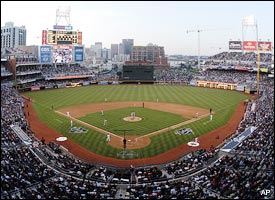 All in all, Mission Field wil be a great place to watch a game.
16. Quality of public-address system: The speakers are so loud and so sharp that when Trevor Hoffman enters the game to "Hell's Bells,'' you would swear AC/DC is playing a concert on the mound. 5
17. Trading-up factor: I was there on opening weekend, which was a complete sellout, so it's hard to really judge. But without ever showing a ticket, I was able to sit in an open seat along the right field line and able to move about freely in the bleachers. 3.5
18. Knowledge of local fans: Ken Caminiti, who admits that he took steroids when he won the 1996 MVP award, was sitting in a suite at the opener; and when they showed him on the video board, the fans went nuts cheering him. When they introduced Barry Bonds, they booed him loudly. So what are we to make of this? It's all right to take steroids as long as you play for the home team. 3
19. Pre-and postgame bar and restaurant scene: There are a few bars near Mission Field, and the Gaslight District isn't far away. But there is no real Wrigleyville feel around the stadium yet. 3.5
20. Wild card: People ask me how Mission Field stacks up compared to the other parks, and I say it's probably the fifth-best ... on the West Coast. That's no insult, though. Seattle, San Francisco and Los Angeles all have great stadiums, and I've always enjoyed the Big A in Anaheim. So let's give Mission Field a couple of extra points for being good enough to belong in the same class, and some more points just for being in San Diego.
And it's going to get better when they figure out the parking problems, the Gaslight District bars edge closer and the plants and trees grow out some more. If the Padres are still in contention in mid-summer when the sun in shining and a cool breeze is drifting off the harbor and the fish tacos are frying up in the concession stand, there may be no more desirable place in the world to watch baseball -- other than sitting next to Gwynn in his video room. 8
TOTAL SCORE FOR MISSION FIELD: 80