By Don Barone
Special to Page 2
Theo never called.
The Brockton Rox, of the Can-Am League, got left at the baseball altar.
Knowing that Theo Epstein, former general manager of the Boston Red Sox, was close to signing with the Massachusetts Division of Unemployment Assistance ($551 a week max for 30 weeks) the Rox offered Theo their GM job. He had until Monday at 1 p.m. to accept.
He didn't.
But I did.
Looking back on Theo's career I discovered, much to my surprise, that -- except for a few major things -- Theo and I were separated at birth, some 21 years apart.
I'd be perfect for the "I'm Not Theo" job with the Rox.
MY ALMOST-THEO RÉSUMÉ
Theo was a 31-year-old GM. I have a 31-year-old GM up on blocks in the backyard. A '74 blue-and-rust two-door Grand Am.
According to Theo's mother, he was conceived in Holland. And his grandfather won an Oscar for the "Casablanca" screenplay.
According to my mother, I was conceived at a Holland, N.Y., drive-in that was showing "Casablanca." Dad had that Bogart thing going on back then.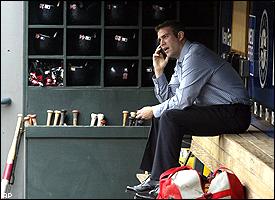 AP
"Wait, who's offering me a job now? The Brockton Rox?"
Small world.
Theo went to Yale. So did I, to the dinosaur museum there. Have a blue dino mug to prove it.
Theo was an Oriole. I love Oreos, always unscrew them to scrape the stuff off with my teeth. Double chocolate.
Theo went to the Padres. I went to the San Diego Zoo once. At this point, we were within blocks of each other. I think I saw him next to me at a light. He had a Padres hat on.
Theo became general manger of the Red Sox at the age of 28 years and 11 months. I have a Red Sox T-shirt aged 28 years, 11 months and 14 days. Because of all the holes in it, I only wear it to bed now. I bet Theo wears Red Sox T-shirts to bed too. Maybe an old Padres one sometimes as well.
Theo traded Nomar to Chicago … I traded my Nomar card to this kid Nick down the street. But I still have my Mia poster in the garage.
Theo bought Kevin Millar … me too, 65 cents on eBay.
Theo sent Casey Fossum somewhere … I've sent e-mail to Casey's retired FBI-agent father. I had dinner with the Fossums once, in Waco, Texas. Casey was 12 at the time. I scouted him way before Theo.
Theo has never worked in the minors. And amazingly, neither have I.
Theo has a World Series ring, and so do I. But mine says Kenmore West Senior High School, 1970.
See, other than the fact that he has parents who are not mine, we are separated at birth, a couple of decades apart.
So, Brockton Rox, if you are looking for an Almost-Theo, that's me. I am your not-Theo kind of guy.
Hire me. I'll save Theo a seat.
Don Barone is a feature producer for ESPN. You can reach him at Don.Barone@espn.com.