Commentary
My attempt at roller derby glory
Originally Published:
December 10, 2009
By
Katie Barry
| Special to Page 2
My friends call me "Quadzilla" because of my stocky legs of steel. My mom calls me "a boy with boobs." But if I end up landing a spot on a Gotham Girls roller derby team, I know what I'll call myself:
[+] Enlarge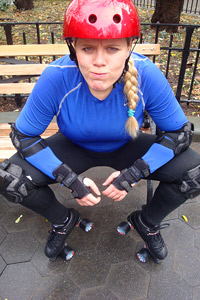 Kristy BarryMeet Kathryn Barry, aspiring Gotham Girls roller derby competitor.
"Dislo-Kate-R."
The last time I roller-skated was all the way back in the sixth grade, at The Roller Hut back home in Ohio. It was a teenybop hot spot, where parents dropped off their children to govern themselves. The worst that ever happened was a little kissing in a dark corner and eating too much candy.
But when it came time for the couples skate, the roller rink morphed into a middle school dance floor. You had your wallflowers, your showboats and the girls who jumped in to backskate with their boyfriends. The lights went low, Boyz II Men sang "I'll Make Love To You," and there I was, 12 years old, without a clue that I'd someday try out for a roller derby team.
While covering offbeat sports for The Jersey Journal two years ago, I stumbled across roller derby and fell madly in love. I eagerly researched all the rules and the teams, and I came across so many fabulous player nicknames. "Florence Night-N-Jail! Rosie The Rib-Hitter!" I couldn't resist coming up with nicknames for my colleagues at the newspaper. My boss, Angela, became "Angel-a Death." Mike became "Mike and Spike." Sergio was simply "Surge."
I couldn't wait to cover the next local roller derby event. Glitz. Fishnets. Bruises. Flying elbows. Lipstick. War paint. Whistles. Hot dogs. Hot pink.
After moving to Manhattan, I decided I simply had to try out for the Gotham Girls. I ordered skates online, and when the UPS guy handed over the package a few days later, I kissed him on the face. The skates looked like black nurse shoes on wheels, yet still slick. And my transformation to a derby girl was complete with the purchase of a mouth guard.
My twin sister decided not to try out, describing roller derbies as "a bunch of Tonya Hardings on four wheels." She said "They'll stomp on your face, break your neck, scoop your eyeballs out and hold them up as a trophy."
My mom had confidence in me, though. She always tells us to "face your fears," a mantra I remember hearing as a child, when I looked over at her as I mustered up the courage to jump off a high dive for the first time.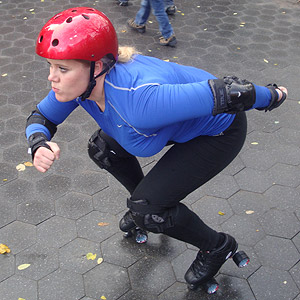 Kristy BarryKathryn prepared rigorously for her tryout, skating throughout Central Park.
In this case, I sunk my teeth into my mouth guard and gave it a go. I put in some practice, in Central Park and in Newark during a local rink's monthly skate party night (which seemed more like a block party on wheels). After this, I felt confident that all my wipeouts would not be in vain.
The tryouts took place at the Gotham Girls' "crash pad" in an old cigar factory in Queens. Our judges were Surly Temply and Suzy Hot Rod. Grouped with 10 other eager-eyed skaters, I hit the track. We stretched together and did warm-up laps, then were put through two-minute drills. The first was skating on one foot. The second was stopping and popping back up from a one- or two-knee drop. The third was pushing off a partner, skating ahead of her, and then being pushed ahead yourself.
The final drill was making as many laps as you could; the key was controlling speed. Then Suzy Hot Rod called everyone into the middle, stressed the importance of stretching and -- boom! -- we were done. No busted lips, no cracked bones, no runaway skaters! I was rip-roarin' ready to go and instead was told to pack up, go home and wait for a phone call.
Ellen Page's character in the movie "Whip It" made the roller derby team with gangly legs, no athleticism and no knowledge of the rules. She went from beauty-pageant contestant to roller derby star. I'd be going from bartender to roller derby glory. But whether I make the team or not, I'm pumped. I'll either be a derby girl or I'll start my own roller-skating football team. Fear will never be a factor.
No bruise lasts forever, and teeth grow back. Right?