Commentary
Down and dirty at the Redneck Games
Originally Published:
July 19, 2010
By
Kristy Barry
| Special to Page 2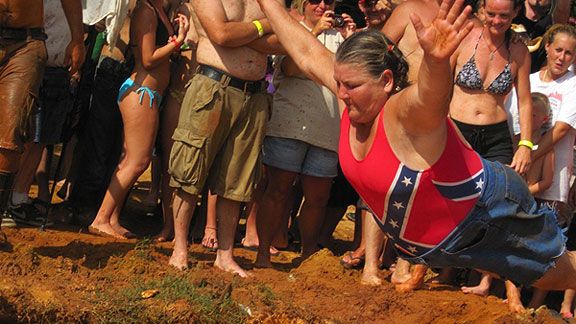 Courtesy of Katie BarryUnlike those boring games they have every four years, the diving here encourages the uber-splash.
EAST DUBLIN, Ga. -- There may be more tattoos than teeth at the Summer Redneck Games in East Dublin, but what it lacks in regulations, it makes up for in spirit. Lots of spirits.
The ceremonies kicked off with the lighting of the torch -- six beer cans strung together with an improvised flamethrower. Inspired by the 1996 Summer Olympics in Atlanta, the Redneck Games have become an annual spectacle, with proceeds benefiting local children with special needs. Events at this gathering include Bobbin' for Pigs Feet, Redneck Horseshoes, Armpit Serenade, Watermelon Seed Spitting Contest and the Mudpit Belly Flop.
This year, more than 5,000 people attended the Games -- the majority of participants came from Georgia, Florida and Alabama. But some traveled from as far away as Australia.
With the name of his hometown of Ducklington, England, tattooed on his toes, Martin Souster said he flew solo to the United States to compete in the pigs' feet contest.
Souster hovered over a laundry basket-sized bin of water, alongside three others, and dunked his head to start furiously fishing out seven pig hooves with his teeth. The key? "Get it by the toes," he said after claiming victory.
[+] Enlarge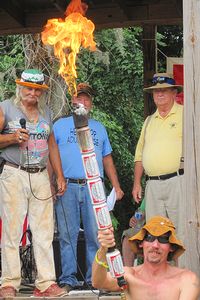 Courtesy of Katie BarryThis torch isn't carried around the world relay-style ... but it definitely should be.
"I was psyched from the second I saw this event. I had the trophy in my sights," he said.
Not a medal, but a traditional acrylic trophy with a crushed beer can on top.
What's more redneck than bobbing for pigs' feet? Beyond bib overalls and storing your home appliances in the front yard, T-Bo Colter, 18, said he's a redneck because "I'm not afraid of dirt, not afraid to work, not afraid to drive a pickup truck."
And not afraid to step up for redneck horseshoes, in which participants hurl a toilet seat around a plunger secured into the ground.
For the armpit serenade, "athletes" place their hands under their arms (or kneecaps) and make any sort of noise -- the louder the better, because the crowd is judging. The reigning champ, 8-year-old Aubrey Matthews, played "Mary Had a Little Lamb" to take home the prize, bragging, "I've been practicing for two years."
Matthews -- 13 years shy of the legal drinking age -- hoisted his crushed can trophy above his head like it was the Stanley Cup.
For the watermelon seed spitting contest, contestants need to not only spit further than everyone else but also be able to spot their seed in the grass afterward. The champion, Josh Tinley, spit his seed more than 15 feet and said he didn't even have to train beforehand.
"Just comes natural," he said.
The mud-pit belly flop is to Redneck Games what the slam dunk contest is to the NBA All-Star Game.
[+] Enlarge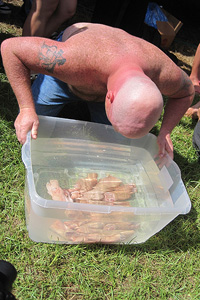 Courtesy NHRA "Tastes like bacon! Mmm ... bacon."
The mud pool looked like a men's bathroom after a chili cook-off, but when you have a field of proud rednecks and an opportunity to showboat, you'll have plenty of contestants.
Each one stood at the base, put their hands up like a gymnast greeting the judges and flew into the mud, trying to make the biggest splash.
"Redneck Grandma," aka Barbara Bailey, wore jean shorts and a Confederate-flag swimsuit when she hurled her potbelly into the mud and soaked nearly everyone on the perimeter.
Though others tried, including teenage boys doing backflips, Redneck Grandma took the cake.
Then, like flies to manure, dozens of fans stormed the mud pit. Everyone crawled out of the mud bath looking like Augustus from "Willy Wonka and the Chocolate Factory." This included the mayor of East Dublin, George Gornto, who was shoved into the sludge by a female reveler. He wasn't whistlin' Dixie.
I didn't think it was truly a redneck extravaganza until someone was arrested, but the woman was merely scorned and ejected.
"Every year we have someone who wants to show out," said Freddie Baugus, the president of the East Dublin Lions Club, the overseeing charitable organization. "But everyone always has a great time here and comes to me and says, 'Thank you, and we'll be back.'"
Good thing I don't have to wait another four years like those "other" games.