By Jeff Merron and David Schoenfield
Page 2
5. YOU NEED A TRUE NO. 1 ACE

Theory popularized by: Bob Gibson, Sandy Koufax, Orel Hershiser, the 2001 Diamondbacks.
The numbers (Examining all playoff teams since 1995)
We defined a "true No. 1 ace" as a pitcher who finished in the top five in his league in park-adjusted ERA (from baseball-reference.com) and pitched at least 162 regular-season innings.
Using our strict definition of a true ace (hence the "true" qualifier), the team that had the true ace edge (more true aces than other playoff teams), didn't have an advantage -- only three times out of 20 did the pitching staff with the ace advantage advance to the World Series (1995 Braves, 1996 Braves, 1999 Braves).
However, 12 of the 20 teams that made it to the World Series did boast at least one true ace; four of the 20 had two or more true aces. Six of the 10 eventual World Series champions had at least one true ace. 2002 (Angels over Giants) and 2003 (Marlins over Yankees) were the only Series without true aces on either team.
Besides the 2002 Angels (Jarrod Washburn was 7th in the AL in adjusted ERA) and 2003 Marlins (no starters in the top 10), the other "non-ace" teams to win were the 1996 Yankees (Andy Pettitte ranked 9th) and 1998 Yankees (David Wells and David Cone were 9th and 10th, although Orlando Hernandez would have ranked fourth but pitched just 141 innings).
So it helps, but isn't necessary, to have a true ace if you want to get to the Series and win it all.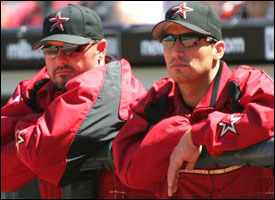 Roger Clemens (1.87) and Andy Pettitte (2.39) finished 1-2 in the NL in ERA. (Jed Jacobsohn/Getty Images)
Theory applied to 2005 playoff teams
Using adjusted ERA from thehardballtimes.com, the Astros have the big edge, with three true aces -- Roger Clemens (No. 1 in the NL), Andy Pettitte (No. 2) and Roy Oswalt (No. 5). Chris Carpenter of St. Louis checks in at No. 4. Atlanta's top pitcher, John Smoltz, is No. 7, and Padres ace Jake Peavy is No. 8.
In the AL, Chicago (Mark Buehrle) and Los Angeles (Jarrod Washburn, who has a better ERA than 20-game winner Bartolo Colon) each has a true No. 1 ace.
That leaves the Yankees (Randy Johnson, No. 14) and Red Sox (Tim Wakefield, No. 24) with the big disadvantage.
Verdict: SPLIT

Jeff
Merron
and
David
Schoenfield

PLAYOFF THEORIES