By Jeff Merron and David Schoenfield
Page 2
7. YOU NEED TO PLAY WELL IN ONE-RUN GAMES

Theory popularized by: Conventional wisdom.
The numbers (Examining the postseason since 1995)
In 70 playoff series since 1995, teams with the better winning percentage in one-run games during the regular season went 38-31 (one series had teams with the same one-run record) -- a series winning percentage of .551.
All of that advantage came during the division series, during which teams with the superior one-run record went 23-16 (.590).
So, the ability to win one-run games appears to be a slight indicator for playoff success, especially in the first round.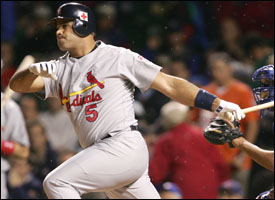 Will the Cardinals' losing record in one-run games come back to haunt Albert Pujols? (Jonathan Daniel/Getty Images)
Theory applied to 2005 playoff teams
The White Sox played 54 one-run games and played .648 ball in those games. The Red Sox, despite their shaky bullpen, actually had a very good record in one-run games. The Cardinals had a losing record in one-run games.
Yankees: 27-16
Red Sox: 27-15
White Sox: 35-19
Angels: 33-26
Braves: 23-19
Cardinals: 21-25
Astros: 25-21
Padres: 29-20
Verdict: SPLIT


Jeff
Merron
and
David
Schoenfield

PLAYOFF THEORIES