By Jeff Merron and David Schoenfield
Page 2
3. YOU HAVE TO BE HOT ENTERING THE POSTSEASON

Theory popularized by: People who believe in momentum in baseball and tooth fairies.
The numbers (Examining all playoff teams since 1995)
We looked at the records of all playoff teams for the final month of the season (September or September/October).
The 20 teams that advanced to the World Series played .578 ball the final month -- a drop of just .003 percentage points from their overall regular-season winning percentage.
The 60 playoff teams that failed to advance to the World Series played .619 ball in the final month -- a .035 improvement over their overall winning percentage.
In other words, the World Series teams collectively played worse in the final month than the non-World Series playoff teams.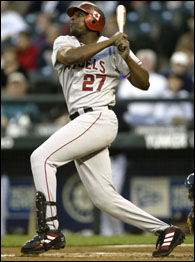 Vlad and the Angels had the best final month of all the playoff teams. (Otto Greule Jr./Getty Images)
In fact, the 13 hottest final-month teams all failed to reach the World Series and six of the 14 worst final-month teams made the World Series. Among those bottom 14 were the 2000 Yankees (13-18), 1997 Marlins (12-14) and 2001 Diamondbacks (14-13) -- all World Series champs.
Theory applied to 2005 playoff teams
The Yankees and Angels had the hottest final month, but don't read anything into it.
And for you Cardinals and Braves fans fretting over your teams' mediocre September records? Quit worrying -- it's not an indicator.
September/October records:
Yankees, 20-9
Red Sox, 18-13
White Sox, 19-12
Angels, 21-9
Braves, 15-14
Cardinals, 15-13
Astros, 19-11
Padres, 16-14
Verdict: FALSE

Jeff
Merron
and
David
Schoenfield
PLAYOFF THEORIES