By Skip Bayless
Page 2
University of Texas fans are serving a Martha Stewart kind of sentence. They're treated more like guests than inmates. But they're still in prison.
They're being held captive by a back-slappin', hand-shakin', fund-raisin', mama-pleasin', 10-game-winnin' great old boy named Mack Brown. The burnt orange made nationally famous by Darrell Royal and Earl Campbell has turned to shades of Brown. As in, painfully pretty good.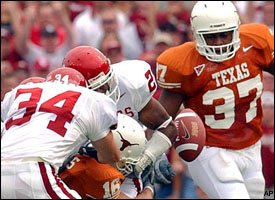 The Longhorns fumbled their way to a 65-13 loss last season.
As in, "We won 10 games and lost to Oklahoma by 52."
This weekend in Dallas, which is approximately three hours south of Oklahoma's campus in Norman and three hours north of the Texas campus in Austin, Sooners fans and Longhorns fans will trade taunts on the downtown streets Friday night and on the State Fair midway before and after Saturday's annual OU-Texas border war.
War? Make that invasion. OU Stoops to conquer.
For four straight years, coach Bob Stoops and his win-or-die Sooners have left Texas fans feeling like they got run over by a ... well, a Mack truck. OU has won by 49, 11, 10 and 52 points. Yup, last year it was 65-13. So what exactly are Texas fans supposed to yell back at Sooner fans this weekend?
"Yeah, but we've finished in the top 12 four years in a row!"
Or, "Yeah, but Mack has increased our season tickets from 39,700 to 66,300 and our revenues from $27 million to $55 million!"
Or, "Yeah, but Mack is the only coach in the country who has won nine or more games eight years in a row, including his days at North Carolina!"
Or, "Yeah, but only us and Miami have gone six straight years winning nine games or more!"
Or, "Yeah, but our coach makes more money than yours."
That's right. Because of a $1.6 million annuity he receives this year, Brown is the highest-paid coach in the country.
In Texas, lots of folks chant "four more years" for their former governor. But in Dallas this weekend, Oklahoma fans will be chanting "four more years" for Mack Brown. OU fans love this guy. While their coach coaches to win (and win by a landslide), Brown coaches not to lose. While Stoops makes his players believe that losing to Texas is a fate worse than ACL surgery, Texas running back Cedric Benson recently admitted on ESPN Radio that he'd rather win the Heisman than beat Oklahoma.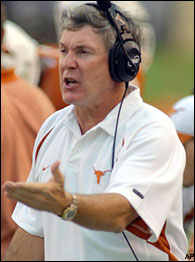 Mack's last stand: Beat OU or ...
Like coach, like running back. Lately, the typical Texas attitude toward the Oklahoma game has been, "Hey, it's not the end of the world." This season, Texas doesn't have to play Nebraska or Kansas State in the Big 12. So what the heck, Texas might lose only one game.
The Game.
Here's the one Mack Brown stat you will not read in the Texas media guide: In 10 seasons at North Carolina and six at Texas, he hasn't won a single conference championship. Not national. Conference.
Yes, in the last four years, Texas has won nine, 11, 11 and 10 games. But somehow, Mack's team always seems to wind up in the Holiday Bowl.
In fact, San Diego's Holiday Bowl is where Brown became buddies with San Diego's Phil Mickelson. Talk about a common bond. Until last April's Masters, neither could win the big one. But columnist Kirk Bohls of the Austin American-Statesman reports that after Mickelson finally broke though and won a major championship, he called Brown that Sunday night from Augusta and said: "Now it's your turn!"
To do what? Keep it reasonably close against Stoops? Maybe even cover the seven-point spread?
Could Brown finally lose his job if he loses big to OU again?
All week, athletic department officials and powerful alums have been quoted as saying Brown's job is not in jeopardy. Former coach Royal, who remains close to the program, told the Washington Post that the search committee "could still be looking and it wouldn't find a better fit" than Brown. Royal raved about Brown's P.R. charm -- "he's good at the mike" -- but you wonder how Royal privately critiques Brown's ability to teach, game-plan, adjust on the fly and motivate players.
Holy Bevo! Texas alum and Detroit Lions rookie Roy Williams, who already rivals Michael Vick for "SportsCenter" highlights, failed to catch a single touchdown pass in four games against Oklahoma. That had something to do with Stoops. That had more to do with Brown.
Before OU games, Royal could convince players to run through a wall for him. Brown would have a better chance of convincing alums to help paint the wall.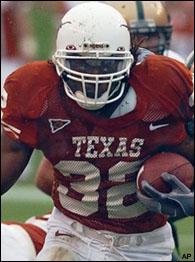 Cedric Benson piled up yards against Baylor, but can he do it against OU?
You wonder how major donors such as Texas Rangers owner Tom Hicks will feel about good ol' Mack by Saturday night if his alma mater gets embarrassed again. That's why longtime Longhorn observers believe this game is crucial for Brown. If he finally breaks through and beats Stoops, Texas could contend for a national championship and Mack Brown could become the next Darrell Royal. All those years of being just good enough not to get fired would suddenly start looking legendary. It worked for Tom Osborne at Nebraska.
But if Oklahoma paints Texas faces red again ...
Brown attempted to level the Cotton Bowl field this year by hiring former NFL defensive coordinator Greg Robinson and former Arizona coach Dick Tomey to make his defense more physical and better prepared for the onslaught of Heisman winner Jason White and the Oklahoma offense. Benson, who chose not to turn pro and stayed for his senior year, also should help keep OU's offense off the field. If Benson can bang away at the most vulnerable defense Stoops has had in five years -- maybe carry 35 times for 150 yards -- Texas has a chance.
But Oklahoma has a better chance because of a pure freshman from Palestine, Texas. Adrian Peterson, rated the nation's No. 1 running back recruit, chose Oklahoma over the Burnt Orange he grew up loving. Why? Because he wanted to "win championships." That quote alone should have jeopardized Brown's job.
For the first time in five years, OU no longer is basically a shotgun-formation passing team. And for the first time in Brown's career, his apologists can't argue that he at least is a great recruiter. The state of Texas produced the nation's No. 1 quarterback recruit, too, last season. Grand Prairie's Rhett Bomar also defected to Oklahoma.
This week in practice, Bomar is impersonating Texas quarterback Vince Young. You can bet Bomar already is a better passer than Young. If Texas is forced to throw on Saturday, remember the Alamo.
Texas fans had better hope that Stoops, Peterson and Bomar leave for the NFL soon.
Saturday's prediction: Oklahoma 35, Mack 14.
And afterward, OU fans will be calling Texas talk shows to defend Brown. They'd hate to see him go.
Skip Bayless recently joined ESPN after a career as a sports columnist that includes stops in Miami, Los Angeles, Dallas, Chicago and San Jose. He can be seen Monday through Friday on "Cold Pizza," ESPN2's morning show. His column will appear weekly on Page 2.