By Skip Bayless
Page 2
In 30-odd years of covering pro and college football, I've never seen anything quite like this kid.
I heard over the summer that Oklahoma's Bob Stoops was telling coaching confidants he had signed "the next Billy Sims." So, via television, I've watched every snap Adrian Peterson has played as a freshman running back.
Somehow, snap is the perfectly ominous description of what happens when A.P. touches the football.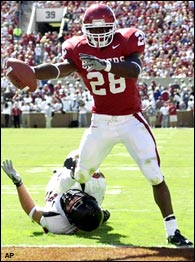 Looks like Peterson took out a couple people on this TD run.
I've never seen a running back on Saturday or Sunday attack the line of scrimmage with quite the hell-bent acceleration Peterson does. That's because I'm not sure any mortal has had this kid's blend of take-off speed and X-Games fearlessness. He's not quite as breakaway fast as his second-place finish in the Texas state 100-meter dash suggests. Twice, he has been caught from behind. But he goes from zero to 60 in a snap.
And he doesn't appear to care what's in his path. Defensive tackles, linebackers, strong safeties packing 210 pounds.
Heads snap when Peterson hits them.
  But, what's most amazing is, Peterson weighs just 210 pounds. Just 210 pounds, spread a little thin over a 6-foot-2 frame. Granted they are powerful pounds: Peterson is as strong for his size in the weight room as any older teammate. But we aren't talking Marcus Dupree, who carried about 240 pounds as freshman phenom at Oklahoma. Or Maurice Clarett, who was built lower and wider as a 230-pound freshman at Ohio State. Or even Herschel Walker, who finished third in the Heisman Trophy voting as a 220-pound freshman at Georgia.
Sometimes Peterson executes a jump-stop change of direction that is almost in Barry Sanders' league. But once he breaks into the secondary, he sometimes looks for someone to punish. It's like he was born with Tony Dorsett's rubber-burning pickup and Lawrence Taylor's baddest-man attitude. "Diesel" is tattooed on Peterson's upper right arm. Against Texas, it sometimes looked as if his 225 yards could have been closer to 250 if he hadn't gone out of his way to run over a defensive back.
On one mad dash up the gut, he caught a knee in the thigh and missed a few plays. The licks he gave and took were scary. But by day's end -- Oklahoma 12, Texas 0 -- this 19-year-old just might have been the front-runner for the Heisman.
And all I could think was: What a crime he isn't able to make his NFL millions while he lasts.
Unless he learns to avoid contact whenever possible -- Emmitt Smith's greatest gift -- Peterson's football lifespan won't be long. The guys trying to tackle him are getting too big and fast, and the knees and shoulders haven't evolved as quickly as the pecs and biceps.
Ominous note: Peterson tore a knee ligament as a freshman in high school.
  Snap.
Former Oklahoma and Dallas Cowboys coach Barry Switzer, who remains close to the OU program, has voiced concern about Peterson's ability to avoid injury. Last Monday night on his WWLS radio show in Oklahoma City, Switzer said: "I wish he would try to make people miss more."
I wish he had the option to play pro football.
High-school seniors can choose to turn pro in basketball, baseball or hockey. But not in our most injurious game, football. Not even if they obviously could help an NFL team at 19, as Peterson could.
Only in America.
Of course, Clarett's attorneys challenged the NFL's rule barring players from its draft who have been out of high school for less than three years. About two months before last April's draft, U.S. District Judge Shira Scheindlin ruled overwhelmingly in favor of Clarett. Her opinion read like one big "duh."
The NFL rule, she said, "is exactly the sort of conduct the antitrust laws were designed to prevent ... I can scarcely think of a more blatantly anti-competitive policy than one that excludes certain competitors from the marketplace altogether."
And of course, the NFL appealed. The U.S. Court of Appeals ruled that the NFL is exempt from anti-trust laws because its draft rules were collectively bargained with the players' union. Case -- and loophole -- closed.
As a lawyer friend of mine said: "Sometimes good lawyers triumph over good law."
So what we have here is: 1) an NFL Players Association that caves in because it wants to protect the jobs of veteran players who could be replaced by more talented 18- to 20-year-olds; and 2) an NFL that has saved millions and millions of dollars because of the free feeder system that is college football; and 3) college programs that have made millions and millions off unpaid players who are forced to play three amateur years.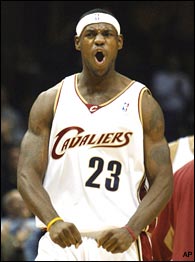 If LeBron can do it, why not Adrian?
What we have here is the biggest injustice in sports.
Of course, the NFL and its partners in crime, the NFLPA and college programs, argue that the vast majority of freshmen, sophomores and juniors aren't physically or emotionally mature enough to stand up to the NFL's pounding. In many cases, they're right. And in many more -- especially running backs -- they're unconstitutionally wrong.
It's pretty simple: How can you deny Clarett the right to at least try to make a living with his God-given talent? Or, if you don't think he was ready after a freshman season in which he carried Ohio State to a national championship, how can you deny him the right to fail?
How in the name of George Washington is Mike Williams forced to sit out an entire season without playing college or pro football? Former USC receiver Williams, who almost certainly would have been a top 10 pick, gambled and lost when he quit school, hired an agent and declared for the draft soon after Scheindlin ruled in favor of Clarett. Williams wound up a man without a country when the NFL won its appeal and the NCAA wouldn't reinstate him.
Somewhere, LeBron James is looking puzzled.
James is less than three months older than Adrian Peterson. James, of course, was able to sign a $100 million shoe contract before he had graduated from high school. James, the 18-year-old with the NBA veteran's body, quickly proved he was man enough to be an instant pro star.
Yes, some straight-from-the-prom NBA picks fail. Their growth is stunted while stuck on the end of a bench. But that's free-enterprise America: You're allowed to take that risk.
No law says you can't ever go to college and get your education, if you really want one.
Maybe Peterson will win the Heisman this season or next and decide he wouldn't trade his college experience for any amount of NFL money. But you wonder what path he would have chosen if he'd had the option last spring.
His father, Nelson, is serving a 10-year prison sentence after pleading guilty in March of 1999 to laundering money acquired from distributing crack cocaine. His mother, Bonita, is a nurse's aide in Adrian's hometown of Palestine, Texas. His older brother, Brian, was killed by a drunk driver in 1992.
So maybe Adrian would have decided to take some financial pressure off his mom by turning pro out of high school. If Stoops thought he was the next Billy Sims, so would an NFL team picking in the top half of the first round. That team's GM would have fretted NBA-style about how impossible it is to evaluate a player against prep competition -- and taken Peterson anyway.
After paying him several million in signing bonus, the GM's only concern would have been how long Peterson can last running that hellaciously.
Skip Bayless recently joined ESPN after a career as a sports columnist that includes stops in Miami, Los Angeles, Dallas, Chicago and San Jose. He can be seen Monday through Friday on "Cold Pizza," ESPN2's morning show. His column will appear weekly on Page 2.