By Skip Bayless
Page 2
Please mute your synthetic Ashlee Simpson music, boys and girls.
Please snap your shrinking brains out of the virtual video-game worlds you rule like hypnotized gods.
Let me tell you about the days I walked 10 miles to and from school barefoot in the snow and survived with an immovable rotary-dial phone that didn't have call waiting or voice mail. Let me recollect for you how I entertained myself -- for the mere 10 minutes a night I wasn't doing homework in pencil -- by playing an electric football game in which the tiny plastic players moved in uncontrollable directions because the board vibrated.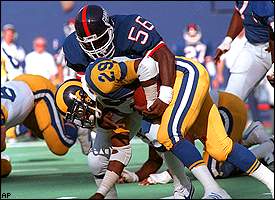 Seems like a long time ago when guys like Lawrence Taylor were wreaking havoc in the NFC.
Yes, children, let me tell you about the thrilling days of yesteryear when NFC teams played this thing called defense. For those of you unfamiliar with this word, it has nothing to do with "def" as in comedy or poetry. It is NOT pronounced def-enz. It's DEE-fence.
Oh, the blood-in-the-mud stories I could tell you about the NFL's cornerstone franchises -- the ones that played without facemasks before The League merged with those beatniks from the AFL. And even after that strange confederation happened, I could mention a team like the 1985 Chicago Bears, whose DEE-fence would've beaten up "The Incredibles" so badly they'd seem no tougher than "The Jetsons." Or the New York Football Giants, with a linebacker named Lawrence Taylor who would make Vin Diesel look like Vin Tricycle. The San Francisco 49ers had a safety named Ronnie Lott who could have made "Fitty" Cent seem no badder than a subway token.
The Dallas Cowboys once had a DEE-fence called Doomsday that would make "Grand Theft Auto: Vice City" seem like an Easter egg hunt. The Philadelphia Eagles once had a linebacker named Tim Rossovich who actually ate glass. Oh, the black-and-white memories of Ray Nitschke's Green Bay Packers, the Minnesota Vikings' "Purple People Eaters," the Los Angeles Rams' "Fearsome Foursome" ...
Yes, kids, L.A. once had an NFL team. No, neither Jamie Foxx nor LL Cool J played for it.
Now, NFC teams play defense like it has gone out of style. Now, NFC DEE-fence is a memory as distant as tiny Tatu saying, "Dee plane, boss" on "Fantasy Island." Now, the NFC has faded into the No Factor Conference.
Or, to translate into your MTV lingo: No Freakin' Chance.
The NFC's alleged best team, the Eagles, has a first-year starter at cornerback named Lito Sheppard who not only made the Pro Bowl but All Pro. Even Eagles insiders are stunned by this. Once upon a time, Sheppard would have had a tough time even making the roster of the NFC's reigning dynasty.
For that matter, Eagles veteran Jeremiah Trotter made the Pro Bowl after starting at middle linebacker for less than half a season.
Only in today's NFC.
The Eagles were the only NFC playoff team to make the league's regular-season top 10 in defense. And they were 10th. Three AFC teams that did not make the playoffs -- Buffalo, Baltimore and Miami -- had statistically-better defenses than any NFC playoff team. Throw Buffalo into the NFC playoffs right now, and I'd pick the Bills to knock off the Eagles in Philly.
But yes, that's also because -- and I cannot believe I'm writing this -- the Eagles almost certainly won't have Terrell Owens back from injury for the NFC playoffs. Yes, we're talking about "Terrible" Owens, the receiver who the last two seasons in San Francisco dropped more balls than a lottery hopper, whose heart and arms shrank against T.O.-hunting secondaries in big road games and who pointed fingers at everyone but the frontrunner in the mirror.
And this guy became Philadelphia's savior?
Only in this year's NFC, which also stands for No Frequent Competition.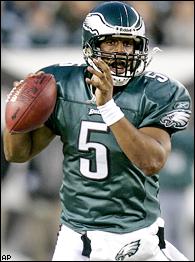 AP
The pressure's on Donovan McNabb to finally get the job done -- even without T.O.
Eagles quarterback Donovan McNabb should be runaway NFC MVP for the job he did babysitting Owens on and off the field. McNabb rebuilt Owens' surprisingly fragile confidence. McNabb kept Owens from pouting by feeding his ego with passes early in games. When Owens pulled one of his made-for-TV sideline stunts during the one ugly loss at Pittsburgh, trying to make it look like he was criticizing or exhorting McNabb because it was all his fault, McNabb shrugged it off in postgame comments and defused it by staging a mock rant at Owens during the next game.
Brilliant.
Yet with Owens as the new smirking face of the Eagles, they began to turn into showboating frontrunners. You build your hopes on this guy, you build them on quicksand. Now that he won't be there when they need him the most, Eagles fans won't get to find out that he can't be trusted in single-elimination games even when he's completely healthy. Ask any of the coaches or executives who were around him in San Francisco: Big talent, but can crumble under pressure.
That's why it was staggering to watch the City of Brotherly Self-Pity act as if the season (and world) had ended when Owens' leg gave way in the third-to-last game. Obviously, the Eagles' receiving corps was better with Owens because he could force some double coverage and free Brian Westbrook to catch open-field passes darting out of the backfield. But please, even without Owens, the Eagles still should be good enough to win the No Factor Conference.
Then again, they should have tried to win their last two games. But it was as if Philly's history of sports letdowns created so much paranoid pessimism among fans that the epidemic finally infected the better judgment of coach Andy Reid. Unlike New England coach Bill Belichick, who played quarterback Tom Brady in the Patriots' final two games -- both wins -- Reid barely played McNabb in a 20-7 loss at St. Louis, and didn't play him at all in a 38-10 home loss to Cincinnati.
Potential injuries be damned. McNabb needed to rebuild his own confidence, to realize that he's far more valuable than Owens -- to understand that at this stage of his development, he alone is gifted and experienced enough to win the NFC with his arm or his legs. He needed the last two games to make Freddie Mitchell feel like the new go-to guy, and to make Todd "Stink"ston feel like he's back in the pink.
Instead, Reid basically sentenced his team to four endless weeks of stewing in self-doubt. How, they surely wonder now, can they win a playoff game without Owens when they've lost three straight NFC title games without him -- the last two in Philly, to Tampa Bay and Carolina.
Yet two years ago, Tampa Bay had an all-time great defense. The Bucs missed this year's playoffs. Last year, Carolina's draft savvy suddenly produced an astonishingly talented team that eliminated Philly and pushed New England to the Super Bowl brink, even though the Panthers were a year ahead of schedule. (This year, the Panthers suffered three years' worth of injuries in about three weeks.)
Even after a 1-7 start, the Panthers were so well-coached and had so much old-school fight in them that they came within a game of making the playoffs -- and the Eagles' postseason life even more miserable. But at home, the Panthers couldn't overcome one of the NFC's most talented and unstable teams, New Orleans, which won its final four.
And the Eagles don't think they're blessed? The NFC's two most dangerous teams failed to make the playoffs.
Atlanta has the NFL's most dangerous breakaway back. If only Atlanta had a pocket passer. Michael Vick is a breakaway back who plays quarterback, often poorly. Nineteen quarterbacks wound up with better passer ratings, which is why the Falcons have turned into the NFC's On Any Given Sunday team. It wouldn't shock me if they upset New England in the Super Bowl -- or if they blew their first playoff game at home.
Vick is always capable of making two or three only-Vick runs -- or even throws -- that win a close game. The defense hangs in -- it ranked 14th in the NFL. But the Falcons allowed as many rushing touchdowns as they scored, and gave up four more touchdown catches than the 15 they made. So how exactly did Atlanta come from nowhere to go 11-3 before mostly resting its starters in the final two games, both losses?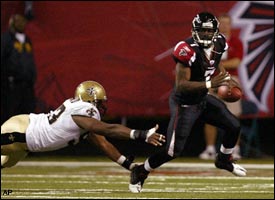 Mike Vick is dangerous on his feet, but not so much with his arm.
God bless the NFC.
God bless the 9-7 Seattle Seahawks and 8-8 St. Louis Rams, who lived down to this season's expectations and now collide in a wild-card game like runaway trains without engineers. Once upon a time, back in August, several respected football writers predicted Seattle would be in the Super Bowl. Considering this confounded conference, that still could happen. After all, Seattle was the top NFC playoff team in all-important turnover ratio.
Yet the Seahawks were only seventh in the NFL, at plus-eight. The Rams were dead last, at minus-24.
It's looking suspiciously like Seattle coach Mike Holmgren's "greatness" was mostly a product of the greatness of Brett Favre and Reggie White in Green Bay. Running back Shaun Alexander can gain all the yards but the tough ones. Quarterback Matt Hasselbeck plays so out of sync that he's like watching a dubbed kung fu movie: The lips don't match the frantic words. Yes, his receivers drop balls, but the timing is always a little off.
When the Rams win, it's usually in spite of, not because of, coach Mike Martz.
And how can you possibly make a case for wild-card opponents Green Bay and Minnesota when each plays worse pass defense than a floozie in a bar? The Packers rank 25th against the pass; the Vikings 27th. But the Packers have Favre and the Vikings have Randy Moss; so in the NFC, each has a chance.
But of course, Favre threw 17 interceptions. Only Carson Palmer (18), Vinny Testaverde (20) and Kerry Collins (20) threw more. And yes, Randy No Mas inexplicably quit in the second half against Green Bay and walked to the locker room before time expired in the season finale at Washington.
Just as there's a bowl-eligible rule in college football, no NFL team should be allowed into the playoffs after losing seven of its last 10, as the Vikings did. Then again, it wouldn't shock me if Moss inexplicably starts making the catches only Moss can, and the Vikings win the No Factor Conference.
The sixth and last seed has as good a shot as any other team.
The NFC playoffs should be memorable ... for all the wrong reasons. Parity hilarity. The equivalent of deciding games with little plastic men going in all directions on a vibrating board.
Excuse me while I go play with mine, for old times sake.
Skip Bayless joined ESPN after a career as a sports columnist that includes stops in Miami, Los Angeles, Dallas, Chicago and San Jose. He can be seen Monday through Friday on "Cold Pizza," ESPN2's morning show, and at 4 p.m., ET, on ESPN's "1st & 10." His column will appear weekly on Page 2. You can e-mail Skip here.