By Skip Bayless
Page 2
Maybe "Man Oh" Manning is just too all-time, case-closed great.
Maybe Peyton Manning is now so supremely confident in himself and his offense that he will stroll to the line of scrimmage on Sunday in Foxboro, point at the not-long-for-the-NFL frauds the Patriots have at cornerback and taunt them with the line from his TV commercial: "Let's go, insurance adjustors, let's go!"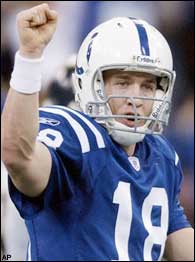 Will Peyton's incredible play continue against the Pats?
Maybe Manning and his receivers will play such an easy game of catch that this mismatch will be over by halftime, when the few remaining Patriots fans will give Manning a standing ovation as he is inducted on the spot into the Pro Football Hall of Fame.
Maybe, as Colts kicker Mike Vanderjagt said earlier this week, the Patriots are ripe for the picking. Don't dismiss that quote as mindless babble from the guy Manning once called "our idiot kicker." No, you cannot tell me that Vanderjagt didn't hear that sentiment from real players and coaches in a team meeting or the locker room.
Maybe the Colts, who remain two-point underdogs, are so much better than the defending champs that even though the game is in Foxboro, where the Patriots have won 19 in a row, the Colts might as well go Joe Namath on them. Sure, take out a full-page ad in the Boston Globe that features a caricature of a Patriot on his hands and knees with a horseshoe imprint on his behind. Caption it with: "We guarantee we're going to kick your ... "
After all, for a while on Wednesday this week, one eager vendor had a link on the Colts' team-sanctioned Website that gave customers the opportunity to buy "AFC Champions" apparel. (The club disavows any prior knowledge, and took the link down shortly after it was posted.) Forget the Steelers, and certainly the Jets. Manning's offense is so unstoppably revolutionary that Colts fans are presuming victory in Foxboro and -- if the Steelers beat the Jets -- in the AFC title game in Pittsburgh. Why not go ahead and send 53 Colts-blue "Super Bowl XXXIX Champs" T-shirts to the Patriots' locker room? One for each victim.
Who knows? Maybe this week's runaway "ripe for the picking" themes among media and fans are dead-on.
Maybe the minds and hearts of New England coordinators Charlie Weis and Romeo Crennel are no longer in Foxboro. Crennel is a leading candidate to fill the Cleveland Browns' head-coaching vacancy. Weis was named Notre Dame coach on Dec. 12.
Maybe Crennel keeps irritating his defensive players by calling the Colts the Browns. Maybe quarterback Tom Brady blew his stack this week in practice when Weis handed him a cell phone and said, "Talk to this Notre Dame recruit." Maybe, for the first time under Bill Belichick, the Patriots just don't feel as prepared and focused and united as they need to be. Maybe, deep down, they know they're ripe.
Maybe the snowballing conventional wisdom is avalanche-right. Maybe the Patriots' defensive backs did get away with near-murder in last year's AFC title game -- Belichick 24, Manning 14 in Out-Foxed-boro. Maybe the Patriots were so allowed to abuse the no-contact-after-five-yards rule that they illegally knocked the smallish Colts receivers off their routes and disrupted Manning's timing. Maybe that was the biggest reason Manning threw four interceptions -- and that the league mandated strict enforcement of the rule this season.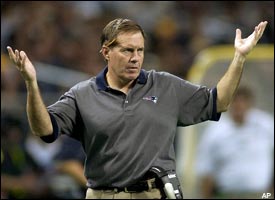 Bill Belichick's probably offended so many people are picking the Colts.
Maybe Ty Law, who snatched three of those interceptions, can control half the field the way Deion Sanders did. Maybe Law really is the reason Belichick looks like a total defensive genius. Maybe, now that Law is on injured reserve and his replacements play more like Jude Law, the Patriots' defensive backs will be flagged for illegal contact three or four times during Manning's initial touchdown drive. Maybe Manning's offense will run a three-hour Boston Marathon through the Patsies.
Maybe this will be even more of a side-splitter than Colts 49, Broncos 24 was last Sunday in Indianapolis. Maybe Manning will play "Where's Waldo?" again, the way he did with Denver corner Roc Alexander. Maybe he'll repeatedly find New England's Earthwind Moreland chasing Brandon Stokley or Reggie Wayne to the end zone. For Patriots fans, maybe it will be an endless day of Earthwind and ire.
Maybe New England will miss its other starting corner, Tyrone Poole, almost as much as it will the strong arm of the Law. Maybe Manning will expose somebody named Randall Gay, and receiver Troy Brown masquerading as a nickel back, and linebacker Don Davis playing out of position at safety. Maybe corner Asante Samuel isn't as underrated as I think. Maybe it just won't matter how tough and smart Eugene Wilson and Rodney Harrison are.
Maybe I'm nuts to think that, at least once, "Manning to Harrison" will be an interception by Rodney instead of a touchdown to Marvin.
Maybe the Patriots have no chance if one of the NFL's best pocket pickers, defensive tackle Richard Seymour, can't go on a bad knee. Maybe it will become irrelevant how expertly the rest of the front seven plays football. Maybe Willie McGinest, Ty Warren and Vince Wilfork will be rendered so much chopped liver. Maybe it won't matter that linebackers Tedy Bruschi and Mike Vrabel are just as whip-smart as Manning and have hands as sure as any of Manning's receivers.
Maybe what one general manager told me the other day is just so much blown smoke: "Give Bill Belichick two weeks and he could beat Ghengis Khan and the Mongol Hordes."
Maybe Manning will read Belichick's defense as if it's a comic book. Maybe I'm laughably wrong; maybe Belichick simply won't have enough talent to build another fun house full of deceptive mirrors. Maybe his defense won't be able to play pre-snap tricks on Manning. Maybe it won't make dropping linebackers and over-the-top safeties momentarily invisible.
Maybe it won't bait Mr. 49 Touchdown Passes into shocking blunders. Maybe Manning won't start getting gun-shy on his first reads. Maybe Manning won't start thinking about how he's 0-for-6 in Foxboro. Maybe a quarterback who studies pro football history the way he does defenses won't listen to a subconscious trying to remind him how badly he needs to validate his regular-season legacy with at least one postseason win over Belichick.
Maybe Manning won't start second-guessing himself because Belichick seems to be two moves ahead. No down linemen? Five down linemen? Max blitz? Nine men in coverage? Where did THAT blitzer come from?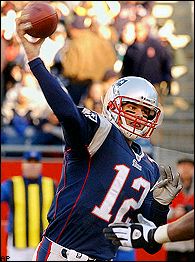 If you had to win one game, it would be tough not to pick Tom Brady.
Maybe Manning's weakness won't be exposed. Maybe the Patriots won't be able to achieve the key to beating No. 18: Do not let him set his feet and fire in rhythm. Pressure Manning and he gets a bad case of frantic feet. Yet he can't and won't run. He isn't nearly the ballet dancer that Brady is in the pocket. Manning is the polar opposite of Michael Vick: make Manning move one foot off his mark either way and his completion percentage will fall like the rain and snow has all week on Gillette.
Belichick's poker-faced response to why the field has been left uncovered: "I'm not the groundskeeper ... I don't pull the weeds."
No, but as usual he's pulling a fast one. Or maybe, in this case, a slow one.
But maybe Manning won't feel as if he's pulling teeth against Belichick on a slick or soggy track. Maybe Manning's made-for-turf receivers won't look like they're tip-toeing. Maybe New England's receivers won't look like they're flying around indoors.
Maybe I'm the Only Person in the World who believes that Brady's receiving corps is just as deep and dangerous as Manning's. Maybe I might as well be suicidal to think that if I'm playing one game for my life, give me Brady over Manning. Maybe I should be committed for even wondering if Brady's offense will move (and control) the ball much more easily on Indy's defense than Manning's will on Belichick's.
Maybe I've overdosed on "Cold Pizza" when I imagine New England running back Corey Dillon bullying that undersized Colts defense for 150 clock-eating, Manning-frustrating yards. Maybe I'm hallucinating when I think the Patriots didn't have Dillon last season, and still won. Maybe it's beside all the points Manning will score that Belichick and Weis weren't yet comfortable feeding Dillon the ball in this season's opener, when New England barely survived Manning in Foxboro 27-24. That night, Dillon carried only 15 times for 86 yards.
Maybe everyone outside New England is as right as Manning is on every read outside Foxboro. Maybe this is the Lock of the Year. Maybe the Colts should be a two-touchdown favorite.
Maybe Belichick won't beat Manning 31-22.
 Skip Bayless joined ESPN after a career as a sports columnist that includes stops in Miami, Los Angeles, Dallas, Chicago and San Jose. He can be seen Monday through Friday on "Cold Pizza," ESPN2's morning show, and at 4 p.m., ET, on ESPN's "1st & 10." His column will appear weekly on Page 2. You can e-mail Skip here.