By Skip Bayless
Page 2
I was writing columns for the Chicago Tribune when I was sent to Miami to cover a Bills-Dolphins playoff game -- Doug Flutie vs. Dan Marino. But my sports editor insisted I go to the Orange Bowl the night before just to write about one player from a Chicago-area high school.
"This kid," my editor said, "will be the NFL's Michael Jordan."
That night against Steve Spurrier's Florida, Donovan McNabb showed some Jordanesque flashes. Flutie's feet, Marino's rifle -- sometimes it was tough to tell which was moving faster, McNabb or his passes.
Yet when Syracuse quickly fell behind 14-0, McNabb tried to be too much of a one-man show. He threw two interceptions and lost a fumble. His 72 yards rushing on 20 carries barely put a dent in the final score: Florida, 31-10.
I wasn't convinced I had seen the NFL's Michael Jordan ... until the following fall, when an NFL scout I know called me one Saturday and asked if I was watching the Virginia Tech game on TV. I wasn't.
"Turn it on," he said. "You've got to see this kid."
Here was a Michael who was pure Jordan. Here was Michael Vick.
And now the two potential NFL Jordans compete for a Super Bowl trip.
Yet the pressure is strictly on the "failed Jordan" -- on McNabb, whose favored Philadelphia Eagles are in danger of losing their fourth straight NFC championship game and their third in a row at home. Lose again and McNabb will be viewed as a one-man bridesmaid, a poor man's Buffalo Bills. But at least the Bills got to four Super Bowls before losing them all.
In a city that always fears the worst in big games, McNabb will feel an almost overpowering gravitational pull toward disaster. So how in the name of Terrell "The Savior" Owens am I predicting an easy Eagles victory? How can McNabb survive without his "better half" -- the injured Owens, who supposedly transformed McNabb into a great quarterback and the Eagles into a Super Bowl champion?
The Eagles will win because McNabb has been smart and mature enough to transform himself into more Magic Johnson than Michael Jordan. The Eagles will not miss Owens on Sunday because McNabb -- like Magic during his days running the Lakers' offense -- will make all his receivers believe they can make an Owens-like play. The Eagles will finally close an NFC deal because McNabb is now an accurate, disciplined pocket passer who can spread the ball to all his weapons and provide the kind of big-stage leadership with which Magic fueled his Lakers.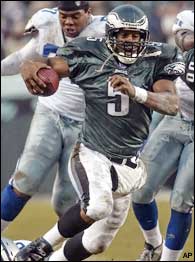 Donovan knows when to hold 'em, knows when to fold 'em, knows when to walk away, knows when to run.
The Eagles will advance to the Super Bowl because McNabb finally realized that trying to be Michael Jordan doesn't work in a violent 11-on-11 sport.
Vick will lose because he's still too caught up in being pro football's Jordan.
Vick will fall short Sunday because -- despite being the most exciting and dangerous breakaway runner since Barry Sanders -- he's playing the wrong position. Vick still doesn't throw the football much better than Jordan could hit a curve ball. This deep into the NFL playoffs, rock almost always beats scissors -- a fast, physical, well-coached defense overcomes a sensational scrambler who isn't sure how to pass.
McNabb will win because he'll make his Owens-less team better than Vick can make his. McNabb now uses his escape-ability and 240-pound strength to create better throwing opportunities. McNabb will play low-risk, mistake-free quarterback on what could be an ice-skating rink.
As one NFL coach told me this week: "Mentally, McNabb is where Steve Young was when he finally won a Super Bowl. He now runs only when the opportunity truly presents itself. McNabb is more in command of himself and his offense. He's a great leader."
I love McNabb's answer when he's asked what it would feel like to finally get to a Super Bowl: "Our goal isn't just to get to the Super Bowl."
McNabb finally will get there because this game won't be played on a hot, fast track inside Atlanta's Georgia Dome. Vick won't be quite as excited about running in severe cold with slippery footing. Yes, I know Vick's Falcons were the first team to win a playoff game at Lambeau Field. Yet that night in early 2003 was unseasonably warm and dry -- 31 degrees at kickoff. That night was more about the Packers' self-destruction. A punt was blocked for a touchdown, a fumbled punt set up an easy touchdown and Brett Favre threw two interceptions and lost a fumble.
Vick managed just 117 yards passing and 64 rushing, yet his Falcons won 27-7.
The Eagles will do to Vick what Tampa Bay consistently has: Attack him with lots of fierce, quick defenders who won't hang back and let Vick make the first move. The Bucs hound and pound Vick, rough him up and finally wear him out. He's only 6-feet and a little more than 200 pounds.
How Vick has avoided serious injury this season is nearly as miraculous as some of his breakaways. He routinely hurtles into insanely dangerous situations. When Jordan took a hard hit, he went to the free throw line. Vick routinely risks going to the hospital. Has a quarterback ever taken more punishment for a season? For sure, no quarterback has survived more high-speed collisions and X Games flips.
For now, Dennis Thurman understands. Thurman, who coaches Baltimore's defensive backs, has coached against both McNabb and Vick. Thurman, an All-American safety at USC and cornerback for the Dallas Cowboys, is as insightful about what makes a player tick as any coach I've known.
Thurman began with McNabb: "He has worked hard on his fundamentals because he wants to be known as a pocket passer. He's not a classic thrower like Warren Moon was, but his accuracy improved tremendously this year -- partly because T.O. gave him more confidence and partly because he's just so much more comfortable knowing how his offense can beat a defense.
"Right now, Vick just wants to be known as a runner. He knows that without his legs, he'd be just another quarterback. He knows he can single-handedly take over a game and carry an entire franchise on his back."
But: "Experience will teach him to slow down and take fewer chances with his body. We haven't come close to seeing the best of Michael Vick. But trust me: He already scares defensive coaches more than McNabb because you can call the perfect defense and he can go 80 yards right through it. That's why I give Atlanta a better-than-average chance at Philly. The Falcons can say: 'Two teams from our division have won NFC championship games here -- Tampa Bay and Carolina. We've got Michael Vick. Why not us?'"
I don't see it.
Atlanta often struggled to score this season. The Falcons ranked 30th in passing yards, 20th in total yards and 16th in scoring. Yes, they led the NFL in rushing because their "quarterback" ran for nearly 1,000 yards. But again and again, they relied on a surprisingly solid defense to keep them close until Vick made a play or two that no other human could.
That won't work on the road in the cold against a defense that allowed the NFL's second fewest points.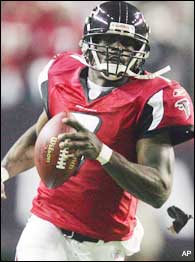 Vick may be slowed down by the weight of the league on his shoulders.
Vick's passer rating of 78.1 tied San Francisco's Tim Rattay for 20th. As one coach said: "They run a very simple two-back offense. When Vick gets in trouble, he always looks for (tight end Alge) Crumpler, and the Eagles will be laying for that."
Vick can throw hard -- sometimes too hard for a wide-open receiver to catch at close range -- but he often has to wind up before he cuts loose, and he can be as wild high or low as McNabb used to be. Vick does everything right-handed, except throw. When he demonstrated his right-handed passing for ESPN's Andrea Kremer this week, his mechanics and spirals looked much tighter.
Maybe he should try the other hand next season.
For Vick, this season will end Sunday in Philly. This week, too many easily-impressed Vick lovers have been misled by Atlanta's 327 home-dome rushing yards against a defense that couldn't have stopped Vick with tranquilizer darts. The Rams were to the Falcons what the Broncos were to the home-dome Colts: hype-building fodder. The Eagles will be to Vick what New England was to Peyton Manning: Kryptonite.
And Brian Westbrook will be to McNabb what Eagles fans mistakenly believed Owens would be in playoff games: trustworthy. Westbrook will be slightly more valuable than Owens because he's more versatile. He'll be to McNabb what James Worthy was to Magic.
This time, Magic Johnson beats Michael Jordan 24-10.
 Skip Bayless joined ESPN after a career as a sports columnist that includes stops in Miami, Los Angeles, Dallas, Chicago and San Jose. He can be seen Monday through Friday on "Cold Pizza," ESPN2's morning show, and at 4 p.m., ET, on ESPN's "1st & 10." His column will appear weekly on Page 2. You can e-mail Skip here.