Single page view
By Skip Bayless
Page 2
That April Sunday in 1990 had been declared Earth Day. But when the Dallas Cowboys' first-round pick was announced, I immediately renamed it What On Earth Day.
Emmitt Smith?
The little running back from Florida whose 40-yard dash times (4.6s and 4.7s) were better suited for fullback? Cowboys coach Jimmy Johnson needed another slow running back like Texas Stadium needed a hole in its roof during a thunderstorm. That's why Johnson had just made a trade with San Francisco for Terrence Flagler, a former first-round pick who could fly.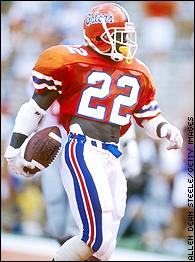 Plenty of people had their doubts about Emmitt Smith coming out of Florida.
What on Earth, Jimmy?
As a Dallas columnist, I had been run ragged trying to keep up with Tony Dorsett, on and off the field. No Cowboy could say and do the wrong thing as quickly as Dorsett could. Nor could any running back in NFL history accelerate faster. Talk about a blaze of glory. And now the Cowboys were going to replace TD with Too Slow?
Earth to Jimmy.
Several Cowboy scouts had told me Johnson was dead-set on drafting a defensive difference-maker -- North Carolina State defensive end Ray Agnew or Baylor linebacker James Francis. As the draft unfolded, Johnson, indeed, tried and failed to trade up from No. 21 to get Agnew, who went 10th to New England, and Francis, who went 12th to Cincinnati.
From 10 through 16, seven straight defensive players were snatched. So with Pittsburgh on the clock at 17, Johnson realized it was time to take the offensive. That's when personnel director John Wooten reminded Johnson that 1.) the Steelers had agreed before the draft to trade places with Dallas for a third-round pick; and 2.) Emmitt Smith was still on the board.
About half the Cowboy scouts and coaches were against drafting Smith. Not only was he too slow, but he was too small (about 5-foot-9 and 205 pounds) and too soft to pound out the tough yards between the tackles. To top it off, he had an unbreakable habit of carrying the ball under one arm instead of shifting it away from an oncoming tackler.
But Wooten remembers the eldest scout, Walt Yowarsky, "all but standing up on the table and saying, 'This kid broke every high-school rushing record in Florida. He can catch, he can block, and I've yet to see him get caught from behind. All he does is make yards. You have to take him.'"
Johnson had experienced this first-hand, while coaching the University of Miami against Florida. Johnson told Wooten: "Do it."
Wooten called Tom Donahoe, then Pittsburgh's general manager, now Buffalo's. Wooten says: "Pittsburgh wanted [tight end] Eric Green, who was going to be there at 21. So we gave him a three [third-rounder] to switch places and move up to 17. No sooner had we made the deal than Ken Herock called from Atlanta and offered us a two to move up from 20 to 17, which was a very attractive offer. But I said, 'Kenny, who you gonna take?' He finally said, 'Emmitt Smith.' I said, 'No thanks.'"
At 20, Atlanta wound up taking a running back from Washington State, the spectacularly forgettable Steve Broussard.
And because Jimmy Johnson couldn't wheel and deal for a defensive demon, he got stuck with a little guy who managed to play for 15 seasons and set NFL records for yards gained (18,355), carries (4,409) and rushing touchdowns (164). Emmitt also helped put two Super Bowl rings on Jimmy's fingers, and a third on Barry Switzer's.