By Skip Bayless
Page 2
That April Sunday in 1990 had been declared Earth Day. But when the Dallas Cowboys' first-round pick was announced, I immediately renamed it What On Earth Day.
Emmitt Smith?
The little running back from Florida whose 40-yard dash times (4.6s and 4.7s) were better suited for fullback? Cowboys coach Jimmy Johnson needed another slow running back like Texas Stadium needed a hole in its roof during a thunderstorm. That's why Johnson had just made a trade with San Francisco for Terrence Flagler, a former first-round pick who could fly.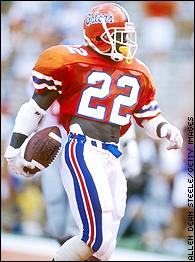 Plenty of people had their doubts about Emmitt Smith coming out of Florida.
What on Earth, Jimmy?
As a Dallas columnist, I had been run ragged trying to keep up with Tony Dorsett, on and off the field. No Cowboy could say and do the wrong thing as quickly as Dorsett could. Nor could any running back in NFL history accelerate faster. Talk about a blaze of glory. And now the Cowboys were going to replace TD with Too Slow?
Earth to Jimmy.
Several Cowboy scouts had told me Johnson was dead-set on drafting a defensive difference-maker -- North Carolina State defensive end Ray Agnew or Baylor linebacker James Francis. As the draft unfolded, Johnson, indeed, tried and failed to trade up from No. 21 to get Agnew, who went 10th to New England, and Francis, who went 12th to Cincinnati.
From 10 through 16, seven straight defensive players were snatched. So with Pittsburgh on the clock at 17, Johnson realized it was time to take the offensive. That's when personnel director John Wooten reminded Johnson that 1.) the Steelers had agreed before the draft to trade places with Dallas for a third-round pick; and 2.) Emmitt Smith was still on the board.
About half the Cowboy scouts and coaches were against drafting Smith. Not only was he too slow, but he was too small (about 5-foot-9 and 205 pounds) and too soft to pound out the tough yards between the tackles. To top it off, he had an unbreakable habit of carrying the ball under one arm instead of shifting it away from an oncoming tackler.
But Wooten remembers the eldest scout, Walt Yowarsky, "all but standing up on the table and saying, 'This kid broke every high-school rushing record in Florida. He can catch, he can block, and I've yet to see him get caught from behind. All he does is make yards. You have to take him.'"
Johnson had experienced this first-hand, while coaching the University of Miami against Florida. Johnson told Wooten: "Do it."
Wooten called Tom Donahoe, then Pittsburgh's general manager, now Buffalo's. Wooten says: "Pittsburgh wanted [tight end] Eric Green, who was going to be there at 21. So we gave him a three [third-rounder] to switch places and move up to 17. No sooner had we made the deal than Ken Herock called from Atlanta and offered us a two to move up from 20 to 17, which was a very attractive offer. But I said, 'Kenny, who you gonna take?' He finally said, 'Emmitt Smith.' I said, 'No thanks.'"
At 20, Atlanta wound up taking a running back from Washington State, the spectacularly forgettable Steve Broussard.
And because Jimmy Johnson couldn't wheel and deal for a defensive demon, he got stuck with a little guy who managed to play for 15 seasons and set NFL records for yards gained (18,355), carries (4,409) and rushing touchdowns (164). Emmitt also helped put two Super Bowl rings on Jimmy's fingers, and a third on Barry Switzer's.
Imagine how history teetered while Pittsburgh was on the clock.
What if Steelers coach Chuck Noll had decided he couldn't pass up Emmitt Smith? What if the Cowboys had jumped at Atlanta's offer? For that matter, what if the New York Jets had taken Emmitt instead of Penn State's Blair Thomas with the second overall pick? Thomas turned into a sensational bust.
When Emmitt showed up that first night at Cowboys headquarter to meet the media, I was even less sold. No suit, tie or clue. The kid from Pensacola wore matching shirt and shorts that were brown with big beige polka dots. It looked like something your grandmother gave you for your 10th birthday and your mother made you wear one time. What on Earth, Emmitt?
I was about to spend the next seven years trying to get a grip on the most uniquely gifted football player I've ever covered.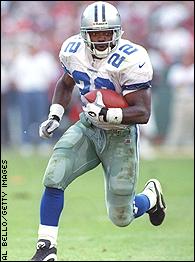 The Cowboys just handed Emmitt the ball, and let him find the holes.
Just for perspective, I've covered 30 straight Super Bowls.
Cowboys receiver Michael Irvin soon took Emmitt under his wing and taught him how to dress and act. Fortunately, Irvin did not teach Emmitt how to party. But right away, Irvin was telling reporters that "this kid can flat run the football."
But exactly how?
During Emmitt's second season, offensive coordinator Norv Turner told me: "He just has incredible quickness in a confined space. It's a very subtle quickness that almost isn't apparent to the naked eye. But he runs the ball so well between the tackles because guys never get a direct hit on him. They think they're about to drill him and they barely miss."
During Emmitt's third season, running back coach Joe Brodsky told me he had given up on trying to get Emmitt to hit a certain hole: "We just finally decided to run 'Emmitt right' or 'Emmitt left' and just let him go where his instincts tell him to."
Turner said: "I laugh when I hear guys on TV say I'm the next NFL genius. My God, we're the simplest offense in the league."
Turner's offense was simply unstoppable. The Cowboys had what I considered the biggest, nastiest offensive line ever. No tricks, no finesse. These bull elephants simply attacked the guy across from them while little Emmitt ducked and dodged behind them. Linebackers often couldn't find him until it was too late.
If Emmitt knew a defender was on his heels or off balance, he would punish the guy. But you never, ever saw Emmitt attempt to blow up a defensive tackle or linebacker waiting for him in the hole. No back has been better at demolishing blitzers whose eyes were locked on the quarterback. And no ball carrier has been better at avoiding defenseless collisions.
Wooten, who blocked for Jim Brown in Cleveland, says: "If Jim was cornered, he would make them pay. Emmitt knew when to go down. He had vision and feel that no back has ever had."
For years, I had heard that the average lifespan for an NFL back is 2.8 years. But here was a little back who could make big yards between the tackles without taking a career-shortening beating. Here was a little man with The Gift.
This reminded me of a book I'd read during my Little League baseball days, "The Kid Who Batted 1.000." Here was "The Kid They Couldn't Tackle."
Emmitt once got mad and refused to talk to me for a season after I said on ESPN that he wasn't overly dedicated to offseason workouts. But I was merely repeating what several frustrated coaches and amazed teammates told me. Despite Irvin's eat-drink-and-chase-Mary reputation, Irvin was a fanatically dedicated overachiever. Emmitt often looked to me like he had a little pot belly.
"I don't have anywhere near Emmitt's talent," said Irvin, who should have been a first-ballot Hall of Famer this year. Irvin was the play-making leader of teams that won three Super Bowls in four years. Emmitt was a follower. Emmitt needed Michael to push him, to pump him up, to implore him to get up after getting a little banged up.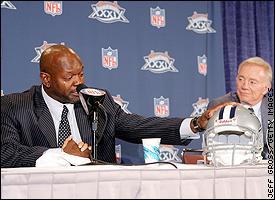 Farewell, Emmitt -- and thanks for the memories.
Most amazing of all about little Emmitt was what a big baby he could be. Here was the ultimate NFL oxymoron: A rushing champion with a low pain threshold. Nearly every game, Emmitt would lay writhing on the turf for a couple of minutes after what appeared to have been a fairly tame tackle. At first, we in the press box would glance at each other and say, "There goes the season." But we learned to use these lengthy breaks to run to the bathroom or to refill a soft drink.
Invariably, Emmitt would be helped to his feet, would limp back to the huddle and would gain six or eight yards on the next play. Emmy Smith, I nicknamed him. What an actor. In this way, he remained childlike, craving the riveted attention of an entire stadium and franchise. How he delighted in melodramatically reminding the Cowboy universe of just how essential he was.
Another rare contradiction: Here was a humble prima donna.
Which brings us to what is remembered as Emmitt's greatest game, the final game of the 1993 season against the Giants at the Meadowlands. At stake: The NFC East title and home field throughout the playoffs.
Emmitt hurt his shoulder late in the second quarter. Emmitt continued to drag his apparently broken wing back to the huddle, then punish the Giants through the second half and overtime. Emmitt gained 78 yards on 17 runs/catches after the injury. The Cowboys won 16-13.
John Madden called it "the most courageous performance I've ever seen."
Yet in the postgame locker room, several players and assistants rolled their eyes and told me lots of players play with first-degree separations. They said the team doctor offered to inject the shoulder with painkiller at halftime, but that Emmitt hated shots and started crying at the sight of the needle. I suppose it was more impressive that he played without the shot, but the second half also featured Emmy Smith at his greatest.
Somehow in the next two playoff games, Emmitt carried 33 times for 148 yards. Then came his greatest game, Super Bowl XXVIII. The Cowboys trailed Buffalo 13-6 at halftime. Irvin stormed into the locker room and screamed at the coaches to "hand the damn ball to Emmitt."
Emmitt gained 92 yards in the second half and finished with 132 total on 30 carries. He was a no-debate MVP, of that game and that season.
But after Emmitt's Cowboys won their third Super Bowl, it was as if he semi-retired. Carrying his team to victory was no longer as important as avoiding injury. Too often, he went down or ran out of bounds just short of the first-down marker. In his final six or seven Cowboys seasons, he took only what the defense gave him.
He rather easily broke what I once considered an unbreakable record -- Walter Payton's career rushing total. But as the Cowboys continued to lose, Emmitt began losing favor among fans. Following the 2002 season, owner Jerry Jones wanted him to retire and become a team ambassador. But no, Emmitt signed with what had long been considered a lowly division rival -- Arizona -- and continued to pad his stats and bank account.
It required one more over-the-top performance by Emmy to rebuild his bridge back to Dallas. As he announced his retirement at the Super Bowl, Emmitt broke down and cried as he thanked Jones, seated next to him, for the opportunity to be a Dallas Cowboy.
No, Emmitt. We thank you . . . and a retired scout named Walt Yowarsky.
Skip Bayless joined ESPN after a career as a sports columnist that includes stops in Miami, Los Angeles, Dallas, Chicago and San Jose. He can be seen Monday through Friday on "Cold Pizza," ESPN2's morning show, and at 4 p.m., ET, on ESPN's "1st & 10." His column will appear weekly on Page 2. You can e-mail Skip here.