By Skip Bayless
Page 2
The kid's talent obviously is off the hook. But you cannot let LeBron James off the hook for the way he ducked Saturday night's NBA dunk contest.
Let's begin with Cleveland's game last Thursday at Minnesota. James had to be helped to the locker room early in the fourth quarter. Cavaliers officials said he had the flu. James returned with about four minutes left and played reasonably hard and well, though he once sank to his knees during a timeout. Call me Oliver Stone Jr. Call me names for daring to question The Chosen One. But, considering James' open reluctance to participate in the dunk contest, this looked suspicious. Was he creating an excuse on the eve of All-Star Weekend? Friday afternoon, James told the media gathered in Denver that he, indeed, would have to skip the dunk competition because of
a.)
the flu and
b.)
an ankle that's still bothering him. Huh? The ankle that cost him two games in January isn't well yet? Could've fooled Miami's Damon Jones, who was posterized when James turned himself into a Heat-seeking missile on Feb. 3.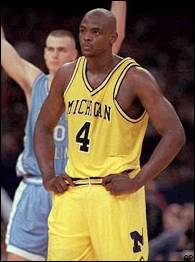 'Ummm, OK, I meant I deserve to be put in a timeout.'
But James said Friday afternoon: "I'm still a little sick and my ankle's a little tender. I'm not getting as much lift as I know I can get off this ankle."
Could've fooled me when I watched the rookies vs. sophomores game on Friday night. The same guy who had to be helped from the floor 24 hours earlier scored 20 points. The same guy who said he can't get max lift off that ankle managed four dunks, including a show-stopping David Thompson memorial windmill.
Do you believe in miracles? Sunday night, James vied with Allen Iverson for All-Star MVP. James managed to play 31 minutes and scored 13 points with eight rebounds, six assists and two steals.
Talk about a quick healer. Maybe Nike is right. Maybe this kid is supernatural.
Or maybe not. James got a little closer to the truth when he answered a postgame question Friday night: "Why don't guys do it anymore? There are no more dunks. If we come up with some new dunks, people might do it. Every time there's a dunk out there, people say they've seen it before." Funny, but I witnessed three dunks during Saturday's competition -- one by eventual winner Josh Smith, one by J.R. Smith and one by Amare Stoudemire with a heady assist from Steve Nash -- I'd never seen before. Josh and J.R. are fresh out of high school. Does this mean they're more creatively gifted than the sophomore who's part Michael Jordan and part Magic Johnson? Absolutely not. James' Magic-worthy feel for finding open teammates is even more extraordinary than how much he has improved his shooting this season. But this could mean that King James at 20 believes the dunk contest is beneath his beyond-Jordan dignity. Maybe, as his legions of defenders argue, it has something to do with money. Maybe he's protesting that the NBA and TV networks make so much off this event without offering any to the winner. Maybe this is like Tiger Woods, Phil Mickelson and other golf stars protesting that the PGA gets all the proceeds from the Ryder Cup.
But seriously, how much prize money would the NBA have to put up to entice a kid with a $100 million shoe contract to participate in the dunk contest? Would he show up and dunk for a $1 million appearance fee? A $5 million prize for winning?
Yes, the NBA once offered some prize money, but nowhere near the sums it would take to lure today's eight-figure stars. Prize money didn't matter to Jordan and Larry Bird, who put All-Star Saturday on the must-see map. They realized the real importance: This was Fan Appreciation Night.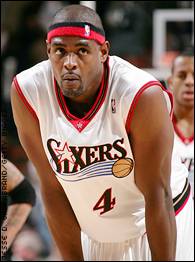 You can take the player out of Sacramento . . .
The principle is the same as the Ryder Cup. Once every two years, Tiger owes it to the fans who help make him astonishingly rich to represent his country without an appearance fee or prize money. For just one week, Tiger owes it to us to at least pretend to defend America's golf honor as passionately as the Europeans genuinely defend theirs.
And just once -- if not twice -- LeBron James owes it to the game that has made him its god to act as if it's an honor to compete in its showcase showdown. Who's the world's baddest dunker? Offering staggering appearance fees or prize money would undercut the fan-pleasing image of the game's greatest leapers matching pride and daring in a friendly competition with highly subjective judging. Winning the dunk contest has become a rite of passage for the game's greatest forwards and shooting guards. For James, it's the "rite" thing to do. Come on, LeBron, it doesn't last even an hour. And Saturday night's show would have been at least 20 minutes shorter without the embarrassing number of aborted attempts by Chris "I'm Only Out Here Because LeBron Isn't" Andersen. Then again, the dunk contest does require preparation, invention and gumption. As the event's mystique has grown, so has the humiliation risk. You wonder: Did James get a touch of the Yellow Flu? Is it possible he feared he couldn't quite sky with the Smiths? The TNT audience found out what NBA insiders have been saying for the last month or so: Josh and J.R. are fearless leapers. Or maybe James' advisers deserve the blame. Maybe they convinced him that risking his reputation isn't worth it. He's already recognized as the game's most exciting dunker. Why give a couple of unknown younger guns the chance to get lucky and shatter Nike's gotta-be-the-shoes image? Whatever, James sat courtside Saturday night wearing -- fittingly -- a camouflage cap with a Yankees logo. Talk about a contradiction. The message:
I want to be inconspicuously conspicuous.
In the few closeups I saw, James watched stone-faced as everyone around him went "did-you-see-that?" nuts.
J.R. Smith pulled off what I thought was the dunk of the night, going behind his back before slamming. Never seen it. Unfortunately, he didn't nail it until his third try. That cost him the competition. Stoudemire fired a pass off the glass, which former soccer player Nash headed back toward the rim just as Stoudemire swooped to dunk it. Never seen it. Josh Smith won by
1)
catching a flip from Kenyon Martin -- who sat mid-lane in a chair, back to the basket -- and hurdling over Martin one leg at a time before throwing down; then
2)
pulling on a No. 21 Dominique Wilkins jersey, in honor of his "Human Highlight Film" mentor with the Atlanta Hawks, and executing an arena-rocking 'Nique tomahawk.
Very cool stuffs.
On TNT, Magic Johnson immediately declared that the dunk contest was back. Well, it would have been if King James had validated it. If you watched it, you probably agreed with Magic. But how many fans failed to tune in when James tuned out?
I lost a little respect for this kid.
It's one thing to say you're just not interested in competing. It's another to make bogus excuses. Jordan never would have done that.
Skip Bayless joined ESPN after a career as a sports columnist that includes stops in Miami, Los Angeles, Dallas, Chicago and San Jose. He can be seen Monday through Friday on "Cold Pizza," ESPN2's morning show, and at 4 p.m. ET on ESPN's "1st & 10." His column appears weekly on Page 2. You can e-mail Skip here.