For years, I've talked to various NBA GMs, who usually refer to Webber's "loser's intangibles." It all started, of course, in that NCAA championship game against North Carolina when Webber called the timeout that Michigan didn't have, down two with 11 seconds left. That technical foul took the Wolverines out of the game. Carolina won 77-71.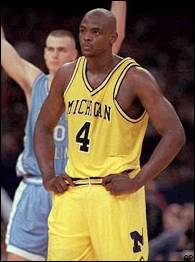 'Ummm, OK, I meant I deserve to be put in a timeout.'
Webber's Michigan team lost two NCAA title games — the first to Duke.
Corliss Williamson won an NCAA title at Arkansas. His Detroit Pistons won an NBA title last season. Williamson has "winner's intangibles."
Williamson, Thomas and Brian Skinner were traded for Webber. They'll make the Kings a little better as a team. Yes, Saturday night was just one game, but Williamson contributed 17 points (on 7-of-11 shooting) with six rebounds, three assists and two steals. Thomas added 16 points and 10 rebounds.
Webber had 16 and 11. Webber hit his first two jumpers. Iverson set up Webber to make the last shot.
"Everything happened just right," Iverson said of his intentionally missed free throw. "But we just couldn't finish."
That seems to be the epitaph for every Webber team. They always expect too much. That's their fault, not his.
Skip Bayless can be seen Monday through Friday on "Cold Pizza," ESPN2's morning show, and at 4 p.m. ET on ESPN's "1st & 10." His column appears twice weekly on Page 2. You can e-mail Skip here.