By Skip Bayless
Page 2
All is right again in the Land of the Little White Ball. Tiger has come out of the Woods. He roared again Sunday, and Phil phinally pholded. Just like old times.
The red monster, wearing his traditional final-round red shirt, brought Doral's Blue Monster to its knees. Woods shot a 66 to beat Mickelson by one. That vaults Woods back to No. 1 in the world.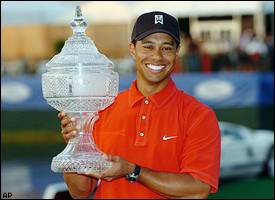 "I'd like to thank Phil for getting me so mad with that grin of his."
But for how long?
As compelling as this ego-to-ego duel was to watch -- it made me forget about Carolina-Duke -- Woods' memorable victory requires an asterisk.
*Paired with Mickelson in final round.
As a final-twosome foe, Mickelson brings out the Tiger in Woods. Mickelson serves as his psychological steroids. And as a Ryder Cup partner, Mickelson brings out the scowling, club-throwing, bogey-making worst in Tiger. Mickelson is his Kryptonite.
On Sunday, Mickelson brought out the best Tiger has to offer for now, as he rebuilds his swing and his confidence. Three times, Mickelson has had to look into the eye of the Tiger in a final pairing. Now, Mickelson is 0 for 3.
Tiger sees red when he sees that phony, fixed-on smile Phil wears between shots. Tiger sees red when he sees Phil play the role of the aw-shucks good-guy father of the year for the media. Tiger sees red when he hears all the false bravado from Phil about how he can blow it by Tiger when he needs to.
A lot of players aren't terribly fond of Mickelson because, off camera, he isn't always the Perfect Guy that so many gullible fans believe him to be. Yet Mickelson got so cocky a year ago that he took a shot at Tiger -- and the company he represents, Nike -- when Tiger was at his slumping worst.
Mickelson even managed to burn Golf Digest, with which he has a deal, by dropping this little bombshell in rival Golf magazine: "[Tiger] hates it that I can fly it past him now. He has a faster swing speed, but he has inferior equipment. Tiger is the only player who is good enough to overcome the equipment he's stuck with."
Of course, that came from the same guy who made a small fortune changing from Titleist to Callaway driver, balls and fairway metals on the eve of last year's Ryder Cup. Mickelson proceeded to play like he was trying to overcome unfamiliar equipment.
But of course, Mickelson's major-championship breakthrough at last year's Masters was one of the most popular victories in golf history. That also had to steam and mystify and ultimately motivate Woods. Once his honeymoon was over -- along with his highly-publicized relationship with swing coach Butch Harmon -- Woods came after Mickelson with a vengeance.
Tiger won the Buick Invitational in San Diego, Mickelson's hometown, on Jan. 23; but he didn't have Mickelson around to inspire him that Sunday. Mickelson fell far off the leaderboard with a third-round 78 -- and Woods nearly blew the tournament on the final hole. Still searching for a new groove with a swing remade by Hank Haney, Woods took multiple stop-at-the-top practice swings before trying to carry the pond in front of the 18th green with a 3-iron. He did not look comfortable before or during the swing. He hit basically a pop fly to right field -- a shot so bad and so lucky that it landed on the isthmus to the right of the pond that provides a walkway to the green.
Not exactly the Tiger who dominated golf for a three-year stretch the way no mortal ever has.
Then again, he did get up and down from the isthmus to win by three.
But in February, Mickelson was as hot for a month as Woods was for a full year in 2000. Then again, Mickelson's stretch also deserves an asterisk.
*No Tiger.
So in something of a surprise, Woods skipped his usual easy payday at the Dubai Desert Classic and committed to Doral. Mickelson was playing Doral. So was No. 1-ranked Vijay Singh. Woods wanted a piece of Mickelson and a shot at regaining his throne.
And where better to go after Mickelson and Singh than the bomber's paradise that is the Blue Monster? Fairly wide open. Light rough. Lush fairways that hold soaring tee shots instead of letting them bound into sand or water.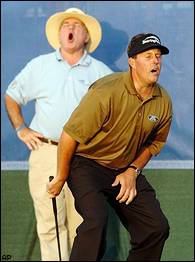 Phil picked the wrong time to stop draining birdies.
Nike couldn't have scripted a better Sunday. Here was Tiger, trailing Mickelson by two. Here was Tiger, known mainly as a ferocious front-runner, with a chance to prove he can come from behind. Here was Tiger with an opportunity to humiliate Mickelson, who has an endorsement deal with Ford, at the tournament sponsored by Ford.
Deep down, Tiger still knows he has this guy's number.
Tiger appeared to take smoldering pleasure in using his "inferior equipment" to fly it well past Mickelson on nearly every hole. Wearing a sweat-stained cap that looked as if it were a lucky keepsake from 2000, Tiger hit two shots that were vintage 2000 -- shots that no other human could pull off. On the par-five 8th, Woods hit the longest drive of the tournament -- 363 yards. And on the par-five 12th, he carried a 3-wood 278 yards over the greenside bunker to within 18 feet of the flag. He made the eagle putt for a two-shot lead.
Frankly, I thought that shot and putt would send Mickelson into cowering retreat. Once upon a time, it would have. But Mickelson doesn't fear Woods -- or doubt himself -- as much as he used to.
Mickelson answered with birdies on 13 and 14.
They were still tied on the par-four 16th, the shortest hole on the course, when Woods tried to devastate Mickelson psychologically once more. On Saturday, with a helping wind, Woods reached the green with his tee shot. This time, he looked as if he was trying to win the National Long-Driving Contest instead of a tournament. The ball wound up stuck in the rough, short and right of the green.
He left his approach in the bunker. He blasted 15 feet beyond the cup. He missed his par putt. He left the door open.
Woods still isn't quite sure of himself.
Mickelson wound up with a 5-footer for the lead. That putt had to be made.
It wasn't.
That miss is why Mickelson still isn't Woods. Mickelson, in fact, missed four putts inside 10 feet.
Tiger made the day's two biggest fist-pumpers -- the 27-footer for eagle on 12, and a 28-footer for the go-ahead birdie on 17. Yet on 18, he failed again to slam the door as he once did. His second shot into the lake-guarded par four was vaguely reminiscent of his 3-iron in San Diego -- a weakly struck lake-block fade that missed the green to the right.
Mickelson's chip from the back of the 18th green licked the right lip of the cup. But that left Woods with maybe a 4-footer for the win, the kind of putt Mickelson missed on 16 -- no gimme. Woods left no doubt.
That prompted the Nicest Guy on Earth to do something he rarely, if ever, does. Mickelson refused a quick interview with NBC, which televised the tournament. He later said that was the maddest he's ever been over losing, calling it a "great slap in the face" because he thought he was playing better than anyone.
If only Mickelson had been this mad after so many other tournaments he has blown. Maybe this is a good sign.
Yet NBC tried to bill this showdown as a modern-day Palmer vs. Nicklaus, with Mickelson as the man-of-the-people Arnie and Woods as the let-my-game-do-my-talking Jack. Yet Arnie genuinely loved his Army, and they knew it. Arnie's talent didn't come near to Mickelson's natural ability. Arnie fed off his fans and willed home crucial putts. Arnie was all guts.
Woods did not beat Arnie's equivalent on Sunday. That's why we need to wait until the Masters to proclaim with confidence that Tiger is back.
Skip Bayless can be seen Monday through Friday on "Cold Pizza," ESPN2's morning show, and at 4 p.m. ET on ESPN's "1st & 10." His column appears twice weekly on Page 2. You can e-mail Skip here.