Single page view
By Skip Bayless
Page 2
Before we proceed, I want to be as clear as a glass backboard about this.
The first two days of the NCAA college basketball tournament are the two best days in sports.
I repeat: First two, best two.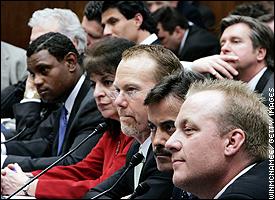 Do you think these players believe their own testimony?
Yet, in all honesty, the reason I love March Madness is that it truly is madness. This tournament is deliciously flawed. The reasons I love it are the reasons I don't.
Let's begin with the Fairy Tale Factor. It astounds me that the NCAA and its conferences get away with legitimizing conference tournaments as bonus moneymakers by allowing the winners an automatic postseason berth. This is a silly rule that cheapens the field.
I give you the Oakland Grizzlies, who shocked Oral Roberts to win the Mid-Continent Conference Tournament and automatic berth. Oakland is 12-18. Oral Roberts won the regular-season title and finished 25-7. But only Oakland gets an NCAA berth – albeit a "play-in" berth against Alabama A&M.
Oakland no more belongs in the Big Dance than I belong in the middle of a Destiny's Child number.
This is a grim fairy tale. I certainly don't blame the Grizzlies for pulling off a monumental upset. I blame the NCAA. I don't want teams littering my bracket that at least didn't win their sub-major conference during the regular season. I don't want tournament winners Montana from the Big Sky or Fairleigh Dickinson from the Northeast.
As cute and cuddly as you might find them, they burst bubbles for far more legitimate teams. You're telling me Oakland, Montana and Fairleigh Dickinson belong, but Maryland, Notre Dame and Memphis don't? Maryland beat Duke twice and Georgia Tech once. Notre Dame strapped Boston College with its first loss and played the toughest Big East schedule in the deepest conference, the Big East. And Memphis barbecued Louisville in Louisville by 17 and nearly beat Louisville in the Conference USA Tournament title game.
Don't get me started about Virginia Tech, Indiana and Miami of Ohio – three more left out in the NIT cold.
The NCAA Tournament shouldn't be a democracy. This isn't Little League baseball, where everybody gets to play. The selection committee should pick America's best 64 teams. Yes, there would still be arguments about Nos. 62, 63 and 64. But it wouldn't be an Oakland-Maryland argument.
I want my Cinderellas to have glass sneakers, not glass jaws.
And while we're at it, why not give one conference three of the four No. 1 seeds if those teams deserve it? Wake Forest deserved a top seed over Washington. Wake lost in the second round of the ACC Tournament only because its best player, Chris Paul, was suspended for one game ... which turned out to be a revenge match for North Carolina State, whose Julius Hodge took that below-the-belt sucker punch from Paul. But that should cost Wake a No. 1?
Appearance is everything for the NCAA, and the selection committee wanted to avoid the appearance of having an ACC bias. At least it should have put only one ACC team in each region; because right now, North Carolina, Duke, Wake and Georgia Tech just might be the four best teams in America. But no. Wake and Georgia Tech are relegated to the same cell, while top-seed Illinois gets an ACC-free path to the Final Four.
But on to Thursday and Friday and the buzzer-beating upset madness. This year more than ever, your office pool could be won by Diedre Dense, who thinks Billy Packer played for Green Bay, or Thurmon Thick, who always picks Duke because his hero was John Wayne. This year, any of 20 teams could get hot and go on a six-game title tear. I wouldn't rule out Gonzaga or Villanova any more than I would trust Illinois or Carolina.
Skip
Bayless
NO MORE MADNESS