By Skip Bayless
Page 2
He tried to hit one last fan-blinding home run.
Mark McGwire tried to look the part of the retired icon in his light green St. Patrick's Day tie and the spectacles resting halfway down his nose. He read a carefully and cleverly crafted statement. He briefly broke down when he said his "heart goes out" to the parents of kids whose deaths were attributed to steroid abuse. He said he gave $3 million to his foundation supporting abused children. He said that he was always a "team player" and that he would never rat out a teammate. And he fairly spat out the words that he wouldn't dignify accusations that he used steroids in a recent book written by a "convicted criminal" – Jose Canseco. Very moving. Almost convincing. You began to wonder if McGwire was crying for himself. His statement ended with a note of can't-win surrender. He said that if "a player" sitting before Thursday's congressional hearing claims he did not use steroids, "he simply will not be believed." Yet, McGwire said, if "a player" says he
did
use steroids, "he risks public scorn and endless government investigation." So, McGwire concluded, he could not answer any questions "without jeopardizing friends, family and myself."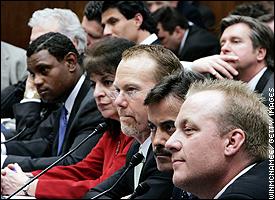 Do you think these players believe their own testimony?
Though McGwire never used the words "I plead the Fifth," that's exactly what he did.
McGwire failed to acknowledge his third option: Telling the truth, if he was as steroid-free as he has always said he was. Apparently, McGwire didn't take that option because, under oath, he couldn't. To McGwire's right on the five-player panel,
Sammy Sosa
had already said he has "never taken illegal performance-enhancing drugs." To McGwire's left,
Rafael Palmeiro
would soon shake a finger at the congressmen and cameras and say, "I have
never
used steroids. Period. Never." I'm not sure I believe Sosa – though his body language and facial expressions did little, if anything, to damage his credibility. Yet Palmeiro spoke with such angry conviction that he certainly came across as convincing. But not Big Mac. Not once did McGwire say: "Jose Canseco is a liar because I never used steroids." McGwire ducked question after question by saying: "I'm not here to talk about the past." McGwire looked more and more pathetic. His pinched face said:
You've dragged me out of a peaceful retirement and ruined my reputation because you let my old Oakland A's teammate rat me out.
Here was a Bashed Brother.
What I'll most remember from Thursday's endless but compelling testimony was that Mark McGwire, once baseball's beloved Paul Bunyan, convicted himself in the court of public opinion. Now, we can be left with only one conclusion: McGwire was cheating in 1998 when he shattered Roger Maris' 37-year-old, single-season home run record of 61.
We're not talking about just using andro, which was sold over the counter then and which McGwire openly displayed in his locker. No, we're talking about Mark McGwire using anabolic steroids and human growth hormone, just as Canseco alleges in his book.
Canseco writes that he even injected McGwire with steroids on occasion. In fact, Canseco speculates that McGwire openly displayed andro in his locker as a red herring. The spotlight was getting hotter and hotter on 1998's Great Home-Run Race between McGwire and Sosa, so McGwire feared the media would discover his steroid use. McGwire wanted reporters to see and focus on his andro. Or so Canseco believes. He writes that for McGwire, using andro would be like "a hospital patient on morphine asking for an aspirin." Oh, was McGwire lucky that Canseco wasn't granted immunity for Thursday's hearing. Rep. Tom Davis, who chaired the committee, told Canseco that "we did try to get immunity from the attorney general, but we weren't able to get it in time." Canseco, who remains on probation, possibly risked further prosecution in Florida if he spoke openly about his steroid use. So without immunity, he wasn't able to repeat – and perhaps add to – what he wrote about McGwire and Palmeiro: that he injected them both with steroids.
That's not secondhand hearsay. That's first-person detail.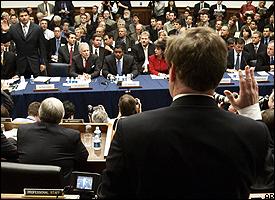 Can Congress handle the truth about steroids?
Sunday's New York Daily News quoted FBI sources saying that McGwire's name came up in an early '90s steroid investigation of suppliers. Yet the story said that McGwire was not a target and that no evidence was collected on him. That story didn't raise nearly the suspicion that Canseco's book does.
Yet Canseco was forced to sit silently through shot after shot from McGwire, then Palmeiro, then Curt Schilling. Canseco was able to talk in generalities about the extent of baseball's steroid problem and what Congress should do about it. But he wasn't able to defend himself as – especially Schilling – tried to drill the messenger.
Again, I can't vouch for Canseco's personal-life credibility. But when it comes to steroid use, he speaks and writes knowledgeably and convincingly. Perhaps Palmeiro also was fortunate that Canseco had both hands tied behind his back. You wondered whether Palmeiro would have been so vehement in his denial if Canseco hadn't been muzzled.
It appeared that the only reason Palmeiro was invited to testify – then subpoenaed when he declined – was because of such a definitive accusation in Canseco's book. Canseco says that, upon joining the
Texas Rangers
, he taught Palmeiro,
Juan Gonzalez
and
Ivan Rodriguez
how to use steroids.
In "Juiced," Canseco writes:
"Raffy, Juan and Ivan were definitely scared the first time I injected them, but after a while it became no big deal to them, either. And throughout my time on the team, they were on a combination of growth hormone and steroids -- mostly Deca and Winstrol, but with a small dose of testosterone."
Either Canseco or Palmeiro is really lying.
Now you wonder whether Palmeiro will follow through on his previous threat to sue Canseco. After all, Palmeiro plays for an owner – Baltimore's Peter Angelos – who is known as one of the country's best litigators.
Or maybe there was some truth in what Canseco and his lawyer suggested before the hearing – that baseball's power brokers somehow influenced Congress to deny Canseco's request for immunity, to protect current players who were (and weren't) present. Once the hearing began and it became clear that Canseco wouldn't be able to speak freely, you wondered whether it would free McGwire to say he never used steroids and give vague answers to broader questions. Yes, McGwire was under oath. But several congressmen had said this wouldn't be a witch hunt. Plus, retired McGwire will never be tested for steroids and the FBI sources told the Daily News that no evidence was collected against him. Oh, well, at least McGwire didn't lie to Congress. Sosa was not a direct target in Canseco's book. Canseco, who wasn't a teammate of Sosa's, writes only that Sosa's physical transformation "seemed even more dramatic than McGwire's" and that it was so obvious Sosa was using steroids "it was a joke." After Sosa's opening statement that he flat-out has never used performance-enhancing drugs, his answers often were comical. As a columnist in Chicago, I spent enough time around Sosa to tell you he can speak and understand English extremely well when he needs to. But at Thursday's hearing, with his lawyer to his right and an interpreter to his left, Sosa often acted as if he didn't quite understand the question and some of his answers were nonsensical. Such as: "To my knowledge, I don't know." Then again, some of the questions weren't much better. Some of the representatives obviously hadn't read Canseco's book and hadn't done any homework on the subject of steroids and baseball. Too often they ate up their allotted time with what amounted to grandstanding speeches about sportsmanship and role models. Yet three congressmen admonished McGwire for refusing to answer questions. Especially tough on him was William Lacy Clay (D, Mo.), who scolded the former St. Louis Cardinal with: "I wish you had taken this opportunity to answer some of the questions about your career and some of the records you set." Oh, but McGwire
did
answer. He answered by not answering. It leaves me wondering whether McGwire even belongs in the Hall of Fame. The only case you can make for him is a power case. Yes, he hit a then-record 70 home runs in 1998, and he wound up with 583 for his career. But he won no MVPs and only one Gold Glove. If some of McGwire's power came from a syringe .... I'll remember this hearing for helping raise the public's awareness, especially about the epidemic steroid use among teenagers. I'll remember that baseball was caught deceiving the public about the few teeth its new testing program does have. But most of all, I'll remember Mark McGwire, surrendering.
Skip Bayless can be seen Monday through Friday on "Cold Pizza," ESPN2's morning show, and at 4 p.m. ET on ESPN's "1st & 10." His column appears twice weekly on Page 2. You can e-mail Skip here.