By Skip Bayless
Page 2
I write this at the risk of being sentenced to one year in solitary confinement with a TV I cannot turn off that runs an endless loop of Dick Vitale saying, "COLLEGE BASKETBALL – IT'S AWESOME, BABY."
College basketball is awesome, baby.
But pro basketball is better.
I love the NCAA Tournament, don't get me wrong. But I love the NBA playoffs more. Better format, better rules, better refs, far better players.
If you sentenced me to one basketball season in solitary confinement with a choice between the NCAA or NBA TV package, I'd go pro. When I flip back and forth between college and pro games, the difference in skill and athletic ability is as startling as the difference between men's and women's college games.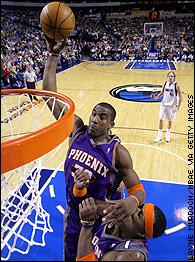 Amare Stoudemire could be dominating the NCAA Tournament ... but he's dominating the NBA instead.
Do I want to see "A Streetcar Named Desire" on Broadway, or in, say, St. Louis? I like St. Louis, site of tonight's NCAA title game. But gimme Broadway. Gimme NBA streetcars with desire and the greatest overall athletic ability of any players in any sport.
And please don't gimme that old wives' tale – probably started by Dick Vitale's wife – that pro basketball players play hard only in the last two minutes. Pure propaganda. I am astounded by how hard most NBA teams play – tip to buzzer, on both ends – night after night of an 82-game schedule. If veterans don't continually give it the old college try, they'll lose their jobs to one of the onslaught of straight-out-of-high-school players.
That's the biggest reason that college basketball has lost a little appeal for me. I want to see stars shine – to see things I've never seen before – and so many of the players who could be dominating this NCAA Tournament are already taking over NBA games. LeBron. Carmelo. Amare. Even Dwight Howard and J.R. Smith are already emerging as All-Star candidates.
Forgive me, but I haven't seen a single player in this 65-team NCAA field who will have a significant impact in the NBA. Andrew Bogut, Sean May, Chris Paul, Wayne Simien and Deron Williams will be starters, but I'm not sure they'll be stars. Two NBA general managers have told me they think Williams could be a top 10 pick because he's such a mentally tough floor leader who does so many "little things." But I don't see the quickness, the penetrating ability, the creativity -- the big things.
The media buzz is that North Carolina freshman Marvin Williams could be the most talented player in the tournament. Yet when he plays, which has been surprisingly sparingly, he often looks like a freshman trying to fit in. Give me Gerald Green, who went Tracy McGrady on his competition the other night in the McDonald's high-school all-star game. Green has signed with Oklahoma State, but it won't surprise me if he's playing in the NBA next season. He's too good for college basketball.
This year I see no Kareem or Walton, Magic or Bird, Ewing or Olajuwon. This year, the games have been the stars. No all-time great team? No problem for the dyed-in-the-wool-letter-sweater college diehards. This is democracy at work, the American dream. At least 20 teams could've gotten hot and won it all. The early-round results were far more amazing than the individual feats. Vermont beat Syracuse? Kansas lost to Bucknell?
As a basketball fan, I would have preferred to see if Syracuse would have been too talented for Michigan State, or if Kansas could have overcome Wisconsin. Vermont and Bucknell could not have advanced in the NBA playoffs because they would have lost Games 2, 3, 4 and 5 of a seven-game series. I don't want to see fluky upsets. I want to know which team is truly better.
I was talking about pro prospects the other day with an NBA general manager, who mentioned he "really liked the way Hakim Warrick played in the Big East tournament."
I said, "Yeah, but he really stunk it up against Vermont with 10 turnovers and a bunch of forced shots."
And the GM said: "Hey, it's one game in the NCAA Tournament."
Yes, March Madness is exactly that – pure madness. The games go so quickly. The officiating is so terribly inconsistent. The foul trouble can be so game-changing so early with only five allowed. The three-point line is so anyone-can-get-hot-and-shoot-you-in-the-heart close.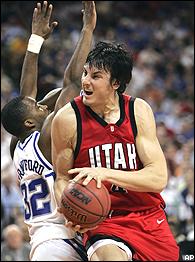 Andrew Bogut may be a pretty good pro player -- but do you really think he'll be a star?
Anything can happen and always does.
Yet to me, March Madness is a blast for many of the wrong reasons.
Give me 48 minutes instead of 40, seven games instead of one. Give me NBA refs, who do an underrated job of governing gifted giants. Give me six fouls instead of five. Give me a man-sized three-point shot – four feet farther than the NCAA's. Give me players who, on any given weeknight, make me go, "Wow."
Give me the Spurs or the Pistons playing lock-down defense. Give me Steve Nash's Flying Circus in Phoenix. Give me the most agile 300-plus pounder the world has ever seen – Shaquille O'Neal. Give me a LeBron dunk or pass. Heck, nearly every time I watch San Antonio's Manu Ginobili, he does something I'm not sure I've seen before.
I love this game.
At least, I love it a little more than college hoops.
But if you live in a college hotbed without an NBA team – Louisville, for instance – you're probably wishing I'd go live in Albania. You're muttering to me that college basketball is so much more pure because these kids are sitting in the same classrooms you sat in and they're having the time of their lives just the way you did at Dear Old U. The pep bands, the cheerleaders, the student sections. The color, the pageantry.
The hypocrisy.
I'm sorry, but your college team serves as your pro equivalent. The best players on your team probably wouldn't have chosen – or been chosen by – your school if they weren't basketball players. And some of them would have skipped Dear Old U. altogether if they'd been assured they'd go in the first round of the NBA draft.
You say you're sick of how much money these NBA players make? I'm just as outraged by how little college players make – room, board and tuition. The NCAA makes untold millions off the NCAA Tournament and its TV contract. And at least part of the appeal of March Madness is all the technically illegal gambling pools that make month-long viewers out of so many office workers who wouldn't know Vermont from Bucknell.
Only in America.
Both college and pro basketball are extremely entertaining. But at least the NBA's entertainers make the money they deserve. To me, that's more pure.
In part, the NCAA sells fairy tales. Mostly, the NBA sells reality. Amazing reality. Physical genius, as former NBA coach Dick Motta called it.
Yes, sometimes that reality includes Latrell Sprewell, who's in the last year of a five-year, $62-million contract, demanding a raise because he has a family to feed. Sometimes, it includes Ron Artest, the human technical foul, going after a fan in the stands and starting a riot. Sometimes, it includes the NBA version of Wally Cleaver – Kobe Bryant – committing adultery and being embroiled in allegations of sexual assault.
Yet I get just as sick of college apologists scoffing that the NBA is just a bunch of overpaid, underachieving thugs. That's an absurd exaggeration. Trust me, college basketball has its share of underpaid thugs. Trust me, college diehards: Most NBA players practice and play just as hard as most college players.
College basketball is more of a coach's game, and too many over-coach the life out of it. The NBA is more of a players' (and fans') game. NBA coaching is just as crucial and far more complex, though pro coaches don't get (or take) anywhere near the credit that celebrity college coaches do.
Several times last weekend, I watched college teams fail to get a shot off in the final 10 seconds or so of a tie game. Last year, I watched Derek Fisher of the Lakers make an astonishing shot – catching, twisting and releasing with 0.4 seconds left – to shock the Spurs.
Last Sunday, I watched Kentucky's Patrick Sparks make an overtime-forcing 3-pointer that was astonishing for the wrong reasons. How did a shot that off-line bounce so softly around the rim and finally fall? Yet the shot was off-line because Sparks was rammed in midair by Michigan State's Kelvin Torbert. No, there wasn't any hand-to-hand or arm-to-arm contact. But that clearly was a shot-changing hip-check foul that was not called.
Sparks should have been shooting a free throw to win a game that Kentucky eventually lost.
Yet the refs were so caught up in whether Sparks' toe was touching the 3-point line that they took more than six minutes to decide that the shot did indeed count for three points. Most NBA refs would have quickly and correctly called the foul and the foot.
But I still love college basketball.
I just love its big brother more.
Skip Bayless can be seen Monday through Friday on "Cold Pizza," ESPN2's morning show, and at 4 p.m. ET on ESPN's "1st & 10." His column appears twice weekly on Page 2. You can e-mail Skip here.