As a basketball fan, I would have preferred to see if Syracuse would have been too talented for Michigan State, or if Kansas could have overcome Wisconsin. Vermont and Bucknell could not have advanced in the NBA playoffs because they would have lost Games 2, 3, 4 and 5 of a seven-game series. I don't want to see fluky upsets. I want to know which team is truly better.
I was talking about pro prospects the other day with an NBA general manager, who mentioned he "really liked the way Hakim Warrick played in the Big East tournament."
I said, "Yeah, but he really stunk it up against Vermont with 10 turnovers and a bunch of forced shots."
And the GM said: "Hey, it's one game in the NCAA Tournament."
Yes, March Madness is exactly that – pure madness. The games go so quickly. The officiating is so terribly inconsistent. The foul trouble can be so game-changing so early with only five allowed. The three-point line is so anyone-can-get-hot-and-shoot-you-in-the-heart close.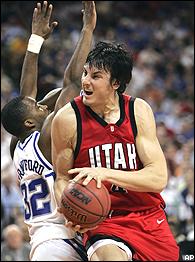 Andrew Bogut may be a pretty good pro player -- but do you really think he'll be a star?
Anything can happen and always does.
Yet to me, March Madness is a blast for many of the wrong reasons.
Give me 48 minutes instead of 40, seven games instead of one. Give me NBA refs, who do an underrated job of governing gifted giants. Give me six fouls instead of five. Give me a man-sized three-point shot – four feet farther than the NCAA's. Give me players who, on any given weeknight, make me go, "Wow."
Give me the Spurs or the Pistons playing lock-down defense. Give me Steve Nash's Flying Circus in Phoenix. Give me the most agile 300-plus pounder the world has ever seen – Shaquille O'Neal. Give me a LeBron dunk or pass. Heck, nearly every time I watch San Antonio's Manu Ginobili, he does something I'm not sure I've seen before.
I love this game.
At least, I love it a little more than college hoops.
But if you live in a college hotbed without an NBA team – Louisville, for instance – you're probably wishing I'd go live in Albania. You're muttering to me that college basketball is so much more pure because these kids are sitting in the same classrooms you sat in and they're having the time of their lives just the way you did at Dear Old U. The pep bands, the cheerleaders, the student sections. The color, the pageantry.
The hypocrisy.
I'm sorry, but your college team serves as your pro equivalent. The best players on your team probably wouldn't have chosen – or been chosen by – your school if they weren't basketball players. And some of them would have skipped Dear Old U. altogether if they'd been assured they'd go in the first round of the NBA draft.
You say you're sick of how much money these NBA players make? I'm just as outraged by how little college players make – room, board and tuition. The NCAA makes untold millions off the NCAA Tournament and its TV contract. And at least part of the appeal of March Madness is all the technically illegal gambling pools that make month-long viewers out of so many office workers who wouldn't know Vermont from Bucknell.
Only in America.