Single page view
By Skip Bayless
Page 2
Buckle up for this armchair general manager's pick-by-pick reactions (or overreactions) as Saturday's first round unfolded (or in some cases, unraveled).
With the first pick in the 2005 NFL Draft, the 49ers finally settle on Alex Smith.
Just owner John York's luck, or bad luck, that Matt Leinart decided to enjoy the college life for another year. The 49ers all but begged for someone to save them from themselves by offering enough in trade for this pick to let York tell his eroding fandom: "This was a deal we couldn't pass up."
But nobody bites. Even after the 49ers take Smith, ESPN's Sal Paolantonio reports that a team source says they would still consider trading Smith. But no team is so sold on this kid that it wants to trade half its picks for the obligation of making a deal with the same agent, Tom Condon, who broke the New York Giants' bank last year with Eli Manning.
Now Condon wants more than Manning got -- more than a $20 million bonus and a $54 million deal. All this for a kid who came from nowhere at Utah to run a throwback single-wing-style attack that defenses couldn't prepare for?
I'm not saying Smith is Ryan Leaf, but is he Peyton Manning? I love his cocky personality and classroom brains, his 6-foot-4 height and smaller-guy athletic quickness. But seriously, is anyone convinced he'll be a great quarterback?
As one NFL coach told me last week: "This kid hit the lottery in a year without a clear-cut 'franchise quarterback' or defensive stud."
Be careful what you wish for, kid. Now you're going to a bad team and a dysfunctional organization with a solid new coach who's stuck with a mediocre staff. The 49ers allowed 52 sacks last season, so you'll feel Monday-morning soreness you didn't think was humanly possible while you're trying to learn a completely new under-center, drop-back passing game. On top of all that, your fans expect nothing less than Joe Montana, or at least Steve Young.
Even at Eli-plus money, you might wonder if it's worth it.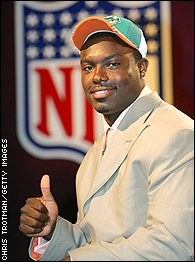 Thumbs up for Ronnie Brown, thumbs down for the Dolphins.
At No. 2, the Dolphins try and fail to trade down and settle for the wrong running back -- Ronnie Brown, who couldn't beat out Cadillac Williams at Auburn.
At No. 3, the Browns try and fail to trade down and settle for the wrong receiver -- Braylon Edwards, who is a better athlete than a pass-catcher. This begins the brain-bending Mike Williams slide.
At 4, the Bears take the wrong running back -- Cedric Benson, who'll never be better than "pretty good." This is the former Texas back who said he'd rather win the Heisman than beat Oklahoma -- which he failed to do four years in a row. Benson won't exactly strap a franchise on his back and do the "Super Bowl Shuffle" with it.
At 5, the Bucs steal a classic ride -- a Cadillac. Williams is much quicker and harder to tackle than Benson -- even between the tackles -- with breakaway speed to boot. Williams, and not Ronnie Brown, carried on short-yardage plays. Williams returned kickoffs and punts. Case closed.
At 6, the Titans take ... you're kidding! Adam "Pac-Man" Jones? With former USC offensive coordinator Norm Chow, who now runs Tennessee's offense, banging on the table for former USC star Mike Williams? With two better cornerbacks, Carlos Rogers and Antrel Rolle, all but saying, "Please pick me"?
Pac-Man is only 5-foot-9, and though he's fast, he's not Darrell Green fast. He's the flip side of Rogers, the best pure corner in the draft. Pac-Man often plays poor technique, gambles and relies too much on his speed and leaping ability. If the Titans just want him to revitalize their NFL-worst return game, that's fine. But with the sixth overall pick?