By Skip Bayless
Page 2
Buckle up for this armchair general manager's pick-by-pick reactions (or overreactions) as Saturday's first round unfolded (or in some cases, unraveled).
With the first pick in the 2005 NFL Draft, the 49ers finally settle on Alex Smith.
Just owner John York's luck, or bad luck, that Matt Leinart decided to enjoy the college life for another year. The 49ers all but begged for someone to save them from themselves by offering enough in trade for this pick to let York tell his eroding fandom: "This was a deal we couldn't pass up."
But nobody bites. Even after the 49ers take Smith, ESPN's Sal Paolantonio reports that a team source says they would still consider trading Smith. But no team is so sold on this kid that it wants to trade half its picks for the obligation of making a deal with the same agent, Tom Condon, who broke the New York Giants' bank last year with Eli Manning.
Now Condon wants more than Manning got -- more than a $20 million bonus and a $54 million deal. All this for a kid who came from nowhere at Utah to run a throwback single-wing-style attack that defenses couldn't prepare for?
I'm not saying Smith is Ryan Leaf, but is he Peyton Manning? I love his cocky personality and classroom brains, his 6-foot-4 height and smaller-guy athletic quickness. But seriously, is anyone convinced he'll be a great quarterback?
As one NFL coach told me last week: "This kid hit the lottery in a year without a clear-cut 'franchise quarterback' or defensive stud."
Be careful what you wish for, kid. Now you're going to a bad team and a dysfunctional organization with a solid new coach who's stuck with a mediocre staff. The 49ers allowed 52 sacks last season, so you'll feel Monday-morning soreness you didn't think was humanly possible while you're trying to learn a completely new under-center, drop-back passing game. On top of all that, your fans expect nothing less than Joe Montana, or at least Steve Young.
Even at Eli-plus money, you might wonder if it's worth it.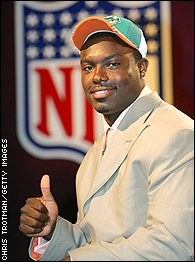 Thumbs up for Ronnie Brown, thumbs down for the Dolphins.
At No. 2, the Dolphins try and fail to trade down and settle for the wrong running back -- Ronnie Brown, who couldn't beat out Cadillac Williams at Auburn.
At No. 3, the Browns try and fail to trade down and settle for the wrong receiver -- Braylon Edwards, who is a better athlete than a pass-catcher. This begins the brain-bending Mike Williams slide.
At 4, the Bears take the wrong running back -- Cedric Benson, who'll never be better than "pretty good." This is the former Texas back who said he'd rather win the Heisman than beat Oklahoma -- which he failed to do four years in a row. Benson won't exactly strap a franchise on his back and do the "Super Bowl Shuffle" with it.
At 5, the Bucs steal a classic ride -- a Cadillac. Williams is much quicker and harder to tackle than Benson -- even between the tackles -- with breakaway speed to boot. Williams, and not Ronnie Brown, carried on short-yardage plays. Williams returned kickoffs and punts. Case closed.
At 6, the Titans take ... you're kidding! Adam "Pac-Man" Jones? With former USC offensive coordinator Norm Chow, who now runs Tennessee's offense, banging on the table for former USC star Mike Williams? With two better cornerbacks, Carlos Rogers and Antrel Rolle, all but saying, "Please pick me"?
Pac-Man is only 5-foot-9, and though he's fast, he's not Darrell Green fast. He's the flip side of Rogers, the best pure corner in the draft. Pac-Man often plays poor technique, gambles and relies too much on his speed and leaping ability. If the Titans just want him to revitalize their NFL-worst return game, that's fine. But with the sixth overall pick?
At 7, the Vikings try to fill the Randy Moss void by reaching for Troy Williamson, who's nearly as fast as Moss but who rarely used his jets to do anything memorable at South Carolina. Why not Mike Williams?
At 8, the Cardinals take the "best athlete available" -- Rolle. Not bad, but I prefer Rogers ...
... who goes to the Redskins at 9. Can't argue. Rogers should be a Pro Bowl-caliber corner for 10 years. But Redskins fans -- and players -- would have been more electrified by ...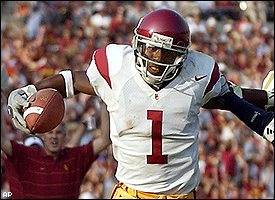 Detroit's triple-threat offense: Mike Williams with Charles Rogers and Roy Williams.
... Mike Williams, who finally goes to the Lions. Wait, the Lions, who've taken high-pick receivers the previous two drafts? Yes, and I ... like it. No, I love it. The Lions have strengthened their strength. If Charles Rogers can get and stay healthy, how can a defense match up with Rogers and Roy Williams split wide and Mike Williams and Az Hakim in the slots?
If Joey Harrington can't consistently find and hit an open receiver now, you can officially write him off as another bust of a Jeff Tedford creation. Somewhere, new Lions backup Jeff Garcia is smiling.
At 11, as advertised, the Cowboys take the first of two defensive ends who'll become the bookends for Bill Parcells' new 3-4 scheme. DeMarcus Ware will be the pass-rusher, Marcus Spears the strong-side anchor. Good picks. But suddenly Parcells, entering his third year in Dallas, is building for the future? Or was this Jerry Jones, saying, "No more of this franchise-crippling win-now"?
Now San Diego, New Orleans and Carolina inexplicably pass up the linebacker who'll be next year's defensive rookie of the year -- Derrick Johnson. The Saints get a pass because they traded up to snatch the best offensive tackle, Jammal Brown. But Shawne Merriman (San Diego) and Thomas Davis (Carolina) over Johnson, a ball-stripping dynamo of a 242-pounder with 4.5 speed? If he supposedly isn't tough enough, how did he register 450 career tackles at Texas?
You can almost hear the whoops coming out of Kansas City's war room. At 15, the defenseless Chiefs strike oil with Derrick Johnson? For no more than their second-rounder, they stole Patrick Surtain, one of the NFL's premier cover corners, from Miami? On defense, they've added Kendrell Bell and Carlos Hall?
In the AFC West, the Chiefs could be last year's Chargers.
At 16, the Texans go with defensive end Travis Johnson, who isn't Reggie White, but who won't leave Charlie Casserly red-faced. The Bengals gamble on David Pollack -- big motor, small frame. The Vikings hope they've taken a motivated Erasmus James, who has big-time talent and a small motor. Ditto the Rams, who hope they can find the pilot light in the Pro Bowl body of offensive tackle Alex Barron.
But after the Cowboys take their second defensive end, Spears, at 20, Jacksonville personnel director James "Shack" Harris runs a double-reverse pass that sends tremors across the league. He takes The Freak, Matt Jones.
And I ... actually ... like the pick. The only reach here is what Jones, at 6-6 and 242 pounds, will be doing for passes. This former Arkansas quarterback is so incongruously fast -- a 4.3 40 -- and so willing to become a wide receiver that he'll have a sudden impact. A source close to Harris tells me he was sold when Jones brought a punter to his personal workout with the Jaguars staff, to show them how he can catch and return punts.
The source said: "James wants to use this kid opposite Jimmy Smith and Reggie Williams and let him run fly patterns for Byron Leftwich. It could be something to watch."
Yet this pick triggers high-fives in Baltimore, where the Ravens land the receiver they didn't think would last this long, the tough little lightning bolt from Oklahoma, Mark Clayton. By adding some scat to their receiving corps with Clayton and free-agent acquisition Derrick Mason, the Ravens will find out if quarterback Kyle "I Should Have Been A" Boller should try bowling.
At 23, Al Davis loses his mind again. Understand, Davis made what will go down as one of the great trades in NFL history, acquiring Moss and immediately making the Raiders a playoff contender again. But the Raiders traded up twice to take a cornerback, Fabian Washington, who could make a track team before he could start for a pro football team? If you watched much of Nebraska last season, you know Washington is nothing special.
At 24, Green Bay wrestles between taking the best defensive player available and the "next Brett Favre." And I'm thinking, "Please don't do this to Jason Campbell." I like Auburn quarterback Campbell as much as I do Alex Smith. Joe Gibbs and his Redskins coaches were sold on Campbell after a recent session with him at Auburn. But the last thing Campbell needs is to have to replace Favre in Green Bay.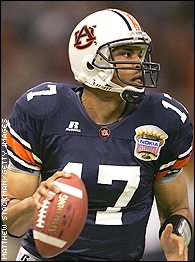 Meet Jason Campbell, the Redskins' starting QB in 2006.
The Packers opt for Aaron Rodgers. I admire his toughness and accuracy, but any Tedford product scares me.
Hail to the Redskins, who giddily grab Campbell at 25. He'll be their starter in '06. He and Rogers give Gibbs the best first-round haul. War Eagle.
At 26, the Seahawks make a fan-unfriendly pick -- Chris Spencer, who could make the Pro Bowl at center or guard. The Falcons give Michael Vick a hot new toy, receiver Roddy White. The Chargers roll the dice on an undersized overachiever, Luis Castillo, who tested positive at the combine for andro. The Colts take a cornerback who's as solid and unspectacular as coach Tony Dungy -- Michigan's Marlin Jackson.
At 30, the Steelers make a sweet, savvy choice -- pass-catching tight end Heath Miller, who will provide Ben Roethlisberger a cold-weather comfort blanket. At 31, the Eagles get even better with Mike Patterson, an underrated USC defensive tackle.
But of course, New England caps the first round by making the best value pick of the round, taking Fresno State guard Logan Mankins, who'll move right into the starting lineup for free-agent loss Joe Andruzzi. The Patriots march on.
I wonder when some NFL team will get smart enough to hire me.
Skip Bayless can be seen Monday through Friday on "Cold Pizza," ESPN2's morning show, and at 4 p.m. ET on ESPN's "1st & 10." His column appears twice weekly on Page 2. You can e-mail Skip here.