Single page view
By Skip Bayless
Page 2
Shortly into Wednesday's congressional hearing on steroids and the NFL, you realized there was only one way to stomach this sham: You had to laugh.
You had to imagine a congressman asking one of the expert witnesses if he knows for sure that the NFL has stamped out steroid use, and the guy responding with, "No, but I stayed at a Holiday Inn Express last night."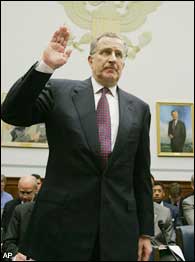 "Do you swear to make us laugh with your innocence on this issue, so help you god?"
You had to imagine one congressman finally having the guts to risk losing his Washington Redskins season tickets by cross-examining NFL commissioner Paul Tagliabue.
Tagliabue: "OK, I have a confession to make."
Congressman: "You're finally going to come clean about how the NFL's steroid problem is even worse than baseball's?"
Tagliabue: "No, I just saved a bunch of money on my car insurance by switching to GEICO."
Instead, this was five hours and 56 minutes of funny-sad. What a waste of time. You've seen first-week NFL preseason games that were more meaningful.
Tagliabue and his men might as well have been Bill Belichick's defense toying with rookie Steelers quarterback Ben Roethlisberger in a road playoff game. Mostly, Tagliabue was a Park Avenue attorney talking circles around a gaggle – or giggle – of fawning fans masquerading as politicians.
You kept waiting for one of the congressmen to ask Tagliabue for his autograph. You wondered if, after the proceedings, Tagliabue invited all the pols to visit the Redskins locker room after any game next season to meet coach Joe Gibbs and to "see for yourselves that there isn't a single steroid syringe in any locker."
This was a hearing without seeing.
The lone voice of reason spoke late in the day. Henry Waxman (D-Calif.), the ranking minority member, said: "There's still one thing that puzzles me, and that's the fact that there are a lot of people who are very credible in sports who tell me privately that there's a high amount of steroid use in football.
"When I look at the testing results, it doesn't appear that's the case. It's still nagging at me."
And at me.
And, I hope, at you.
So how could Waxman allow this hearing to take place without the testimony of a single current NFL player who has tested positive for a performance-enhancing substance? Does the NFL wield so much more power on Capitol Hill than Major League Baseball that the NFL managed to keep the essential star witnesses – its dirty players – out of the national spotlight and consciousness?
Where was former Pro Bowl linebacker Bill Romanowski, under oath? Romanowski, who has been retired for only a season, reportedly tested positive for the designer steroid THG. So did former Pro Bowl defensive tackle Dana Stubblefield. Where was he?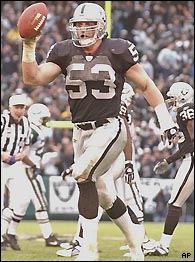 Romo was too busy taking his self-proclaimed 25 pills a day to attend.
Why wasn't receiver David Boston, who recently was suspended for using a banned performance-enhancing substance, on the panel? Why weren't any of four Carolina Panthers who – according to an investigation of a South Carolina doctor – allegedly received steroids from the doctor?
Remember, the NFL's testing program didn't catch these four Panthers – or the four Oakland Raiders (including Romanowski and Stubblefield) who were nailed for their alleged THG use. The Raiders came to light in the BALCO investigation.
Congress should have grilled them on how they kept beating the NFL's steroid tests.
This didn't have to be a witch hunt. Romanowski, Stubblefield and Boston are already out there as "witches." How could this hearing have any credibility without these guys being questioned about what's really been going on behind the scenes in the image-conscious NFL in recent seasons?