Single page view
By Skip Bayless
Page 2
Surely the San Antonio Spurs were in trouble.
Tied 1-1 in their first-round playoff series with the Denver Nuggets, the NBA's hottest team since the All-Star break, the Spurs were at the wrong place (the Pepsi Center, where the Nuggets were 19-1 under coach George Karl) at the wrong time (for Saturday night's Game 3). The Pepsi was about to explode like a shook-up soft drink.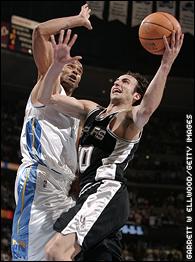 The Spurs would have been in trouble in Game 3 ... if not for Mr. Ginobili.
The Nuggets had jumped ahead 10-3, and San Antonio's best player, Tim Duncan, looked like he needed a caffeine fix. During a timeout, Spurs coach Gregg Popovich berated Duncan, basically telling him to get his head in the game. Duncan had been flat-footed on defense and as flat as an opened, day-old Pepsi on offense. He already had two fouls, one on a charge.
Amazing how the best player on what many coaches consider the NBA's best team can be so unpredictably passive and often unselfish to a fault.
Also out of it was point guard Tony Parker, whose mind had perhaps drifted toward his next date with his squeeze, Eva Longoria. Hard to blame him.
So with 6:58 left in the first quarter, and San Antonio down 14-8, in came the Spurs' sixth man. Wait a second, Manu Ginobili no longer starts? How in the name of Allen Iverson can a man make the All-Star team, then agree one game into the playoffs to let Brent Barry start so Barry can immediately get into the offensive flow?
<!––––––––––-INLINE TABLE (BEGIN)––––––––––->
BY THE NUMBERS
U.S.-born white All-Stars since 2000:

Brad Miller (2003-04)
Wally Szczerbiak (2002)
John Stockton (2000)

Total: 4 appearances

Non-U.S. white All-Stars since 2000:

Manu Ginobili (2005)
Zydrunas Ilgauskas (2003, 2005)
Dirk Nowitzki (2002-2005)
Steve Nash (2002-03, 2005)
Peja Stojakovic (2002-04)
Andrei Kirilenko (2004)
Vlade Divac (2001)

Total: 15 appearances
<!––––––––––-INLINE TABLE (END)––––––––––->Man, oh, Manu.
Yet Ginobili didn't have the lackadaisical body language of a pouter. No, he hit Denver like a blizzard of slashing, swooping, sprawling energy. He was all over the floor, playing with an intensity unbecoming of a true star. He dove for loose balls and lazy passes. He cut through Denver's interior defense – Kenyon Martin, Marcus Camby and Carmelo Anthony – like it was a house of wax. He hit circus shots off the glass, jumpers on the break and three-pointers out of the half-court offense.
Manu Ginobili took over the game and the arena. He scored 19 in the first half, 32 in total. Though the Spurs got just 11 points from Duncan and 10 from Parker, they won 86-78. And they have the momentum heading into Game 4 tonight.
Near the end of Game 3, an obviously frustrated Carmelo basically clotheslined Ginobili as he attacked the basket one last time. Anthony was ejected.
And after the game, an even more frustrated Karl said of Ginobili: "I'm going to put in a tape and show my son how to play basketball – just put your head down and run into people. I guess that's the new brand of basketball. It's not very pretty. He just goes in there and throws his arms up in the air and throws his elbows at us. He hits you as much as you hit him."