Translation: Nocioni doesn't want to fight. He just wants to play hard, smart basketball, and he expects his American opponents to do the same.
Ditto, Ginobili.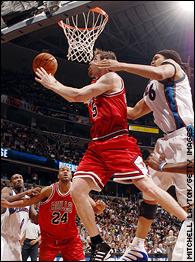 AP Photo
Another Argentine, Andres Nocioni, has become a huge player for the Bulls.
Deep down, George Karl respects Ginobili's game almost as much as he respects the Spurs. In fact, late in Sunday's interview session, almost as an aside to reporters, Karl said, "It just ticks me off we're playing San Antonio."
The Spurs are the kind of team that Karl dreams of coaching. In fact, as an unemployed coach, Karl spent part of the preseason in San Antonio studying the way the Spurs play basketball. The Spurs play the NBA's best coordinated defense and unselfish offense.
Ginobili probably could average 30 points for a bad team. But on this one, he scores when needed. On Saturday night, he was desperately needed.
So we were treated to the Ginobili who scored 48 in an overtime win at Phoenix.
As Karl said after Game 2: "The Spurs are the best team in the league. Not the most talented team – but the best team."
Not the networks' or fans' favorite. But the best t-e-a-m – the NBA's New England Patriots.
The Spurs aren't the run-and-fun Suns, who consider defense an afterthought. And the Spurs aren't the Nuggets, who blazed through the second half of the season mostly riding a flying-circus offense.
As Ginobili told ESPN's Jim Gray at halftime of Game 3: "The Nuggets don't play great defense. If we make the extra pass, we'll get open shots."
He wasn't talking trash. He was just stating a fact.
A fact that tortures Karl's coaching soul.
Skip Bayless can be seen Monday through Friday on "Cold Pizza," ESPN2's morning show, and at 4 p.m. ET on ESPN's "1st & 10." His column appears twice weekly on Page 2. You can e-mail Skip here.