By Skip Bayless
Page 2
The problem with this opinion – or fact – is that it casts me as a Nash-bashing villain in many wide eyes.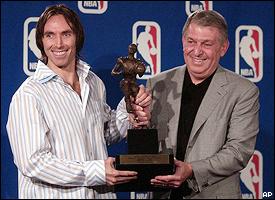 Steve looked almost as surprised as the rest of us when he won the MVP.
So before we proceed another dribble, let me be very clear about this: Steve Nash had a wonderful season. In fact, he got more out of his natural ability than any other NBA player got out of his. I get a great kick out of watching Nash and his Phoenix Suns run and stun. Nash was the NBA's Catalyst of the Year.
But the league's Most Valuable Player?
That's more laughable than Shaquille O'Neal's many hilarious one-liners.
Shaq was the MVP, as much for his mature leadership as his numbers (22.9 points, 10.4 rebounds, 2.3 blocks). Shaq Diesel should have blown Steve's little Nash Rambler off the voting road. Yet Nash somehow prevailed by the fourth-closest margin in league history – 1,066 points to 1,032, including 68-58 in first-place votes.
What were those 71 voters thinking? (Allen Iverson, Tim Duncan and Amare Stoudemire each got a first-place vote – with two for AI).
Shaq is basketball's most dominant player – and has been since Michael Jordan left Chicago in 1998. Yet in 13 seasons, Shaq has won only one MVP, in 2000.
That's funny-sad.
Shaq was traded by a team – Kobe Bryant's Lakers – that fell from Western Conference champion and prohibitive Finals favorite to 34-48 and 11 games out of a playoff spot. Shaq carried the Miami Heat from 42-40 last season to the best record in the Eastern Conference.
Nash left Dallas for Phoenix, which became only the second team to go from a 50-loss season to a 60-plus-win season, at 62-20. Yet those who have been paying close attention know Dallas is a little better without Nash. Dallas no longer relies on a two-man offense (Nash and Dirk Nowitzki). And Dallas' perimeter defense is much quicker and stronger and mentally tougher without Nash.
<!––––––––––-INLINE TABLE (BEGIN)––––––––––->
<!––––––––––-INLINE TABLE (END)––––––––––->Ask the
Houston Rockets
.
Case closed.
At 7 foot 1 and 325 or so in-shape pounds, Shaq changes games on offense and defense.
Listed at 6-3, with the sinewy frame of a marathon runner, Nash is merely the quarterback of a flying circus of an offense. Nash can be a liability on defense. A point guard who can't cover scoring point guards should not be the MVP.
In 2003, San Antonio's Tony Parker went for 19 on Nash – in a quarter. This season, as the Spurs were blowing out the Suns in San Antonio, Parker was taking such advantage of Nash that Spurs broadcaster (and former Spurs star) Sean Elliott said: "This is embarrassing."
So, occasionally, is Shaq's free-throw shooting. Yet he does seem to make the most important ones.
Nash deserves to be first team All-NBA. Shaq deserved his second MVP.
Yet Nash's coach, Mike D'Antoni, deserves to be NBA coach of the year. D'Antoni risked the ridicule of rival coaches and GMs by basically saying from the start of the season: "My team is best when we go 'small' with Amare Stoudemire as our 'center' and Shawn Marion as our 'power forward' and we let Steve run our break and we shoot 3s and concentrate on outscoring our opponents."
Nash averaged only 15.5 points. Yet he led the league with 11.5 assists – and his Suns led the league with 110 points a game and led in 3-point shooting.
Then again, how many of Nash's assists came off fast-break opportunities – off alley-oop dunks or spot-up three-on-one 3s? Half?
Nash was the NBA equivalent of the Heisman Trophy winner who puts up sensational numbers in a run-and-shoot offense. As terrific as Nash was, he was partly a product of a Suns solar system around which sharpshooting athletes revolve.
Nash isn't even the best player on his team. If, hypothetically, you gave other teams the chance to take Nash or Stoudemire just for next season, most GMs surely would take Stoudemire. He's a 6-10, shot-blocking, court-running force.
But given a choice between Stoudemire and Shaq for next season, all GMs would take Shaq.
Yes, Shaq's team was a little better when he was hurt than Nash's was when he was out. But do not underestimate the confidence Shaq already had inspired in his teammates. Ever since the Lakers dumped – sorry, traded – Shaq for the insulting price of Lamar Odom, Caron Butler and Brian Grant, this man has been on a mission to create a championship team in Miami.
He has done so on and off the court.
The double-teams he demands have created game-to-game star-making opportunities for spare parts named Damon Jones and Udonis Haslem. And no way Dwyane Wade, as great as he will be, would already be considered a superstar without Shaq showing him the way.
Also laughable has been the notion that Wade has become Miami's most valuable player. Please. The reason this team played so well without Shaq is that he has taught all these guys how to win. Into their locker room and lives walked a giant of a man who had finally dedicated himself to getting into the best shape of his life – a leader who now takes winning far more seriously than he takes himself.
Shaquille O'Neal is now the NBA's funniest and wisest interview. His "Godfather" analogy was the quote of the year. He compared Kobe to Sonny Corleone: "Too dumb to be in control, but he will always do whatever it takes to be in control." Anfernee "Penny" Hardaway to Fredo: "He thinks he's smart, but he's really not." And Wade to Michael: "A very mature, humble guy."
Deep down, every Miami player now thinks: We have Shaq and you don't.
So how did Nash win MVP?
In his Sunday column, Miami Herald columnist Dan LeBatard raised the race question: Did voters favor Nash – even subliminally – because he's white? LeBatard drew no conclusion.
Yet so many of the voters are not white that I don't buy racial bias. Sure, the league office enjoys having a white star win MVP because a majority of the ticket buyers are white. But that isn't why he won.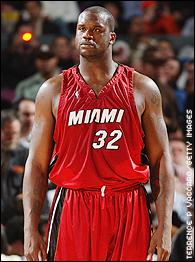 He's not called the Diesel for nothing. Not convinced? Go ask the Laker fans.
Sure, Nash is a good guy and a locker-room favorite of reporters of all colors. And yes, his soccer-style header pass to Stoudemire in the NBA dunk contest won lots of hearts. But it shouldn't have won him MVP.
No, the only bias I suspect is Giant Bias. Deep down, voters consider Shaq such a freakishly gifted dancing bear of a man – so big, so good – that he could win MVP every season. After all, he already has won three rings and three Finals MVPs.
So when a delightful little overachiever overachieved to the max, some voters thought, "Hey, why not someone new and different?"
When Shaq put it on cruise control late in the season, and Nash's Suns shifted into "Star Wars"-style hyperspace, 68 voters had their excuse.
Shaq reacted beautifully. Asked whether he's distraught, he went into his mock-"Desperate Housewives" breakdown. Then he graciously congratulated Nash.
But here's the punch line: As if the Big Fella needed any more motivation, 71 voters just gave it to him.
Skip Bayless can be seen Monday through Friday on "Cold Pizza," ESPN2's morning show, and at 4 p.m. ET on ESPN's "1st & 10." His column appears twice weekly on Page 2. You can e-mail Skip here.