By Skip Bayless
Page 2
His inner torture will increase this weekend. His eyes will dart more than ever when he lies to the media about what it feels like to be back. He'll say it's always fun to visit Oakland, but that he still loves being a Yankee in New York.
Dance, Jason, dance.
In a way, your baseball life has been one big lie since the Oakland A's called you up to the big leagues in 1996. According to Jose Canseco, that's when Mark McGwire helped turn you into what you are – or were.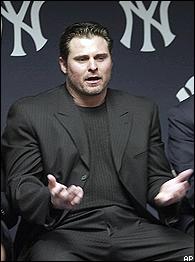 Jason Giambi will have to answer a lot of questions in Oakland this weekend.
A steroid creation.
The Giambi I closely observed as a Bay Area columnist was an under-confident overachiever. Giambi always has been a nice guy – maybe too nice for his own good. Too sensitive, too insecure to withstand the game-upon-game pressure to produce the way his father – his hero – always dreamed Jason would.
In Oakland, Giambi defeated that pressure by drinking, partying – and injecting. In "Juiced," Canseco writes: "As surely as he went overboard with partying and chasing women, Giambi went overboard with steroids."
Giambi needed the physical and psychological edge that steroids provided. Giambi needed to play the good-guy, bad-boy role he portrayed for the "Born to be Wild" cover of Sports Illustrated. He needed the Hell's Angels mane and the invincible feeling that he could party, and hit, like hell. He needed the tattoos (the tribal symbols, the skulls, the dragon) to cover up the scared little guy inside.
That's why Giambi needs to escape the $80 million trap in which he's now caught at Yankee Stadium. Now, he is Sampson shorn, literally and figuratively. George Steinbrenner's rules require him to cut his hair and shave. Presumably, baseball's new steroid policy has taken away much of his physical and psychological edge.
Giambi's only hope is to admit defeat and negotiate a buyout of the nearly $80 million the Yankees owe him for four more seasons. You know what, Jason? Fifty cents on the dollar would provide a pretty fair nest egg.
Giambi's only hope is to return to a small-market team for minimum wage. A team like … Oakland, where the Yankees play this weekend.
It will do Giambi no good to accept the Yankees' suggestion that he spend some time at Triple-A Columbus to rebuild his confidence. No amount of minor-league at-bats will prepare him for the pressure of living up to one of baseball's biggest contracts on baseball's biggest stage. And no amount of money will be worth the abuse Giambi will take if he tries to ride out his contract as a part-time player, just to collect his guaranteed millions.
As Joel Sherman wrote in Thursday's New York Post: "What cost is Giambi willing to pay? … He seems physically and mentally whipped by his self-inflicted problems, an albatross to a team and a payroll. Does he really care? Or is the man who could not replace Tino Martinez – with the fans or on the field – comfortable with where he is now? Viewed as a guy stealing money."
That, Jason, is just the tip of the New York media iceberg with which your one-man Titanic will soon collide. As the summer drags on, Yankee Stadium will seem as cold to you as hell is hot.
If only you had accepted a mere $91 million for six years to stay in Oakland.
Giambi wasn't a high school phenom. He was drafted in the 43rd round by Milwaukee and did not sign. But at Long Beach State, he began to show a gift that fascinated the A's. He swung only at strikes. He took walks. He hit his pitch. He got on base about four out of every 10 at-bats.
But he had little more than doubles power.
Still, the A's drafted him in the second round (58th overall), and four years later, he was in the big leagues at age 24.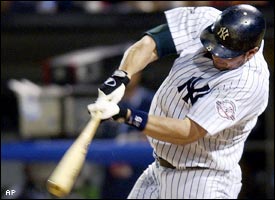 AP Photo
That once-sweet swing has looked sad so far this season.
There, he was taken under the muscle-bound wing of McGwire, whom Giambi has often called "my mentor."
Canseco writes: " … those two had become inseparable, spending a lot of time together away from the ballpark. … (Giambi) would do anything Mark would do. … As soon as I rejoined the team for the 1997 season, I was amazed to see how open and casual those two were about steroids …
"But that year, I witnessed what was almost the definitive case study in the difference between the careful, controlled use of steroids I've always advocated and sheer recklessness. … Giambi had the most obvious steroid physique I've ever seen. He was so bloated, it was unbelievable. There was almost no definition to his body at all. You could see the retention of liquids … to those in the know, that was a sure sign of steroid overload, plus drinking a lot and having a bad diet."
Canseco said that he, McGwire and Giambi sometimes would hit the bathroom stalls before games to "shoot up." He writes: "I would inject myself, and Giambi and McGwire would be one stall over, injecting each other."
Giambi was a prime candidate for steroid overdosing. He didn't believe in or trust his ability, and he was willing to try anything to succeed. The more steroids he took, the better he got.
Once McGwire and Canseco were gone, the A's became Giambi's team. "G-Man" ran the frat house of a clubhouse. Giambi was beloved by fans and reporters. Here was a sweetheart of a Harley-riding lug who always had time to sign autographs and fill reporters' notebooks with fun-loving quotes.
He was a bigger and bigger fish in a small-market pond. As Giambi grew, so did his home run totals: from 27 in 1998 to 33 in '99 to 43 in 2000, when he was the AL MVP. That season, he also had 137 RBI and batted .333 with an on-base percentage of .476.
Rarely has a big-league star found himself in a better comfort zone than Giambi's. His brother, Jeremy, was even a teammate.
No one really expected the low-budget A's to win big. Rarely was Giambi criticized in the media. Oakland's Coliseum, which often had 30,000 or 40,000 empty seats for baseball games, was a long way and three time zones from the House that Ruth Built.
But in 2000 and '01, the A's lost deciding Game 5s in the first round to the Yankees, and Giambi began to think about his father and his "destiny." Giambi's father idolized Mickey Mantle and had always dreamed of having a son play in pinstripes.
The A's risked wrecking their salary structure with a $91 million offer to keep him in Oakland, but privately, general manager Billy Beane said all along, "Jason wants to be a Yankee."
Steinbrenner had become so fascinated with Giambi's plate discipline that, during the A's 2001 Game 5 loss at Yankee Stadium, he was seen emulating Giambi's swing.
Surely his lieutenants mentioned the steroid whispers about Giambi. Yet the Yankees brass probably had the same shrugging attitude most baseball executives had four years ago: What slugger isn't juicing? See no evil.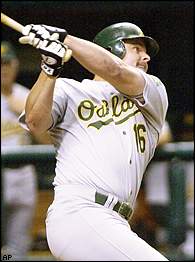 Giambi's best days are clearly behind him. Might as well go back to where it all started.
Pay the price.
Steinbrenner saw only the next big Yankee star. He gave Giambi $120 million over seven years.
Giambi chose No. 25, in honor of his father and McGwire. Giambi told reporters that No. 25 represented two plus five, or Mantle's retired No. 7. McGwire also wore 25.
Yet Giambi didn't seem to realize that he was sending this message to Yankees fans and the New York media: Expect a Mantle-esque impact.
Giambi hit 41 home runs in each of his first two seasons in New York. But he failed to hit big-moment, season-changing home runs, and New York began to realize what Oakland knew all along: Giambi plays first base like he's wearing boxing gloves.
Then came 2004 and the bad knee and the mysterious "tumor" and the shocking weight loss and an increasingly tight-lipped and evasive Giambi. Was his injury or illness steroid-related? Giambi wouldn't comment, perhaps because he didn't know for sure.
Then came Giambi's leaked testimony, which he gave under a grant of immunity to the BALCO grand jury. In it, said a San Francisco Chronicle report, Giambi admitted he used steroids. Now the public knew for sure.
This season, Giambi has lost confidence almost as fast as he has lost power. Now he begs for walks. The Yankees suggested the minor-league stint perhaps out of desperation, or perhaps to shame Giambi into a buyout. His contract gives him the right to say no to the minors. So far, he has exercised that right.
The shifty-eyed Giambi also has been maddeningly careful not to refer to "steroids" in interviews. So only if he testifies in open court about using steroids – there still is no trial date in the BALCO case – can the Yankees take Giambi and his contract to court.
For now, they're stuck with him and the absurd amount of money they owe him.
Yet now that Tino Martinez has heated up at the plate and shored up first base, and now that Ruben Sierra is due to return from the disabled list on Monday, Giambi could find himself a sitting duck for critics. He might turn into the most expensive pinch-hitter in baseball history.
Giambi will play against right-handed pitching this weekend in Oakland. But between at-bats, he should gaze across the diamond at the home dugout and remember how much fun he used to have.
He should tell his agent, Arn Tellem, that he has suffered enough. Fair is fair: Why not see if Steinbrenner would give him half the $80 million? How much more money does he need?
Why not see if the A's, who are struggling to score, would take a low-risk shot with him? He might help them at the gate, and they might help him at the plate.
No, he'll never be the same. And yes, he might be washed up at age 34.
But if he tries to stick it out much longer in New York, he'll find out just how much unhappiness money can buy.
Skip Bayless can be seen Monday through Friday on "Cold Pizza," ESPN2's morning show, and at 4 p.m. ET on ESPN's "1st & 10." His column appears twice weekly on Page 2. You can e-mail Skip here.