If only you had accepted a mere $91 million for six years to stay in Oakland.
Giambi wasn't a high school phenom. He was drafted in the 43rd round by Milwaukee and did not sign. But at Long Beach State, he began to show a gift that fascinated the A's. He swung only at strikes. He took walks. He hit his pitch. He got on base about four out of every 10 at-bats.
But he had little more than doubles power.
Still, the A's drafted him in the second round (58th overall), and four years later, he was in the big leagues at age 24.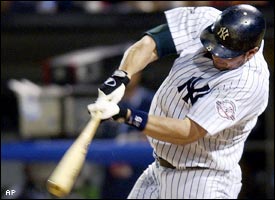 AP Photo
That once-sweet swing has looked sad so far this season.
There, he was taken under the muscle-bound wing of McGwire, whom Giambi has often called "my mentor."
Canseco writes: " … those two had become inseparable, spending a lot of time together away from the ballpark. … (Giambi) would do anything Mark would do. … As soon as I rejoined the team for the 1997 season, I was amazed to see how open and casual those two were about steroids …
"But that year, I witnessed what was almost the definitive case study in the difference between the careful, controlled use of steroids I've always advocated and sheer recklessness. … Giambi had the most obvious steroid physique I've ever seen. He was so bloated, it was unbelievable. There was almost no definition to his body at all. You could see the retention of liquids … to those in the know, that was a sure sign of steroid overload, plus drinking a lot and having a bad diet."
Canseco said that he, McGwire and Giambi sometimes would hit the bathroom stalls before games to "shoot up." He writes: "I would inject myself, and Giambi and McGwire would be one stall over, injecting each other."
Giambi was a prime candidate for steroid overdosing. He didn't believe in or trust his ability, and he was willing to try anything to succeed. The more steroids he took, the better he got.
Once McGwire and Canseco were gone, the A's became Giambi's team. "G-Man" ran the frat house of a clubhouse. Giambi was beloved by fans and reporters. Here was a sweetheart of a Harley-riding lug who always had time to sign autographs and fill reporters' notebooks with fun-loving quotes.
He was a bigger and bigger fish in a small-market pond. As Giambi grew, so did his home run totals: from 27 in 1998 to 33 in '99 to 43 in 2000, when he was the AL MVP. That season, he also had 137 RBI and batted .333 with an on-base percentage of .476.
Rarely has a big-league star found himself in a better comfort zone than Giambi's. His brother, Jeremy, was even a teammate.
No one really expected the low-budget A's to win big. Rarely was Giambi criticized in the media. Oakland's Coliseum, which often had 30,000 or 40,000 empty seats for baseball games, was a long way and three time zones from the House that Ruth Built.
But in 2000 and '01, the A's lost deciding Game 5s in the first round to the Yankees, and Giambi began to think about his father and his "destiny." Giambi's father idolized Mickey Mantle and had always dreamed of having a son play in pinstripes.
The A's risked wrecking their salary structure with a $91 million offer to keep him in Oakland, but privately, general manager Billy Beane said all along, "Jason wants to be a Yankee."