By Skip Bayless
Page 2
Tonight, they will scare all those who dare to doubt their chances of winning a third straight Super Bowl.
The New England Patriots will kick off the 2005 NFL season the same way they ended last season -- with a tour-de-system victory on a national stage. This time, the Rolling Stones will provide the sound track.
Hey, hey, you, you, get off of their case.
AP
Tom Brady will miss Charlie Weis ... eventually.
Coach Bill Belichick will do what he has always done best -- figure out some hard-to-figure way to disarm the opponent's most dangerous weapon. A rolling coverage gathers nothing but Moss. In his Oakland Raiders debut, Randy Moss will experience a long, frustrating, leave-the-field-early kind of night.
The Patriots will plug in Chad Brown and Monty Beisel to replace two of the toughest, smartest linebackers in the business -- Tedy Bruschi and Ted Johnson -- and will look just as suffocating as ever. The Raiders' potentially explosive offense will look 49ers-like, making you say, "Belichick's system is so good that he could have replaced Bruschi and Johnson with Mick Jagger and Keith Richards and kept Moss out of the end zone."
Moss will have a monster season. After tonight.
And for three-plus hours, all the Doubting Tom Bradys like me will watch Brady pick apart the Raiders' defense -- as slice-and-dice-able as it will prove to be all season -- and we'll say, "What was I thinking to pick against these guys?"
I've spent a month trying to argue myself out of the Patriots. At times, straddling the fence has been nearly as uncomfortable as accidentally slipping forward off my bike seat as a kid. I definitely felt a little queasy the night of the Patriots' all-important third preseason game, at Green Bay.
Brett Favre, who has whipped himself into the best shape he's been in since he was traded to the Packers, was having his best camp in 10 years. But Belichick's defense turned the Great New Brett into the Bad Old Brett. He looked lost as he threw two interceptions -- and a third was nullified by a penalty -- into the smoke and mirrors that comprise New England's secondary.
Maybe I should forget about trying to talk myself into the Colts, or -- you heard it here first -- the Bengals, and just pick the Patriots the way I did when so many tiptoed off their bandwagon a year ago.
<!––––––––––-INLINE TABLE (BEGIN)––––––––––->
OPENING NIGHT
Before tonight's game, check out Jeff Merron's list of the best NFL openers.
<!––––––––––-INLINE TABLE (END)––––––––––->
But I have to keep remembering that:
• The Patriots will miss Bruschi's leadership and gamesmanship in January. The man can make himself invisible in pass coverage, and his nose for the ball is right there with Ed Reed's. No, Bruschi is one cog that cannot be replaced with some Monty Beisel.
• The Patriots will not miss coordinator Romeo Crennel on defense -- Belichick's domain -- but they'll eventually long for coordinator Charlie Weis on offense. The last time Belichick was this involved in play calling was in Cleveland, where he and quarterback Bernie Kosar became a match made in playoff-missing hell. In big games, Brady will battle doubt without Weis' support and instincts.
That point was emphasized to the 42nd power Saturday night in Notre Dame's 42-21 dismantling of Pitt in Pittsburgh. New Notre Dame coach Weis coached rings around new Pitt coach Dave Wannstedt and his 16 years of NFL defensive expertise. Suddenly, a failure of a quarterback named Brady Quinn looked like he deserved a Tom in front of his name.
Without Weis, Tom Brady will occasionally look a little more like the sixth-round choice he once was.
Yet the last time I looked, the Patriots still have Belichick coaching defense. Quite frankly, that's all they need. Which brings me to the only reason powerful enough to keep me from picking the Patriots again.
Just because.
Something Cowboys owner Jerry Jones said after his team failed to win its third straight Super Bowl always repeats itself like a little voice in my head. Jones said: "There's a reason no one has ever won three of these in a row."
Sure, you can argue that Jones was that reason. He could no longer live with Johnson's verbal abuse and fired him after the Cowboys' first two Super Bowl romps. Even more astonishing, he replaced Johnson with Barry Switzer, who had never even been an NFL assistant.
Still, Switzer's Cowboys would have had a much better chance in the NFC title game at San Francisco if Emmitt Smith hadn't badly pulled his hamstring the week before. And that was Jones' point: History warns in John Facenda tones that the third time is never the charm. Odds are, some unpredictable something will go very wrong.
Just because.
So I finally subdued my fear of Belichick's defense and decided:
No, the Patriots will not win Super Bowl XL.
I'm going with … uh … the, uh …
That's why it's even scarier to pick against the Patriots. You can't make much more than a whistling-through-the-graveyard case for anyone else.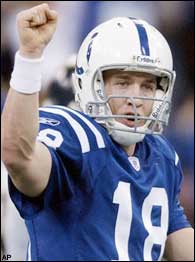 Will this be the year Peyton finally takes out the Pats?
Peyton Manning's Indianapolis offense could be as unstoppable as any one Bill Walsh ever masterminded in San Francisco. But defenses win championships, and even with the late, great addition of the run-stopping rock that is Corey Simon, Tony Dungy's defense is not championship caliber.
And just as scheduling quirks kept sending Favre's Packers to Dallas in the 1990s, the Colts must return on Nov. 7 to out-Foxed-boro, where Belichick's defense turned Peyton into Eli in a playoff stunner.
The Ravens' defense will be even more dominating than Belichick's. But all the king's horses and all of his men -- quarterback-makers Brian Billick, Jim Fassel and Rick Neuheisel -- won't be able to keep putting Kyle Boller back together psychologically after veteran defenders begin calling him out for letting the team down.
The Ravens are a 6-3 loss waiting to happen -- especially in January.
The Chargers are an intriguing team that will go as far as Drew Brees takes them -- which won't be far enough. Brees will be the NFL's Most Disappointing Player.
The Steelers will again be hellaciously good on defense, but Ben Roethlisberger will no longer shock defenses with his ability to scramble. Once he was contained in the pocket late last season, he struggled.
Kansas City will be better on defense, but not as good on offense. The Jets peaked last season, meaning Herm Edwards' seat will get hotter as the weather turns colder. In Denver, Jake Plummer must prove he won't throw it to the wrong-colored jersey in crucial moments.
Which brings me to my Sleeper Special -- Cincinnati. If I had any guts, I'd pick the Bengals to win the AFC. Carson Palmer is a franchise quarterback on the verge of greatness, and Chad Johnson has turned into the NFL's second-best receiver, behind Moss. And though Rudi Johnson isn't Corey Dillon, he isn't bad, either.
The defense is loaded, and Marvin Lewis is another head coach who can flat-out coach defense. The schedule is user-friendly enough that the Bengals could quietly pile up victories until fans around the country wake up and say, "Wait a second. The Bengals are going to have home-field advantage in the playoffs."
But I don't have enough conviction to predict that.
In the NFC, the Eagles have the best team -- and the biggest problem. For now, Terrell Owens has reeled back in his teammates and Eagles fans by saying and doing all the right things. But book it: He's setting up this team for the kill. Down the road, he will make the Eagles pay for not paying him more money.
Minnesota? How some analysts are making a case for the Vikings is beyond me. Daunte Culpepper won't be Daunte Culpepper without Moss. Given their preseason hype, the Vikings will be the NFL's Most Disappointing Team.
And in Atlanta, Michael Vick the running back ultimately won't be able to offset Michael Vick the quarterback.
Which means Carolina will win the NFC by default. The defense isn't quite as good as Baltimore's, New England's or Philadelphia's, but with Julius Peppers, it's good enough. Then again, Jake Delhomme has a little Jake Plummer in him, meaning he'll make high-risk mistakes -- especially without Muhsin Muhammad, who will help Chicago's Kyle Orton challenge Tampa Bay's Cadillac Williams for Rookie of the Year.
But the Super Bowl will pit Carolina against …
Indianapolis.
There. I talked myself into it.
New England's brutal opening schedule (Oakland, at Carolina, at Pittsburgh, San Diego, at Atlanta, at Denver) will leave the Patriots 3-3. And the Colts' offense will carry them to home-field advantage for the AFC title game. In Indianapolis, the Patriots will fall.
Peyton Manning will be a deserving Super Bowl winner, Bayless wrote with trepidation.
Tonight will be a long, frightening night watching Belichick's defense.
Skip Bayless can be seen Monday through Friday on "Cold Pizza," ESPN2's morning show, and at 4 p.m. ET on ESPN's "1st & 10." His column appears twice a week on Page 2. You can e-mail Skip here.