Of course, Steinbeck's book also helped fuel scandal upon OU scandal, from Wilkinson's slush fund to what Barry Switzer called the "rapin', dopin' and shootin'" of players who hastened the fall of his chicken-fried Rome after three national titles.
Am I proud of the corruption? No -- though I shrug off some of the players' misbehavior as the predictable product of teenagers' being idolized as star gladiators. But I have no ivy-covered illusions about my Sooners. I don't need to cling to the Chip Hilton fantasy of student-athletes attending English and history classes on Friday and winning one for Dear Old U on Saturday.
No, I readily accept that many football players consider OU mostly a proving ground for the NFL. If they want to attend classes -- and want to excel academically -- that's great …
… as long as they excel on the field.
To me, they're little more than unpaid pro football players, and it's absurdly unrealistic to expect they can put in the necessary hours on the practice field and in the weight and treatment rooms and still attend every class.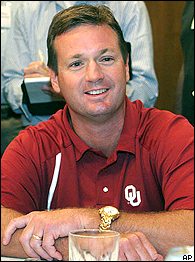 AP
Stoops is already under fire this season -- sitting Peterson won't help.
If you live and die with any of the traditional football powers, and you claim you do care that your players also are dedicated students, you're lying to me or yourself.
I'm offering up the raw truth here.
I'm stripping myself bare of any holier-than-thou sports columnist tendencies and publicly admitting I do root for one team and do not care if its Heisman Trophy candidate recently missed three classes. All that matters to me is that Adrian Peterson is as dedicated a football player, on the practice field and in the weight room, as has ever walked that campus. No Sooner has ever run with such consistent and relentless fury.
If Peterson hadn't turned an ankle, OU almost certainly would have avoided being upset (like my stomach) at home by TCU (which extended that Maalox Moment by losing to SMU the following Saturday). Without Peterson's 220 yards on 32 carries, Stoops would be on the talk-radio hot seat after being devastated at home by Tulsa -- which led 9-7 late in the third quarter.
And now Peterson has fallen victim to a new academic rule ramrodded by Stoops? Where does he think he's coaching, Vanderbilt?
Stoops encouraged the athletic department to decree that if an athlete misses three classes in one subject, he gets a warning. After one more missed class in any subject, he must miss two practices. And after one more missed class in any subject, he must miss a competition.
So one more miss this semester and Stoops' meal ticket misses a game. After Peterson was forced to miss practices on Monday and Tuesday, Stoops wasn't required to further punish him -- or even to announce that Peterson had been disciplined.
Yet Stoops told the media he's considering not starting Peterson at UCLA. So he unnecessarily humiliated his star to what -- motivate him? To defuse potential rumors about his absence from practice?
Or did Stoops seize this opportunity to show that his program is not turning into Switzer's?