By Skip Bayless
Page 2
Seeing Joe Paterno open one coach-of-the-year present after another is better than watching "It's a Wonderful Life" meets "A Christmas Carol."
What a rebirth for a terribly criticized, occasionally irascible, but ultimately good man who turned 79 on Wednesday.
Oh, come all ye unfaithful.
Surely many of the media members who gave Paterno 45 of the 65 votes in the Associated Press poll feel like modern-day Scrooges. How many times over the last three or four years have they spat out cold, heartless "Joe must go" sentiments? Now, they've been visited by the high-topped ghosts of Penn State past. Now they've seen the light: The game has not passed JoePa by after all!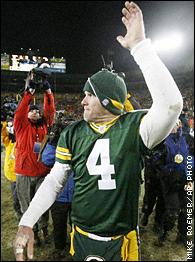 AP
How much should we read into Brett Favre's wave at the end of this Dec. 11 game?
God bless them, every one.
And forgive them for letting their yuletide emotions run away with them and for voting for the wrong coach of the year.
Touchdown Jesus forgives them.
Many of the same media members who voted for Paterno believed Notre Doom wouldn't win more than a couple games under a first-year coach who hadn't been a head coach beyond high school. Quarterback Brady Quinn had turned into the next Ron Powlus-style overhyped bust. Some receiver named Jeff Samardzija had been just another bench-warming Rudy under former coach Ty Willingham. The cupboard looked as bare as the Indiana plains in winter.
And Charlie Weis, who deserves to be named coach of the year, led the Fighting Irish to a 10-1 record, and in his game-of-the-year centerpiece, upset what some experts consider the greatest college team ever: USC.
OK, USC survived, 34-31, and the Irish really went 9-2. But Notre Dame was robbed.
In fact, Weis' high-road reaction after that loss was one reason he received only three AP Coach of the Year votes, which tied him for third with USC's Pete Carroll behind Texas' Mack Brown, who finished second with eight.
Weis had every right to raise holy heck about a series of late officiating blunders that cost his team that game. In fact, he had a responsibility to his team to make more of a case to the media that Notre Dame deserved to win. Yet Weis, bless him, believes in sportsmanship as much as he believes in his alma mater, his heaven on Earth, his Notre Dame.
When Weis provided no irate ammo for reporters, the officiating dissolved into a non-issue. To me, that was as shocking as the season-saving pass USC's Matt Leinart completed on fourth-and-9 from his 26 to set up USC's game-winning, rule-breaking touchdown.
With time running out and USC at Notre Dame's 2-yard line, Leinart rolled left, decided to run for it and got blasted near the goal line. The ball shot out of his hands and out of bounds at what appeared to be the 2 -- maybe the 1½.
The clock ran out. At least one referee signaled that the game was over. Weis raised his arms in victory as Notre Dame defenders began dashing toward the sideline in fist-shaking celebration, dodging out-of-their-mind students as they went.
Chaos ensued.
The refs huddled and ordered that seven seconds be put back on the clock. Then they spotted the ball a yard or so closer to the goal line than it should have been -- at the ½-yard line -- and blew the whistle for play to immediately resume.
Leinart hustled his offense to the line of scrimmage as Weis still stood 10 yards onto the field, arms spread in confusion, asking in vain for an explanation. Two Notre Dame defenders barely made it back across the line before the ball was snapped.
Amateurish officiating is the one reason I prefer the NFL to college football. The NCAA stakes are so high, the quality of refereeing often so low. No way would this much chaos ensue in an NFL game.
This is how this year's national championship -- and coach of the year -- was decided.
No way was that defense quite ready to fight for that last half yard and win the game. Perhaps some of the Fighting Irish were surprised Leinart chose to go for it instead of spiking the ball and taking the overtime-forcing field goal. But the Trojans were so close that the 6-foot-5 Leinart figured he could dive over for the victory.
At least Notre Dame's interior linemen thwarted his initial lunge. Yet Leinart, whose only senior-year course, ballroom dancing, clearly has improved his mobility, spun away from that brick wall and attempted to lunge off tackle.
That's when the eventual Heisman winner, Reggie Bush, went low for max leverage and power-shoved Leinart past tacklers into the end zone. That, of course, is against the rules.
No flag.
Only blind-eyed chaos.
Yes, it would have taken courage for a ref to throw a flag that ultimately would have kept USC from winning a third straight national title. Who knows? It might even have cost Bush the Heisman.
But the point is, Charlie Weis outcoached Pete Carroll, and without much on defense put his team in position to beat one of the most explosive offenses ever. Notre Dame did so by controlling the clock, posting a 38:40 to 21:20 advantage in time of possession, and keeping Leinart and Bush off the runway.
This, Weis learned from his original mentor, Bill Parcells, who used a similar "shorten the game" plan to upset Jim Kelly's virtually unstoppable Buffalo Bills attack in Super Bowl XXV. The Bills had the ball for almost two minutes less than USC did at Notre Dame. Still, it took Scott Norwood's wide-right field-goal attempt from 47 yards out for Parcells' Giants to hang on 20-19.
Weis could be every bit the head coach Parcells has been.
ESPN's Michael Smith reported that Weis, the Patriots' ex-coordinator, visited the New England coaches' booth during Saturday's game at Gillette Stadium and made a few suggestions. During his visit, Tom Brady's offense scored two touchdowns.
So is it any surprise that Weis turned Brady Quinn into a collegiate Tom Brady? Quinn, who finished fourth in the Heisman race, should win it next season -- even if Vince Young returns for his senior season.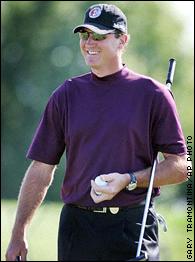 AP
How much golf can a soon-to-be retired star play?
The point is, Weis did more with much less than Paterno.
Weis immediately turned a bunch of kids who had learned to lose back into winners. Weis is the rare offensive chess master who can also command an entire team -- a strategist and a motivator. Weis repeatedly coached rings -- New England championship rings -- around college opposition.
This clearly is Notre Dame's best hire since Ara.
Yes, the 9-2 Irish lost a home overtime game to Michigan State -- which Penn State beat, 31-22. Yes, the same day Notre Dame was robbed against USC, Paterno's team came within one second of an undefeated season. At Michigan, quarterback Chad Henne threw a final-play touchdown pass to stun the Nittany Lions.
Still, Weis had the higher degree of difficulty. Paterno's cupboard was not bare.
That, for a decade or so, has been a legitimate knock on JoePa. The won-loss records have too often fallen short of the NFL-bound talent. Worst case in point: The 2002 team lost four games, then had three players drafted in the first round (Jimmy Kennedy, Bryant Johnson, Larry Johnson) and two in the second (Bryan Scott and Anthony Adams).
Recruiting hasn't been nearly as big a problem as coaching.
But this season, Paterno made two key get-with-the-times changes. He hired one of football's most underrated offensive minds, Galen Hall, and let him rebuild a Texas-style, multi-threat offense around the team's best all-around athlete, Michael Robinson, who moved to quarterback. No more conventional drop-back attack. Prized passing recruit Anthony Morelli, a sophomore, stayed on the bench.
But for the first time under Paterno, two stud freshmen were allowed to play. Derrick Williams and Justin King gave this team some new life and wow factor.
But Penn State also wound up with two first-team AP All-Americans (Paul Posluszny and Tamba Hali) and two second-teamers (Alan Zemaitis and Levi Brown). Robinson was the Big Ten Offensive Player of the Year.
So did Paterno really coach that much better this season? Did he coach 45-votes-to-3 better than Weis?
Sorry, this Scrooge says.
God bless JoePa, who was a wonderful coach-of-the-year choice.
But Weis was a better one.
Skip Bayless can be seen Monday through Friday on "Cold Pizza," ESPN2's morning show, and at 4 p.m. ET on ESPN's "1st & 10." His column appears twice a week on Page 2. You can e-mail Skip here.