By Skip Bayless
Page 2
Bobby Knight.
Now I have your attention, don't I?
Bobby Knight: profane bully, egomaniacal con artist, male chauvinist pig.
Bobby Knight: biggest do-as-I-say, not-as-I-do hypocrite in coaching history.
Me: unforgivably hypocritical for writing my 1,456th critical column about this insufferable jerk because -- I admit it -- I know you can't quit reading about him.
Bobby Knight: most fascinating, most publicized and most recognizable coach ever. Not Lombardi. Not Auerbach. Not Stengel.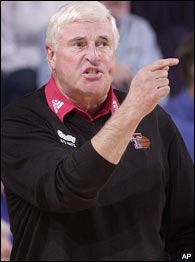 Bob Knight, part madman and part showman.
Bobby Knight.
I admit it. I can't take my eyes off the guy because you never know what he might do or say. He drives me crazier than I often think he is because he has so many admirable and soooo many despicable qualities. Hollywood couldn't create a more riveting character because he mixes your emotions until they're a Molotov cocktail.
He makes sure his players go to class and graduate. He will not cheat. He might be the greatest coach ever because he has done so much with so little talent.
Since Isiah Thomas, who won Knight a national championship in 1981, Knight has recruited very few NBA-bound players. And that's because he, Bobby Knight, wants to be the star of his teams. He wants the attention and the credit. He wants to be rich and famous while demanding that his players sacrifice their egos for the team.
While Knight nuts hail him as a combination John Wayne/George Patton, I consider him one of the most damaging role models ever. Knight, a maker of men? Of screwed-up men.
Bobby Knight: heroic villain, villainous hero -- and the only coach in history who people will buy tickets to watch.
Think about this: ESPN commissioned a movie about Knight, starring Brian Dennehy, while Knight is still coaching. And I watched it! Beginning Sunday night, ESPN will air a reality show called "Knight School" in which walk-ons compete for a spot on his team. And I'll watch!
What a sucker I am.
Just think: The coach at Texas Tech, whose team is 13-12, has his own reality show. Not Mike Krzyzewski or Roy Williams. Not Larry Brown or Pat Riley, Cowher or Holmgren, Paterno or Bowden, Torre or La Russa.
Bobby Knight, the Mike Tyson of coaches. What might he do next? Give some poor walk-on such a heavily bleeped tongue-lashing that he flees the court in tears? Grab some kid by the throat until he passes out?
Knight appeared Tuesday on my show, ESPN2's "Cold Pizza," to promote his show. Dana Jacobson interviewed him. When she asked if he thinks about retirement, he said, "At one point, do you think about not fixing breakfast?"
Dana says she didn't interpret the response as even a subtly sexist shot. She believes he was saying that, for him, coaching is as much a part of life as fixing breakfast. But I've observed Knight for so long that I'm pretty sure this was his way of putting a gutsy female interviewer in her place, suggesting that, really, all she's good for is fixing breakfast.
No other coach could get away with what Knight regularly does.
Finally, Dana tried asking about the Mike Davis situation at Indiana. When Knight cut her off with, "I'm not talking about Indiana," she attempted to explain how this was a legitimate question because his successor was talking about walking away. And Knight said, "That's it, dear," yanked out his earpiece and stormed off camera.
Go fix breakfast, dear.
For Knight -- who has thrown everything from chairs, to a rival fan into a garbage can, to a punch at a cop in Puerto Rico -- this blowup was the equivalent of saying "darn it." But by Tuesday afternoon, you would have thought Bobby Knight had socked Dana Jacobson in the jaw.
Talk shows across the country were requesting interviews with Dana. "Around the Horn" and "Pardon the Interruption" debated the incident. I did a previously scheduled ESPN.com chat session between 3:30 and 4:30 p.m. ET, and as soon as I answered one question about Bobby vs. Dana, my chat room was knee-deep in demands of "TELL US MORE!"
And I'm thinking: Did Knight stage this? Did he know the best way to promote his show was to try to humiliate a female interviewer? Where does the madman stop and the showman start?
If you like, you can suspect that "Cold Pizza's" producers collaborated with Knight to choreograph his angry exit, but you'll be dead wrong. That was all Knight, the greatest product-pushing self-promoter in coaching history.
Did I mention that yet another book is coming out on Knight? That's right, another book about a coach who hasn't been to a Final Four since 1992. It's called "Bob Knight ... the Unauthorized Biography," and its authors are two excellent writer-reporters, Mark Heisler and Steve Delsohn.
One of the book's most enlightening nuggets: Knight, a hotshot scorer in high school, signed with Ohio State as part of one of the greatest recruiting classes ever. Knight couldn't crack the starting lineup for four years. Knight made some bitter remarks -- and his mother caused a scene -- at the team banquet after his senior season.
Bobby Knight: frustrated star still driven to become far better-known than any of his college teammates -- Jerry Lucas, John Havlicek, Larry Siegfried -- who starred in the NBA.
On Thursday, Knight's shadow cast a pall over Mike Davis' resignation at Indiana. Davis spoke with what sounded like mock sincerity about how this was a great day for Indiana because after six years, the "healing process of coach Knight not being here" should come to a close and IU fans should be "reunited."
Translation: Davis finally decided he would never win over the Knight nuts. Though Davis had been Knight's blindly loyal assistant, Knight wouldn't endorse him as a replacement and didn't call to congratulate him when he got the job.
Knight doesn't want Davis -- or anyone else -- to succeed at Indiana.
So forget replacing Davis with Iowa coach Steve Alford, who helped Knight win his last national title. Most IU fans won't be happy until Knight himself returns. They long for the daily soap opera they grew addicted to, "The Edge of Knight."
Knight made even losing interesting.
I can't quit writing about him.
And you can't quit reading.
Skip Bayless can be seen Monday through Friday on "Cold Pizza," ESPN2's morning show, and at 4 p.m. ET on ESPN's "1st & 10." His column appears twice a week on Page 2. You can e-mail Skip here.