By Skip Bayless
Page 2
The back page of Thursday's New York Daily News labeled the Knicks "The Biggest Mess in Sports."
Larry Brown surely smiled when he saw it.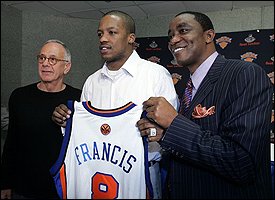 AP Photo/Frank Franklin II
Larry Brown has another talented, but controversial, player to work with. (AP Photo/Frank Franklin II)
NBA analysts across the country were ridiculing the trade that doubled Brown's trouble, uniting evil twins Steve Francis and Stephon Marbury in the coach's doghouse. Now poor Larry has two undersized shooting guards masquerading as point guards. Two bad actors who would rather play charades than defense. Two reasons the Knicks will continue to be the NBA's worst team with the bleakest future.
Somewhere, Brown was heaving a sigh of relief.
He finally has the league, the media and the fans right where he wants them, right where he needs them. He's finally coaching the underrated underdog again. He's finally positioned to be a hero.
When Lawrence Harvey Brown's team has no chance, look out.
That's why this trade was -- relatively -- a good move for Brown and his general manager, Isiah "Doubt Him" Thomas. Isiah's architectural nightmare is, at best, a three-year, wrecking-ball rebuilding project, and he won't last that long. So why not make the best of the NBA's worst situation?
Adding Stevie Franchise and Jalen Rose at least gives Isiah a stay of execution, because the Knicks just went from an uninteresting, unwatchable mess to an intriguing, entertaining mess. They're the talk of the town, knocking the Yankees off the back page. Heck, they're the talk of the league -- for all the wrong reasons.
For the national and the New York media, the Larry Brown Watch has begun: How long before he throws up his hands and threatens to retire unless Isiah gets rid of both Stevie and Stephon?
Don't hold your breath.
And don't be surprised if, come April, the only question about the Knicks is: Can they possibly make the playoffs?
Remember, though it seems much longer than just two years ago, the big preseason question facing the Knicks then was: How far can they go in the playoffs?
Yes, the New York media hailed the return of native New Yorker Brown as the greatest thing since sliced pizza. He was portrayed as a combination Holtzman/Torre/Parcells, and he was going to save the Westminster Dog Show that had become New York's beloved Knicks.
No New York opinion-maker questioned why the Knicks had made Brown the highest-paid coach in history. No, he was the only coach who has won college and NBA championships. He was worth every penny.
And so far Brown's Knicks haven't been worth a nickel. At 15-38, they're tied with Charlotte for the NBA's fewest wins.
That's because Brown found himself in the wrong place at the wrong time, coaching a team that is high on expectations and low on talent. For Brown, it must be the other way around.
Give him underrated underachievers and look out.
That's what he nearly did at UCLA in 1980. The Bruins had no chance because they were way too young. But they had a senior named Kiki Vandeweghe who was a man among boys. Brown coached that team all the way to the national final before losing to Louisville.
But Brown was too shrewd to stick around and coach all of those average young players. With Kiki headed for the pros, Brown did too, cashing in with the New Jersey Nets.
No man has ever played the coaching stock market better than Brown. And no coach has better manipulated the media, making friends with the opinion-makers at every stop. They almost always protect him and portray him as a hopelessly restless wanderer instead of a cunning mercenary.
In truth, he's as greedy and temperamental as any player he has ever coached. But no coach can con con-artist players better. And no coach can teach and mold floundering talent better.
Make no mistake: Those who have coached with Brown invariably call him an X's-and-O's genius who can remember every false step every player took in a practice.
No other coach can inspire more sympathy among the local media for short stints. And no coach is better at getting out of Dodge just before his "poor, pitiful me" act wears thin with his team, his ownership and the fans.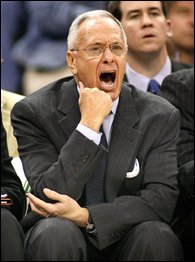 Don't be shocked if Brown gets the Knicks going late in the year. (AP Photo/Ty Russell)
Brown's close friend Doug Moe once summed him, saying, "Larry's not happy unless he's unhappy."
Or: He's happiest turning around unhappy situations, then fleeing for the next one.
In 1988, Brown won six straight NCAA Tournament games and a national championship with a Kansas team that wasn't even ranked when the season ended. Those Jayhawks were the first 11-loss team and first No. 8 seed to win a title. They shocked heavily favored Oklahoma, 83-79.
But as average as those Jayhawks were, they had the best player in college basketball. Danny Manning rose above Oklahoma with 31 points and 18 rebounds. Manning underachieved until March.
And with Manning heading for the NBA, so did Brown, getting another big raise to coach the San Antonio Spurs. Perfect: With David Robinson finishing his Navy commitment, Brown's first-year Spurs were terrible. When Robinson joined the Spurs, they achieved the biggest won-loss improvement in NBA history.
Brown: Hero.
The Los Angeles Clippers had never made the playoffs. But when Brown took over, they were loaded with high-pick underachievers, including Manning. Brown coached the Clippers to the playoffs in '92 and '93.
Hero.
No way could Brown win in Philadelphia with that selfish little gunner Allen Iverson. But Brown coached Iverson's Sixers to the NBA Finals in 2001.
Hero.
No way Brown could win in his first season in Detroit after GM Joe Dumars strapped him at midseason with the Human Technical Foul, Rasheed Wallace. But Brown's Pistons wound up sweeping the heavily favored Lakers in the Finals in '04.
Hero.
But even before Brown's Pistons lost in seven games to the Spurs in last year's Finals, he was quietly playing the field, angling for a raise and a new opportunity to save the day. And in his most brilliant feat, Larry Brown maneuvered the Pistons into buying him out so he could become the highest paid coach ever.
Brown: Hero's welcome in New York.
But don't ask Brown to win with (1) an '04 Olympic team laden with stars and expectations, or (2) a sorry Knicks playoff team. He isn't magic. He simply looks for overlooked talent in need of direction.
Now he has Rose, who can handle the ball and run an offense. Now he has Francis, Marbury and Jamal Crawford -- three phenomenally gifted players capable of going for 40 points. Now Brown has an angle: He can tell all four of them that nobody thinks they can play or win together. Now he'll get their attention.
Now Brown has a hammer: If one rebels, another will get his minutes.
The outside world sees a lot of canine in 6-foot-11 Eddy Curry. Channing Frye is still too young and soft. Quentin Richardson just doesn't care enough.
But Larry Brown sees ability and opportunity. He's coaching the Biggest Mess in Sports, and he's happy again.
Skip Bayless can be seen Monday through Friday on "Cold Pizza," ESPN2's morning show, and at 4 p.m. ET on ESPN's "1st & 10." His column appears twice a week on Page 2. You can e-mail Skip here.