By Skip Bayless
Page 2
The Madness descended upon me again late Sunday night. I was sweating bullets after watching Tony Soprano take one in the gut. Villanova or Boston College?
Nova.
No, BC.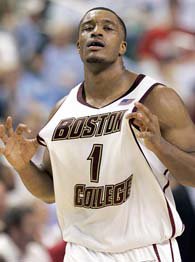 AP Photo/Chuck Burton
Craig Smith and Boston College, or Villanova? Tough call. (AP Photo/Chuck Burton)
No idea.
There I was again on Sunday night, making my annual Final Four picks for public consumption. I've been pretty good over my career picking pro football, basketball and baseball on TV and in print. But this is all I've learned about college basketball's tournament: The more you know, the worse you'll usually do.
I knew way too much; I knew nothing.
So around midnight, with my Cinderella picks already turning into dumb-idea pumpkins, I tore my first bracket into little pieces and tossed them in the air like confetti. And that's when I experienced my One Shining Moment. If only Nantz and Packer could have been there to gush about my elation.
Eureka!
I would pick my Final Four out of a hat!
I almost certainly would have a better chance to succeed, and if two or three of my picks went down in the usual inexplicable flames, I wouldn't feel like I couldn't pick my nose. No humiliation, no pressure, no problem.
No more fretting over the RPI and 5-12 upsets and why Digger said this, but Dickie V. said that.
No more living for Joe Lunardi's beaming Bracketology. I've watched Jolly Joe so much for the past month that I have a recurring nightmare about him. In it, I'm getting married. I pull back my bride's veil to kiss her. It's Joe Lunardi!
No more stats, no more history, no more matchups. This way I could rely on the key Madness ingredient: luck. No matter what the experts tell you, picking the Final Foul depends foremost on crazy luck.
Especially this year.
I cannot remember an NCAA Tournament as up for grabs as this one. No dominant player or dominant team. When player of the year comes down to two guys -- J.J. Redick and Adam Morrison -- who have a tough time creating their own shot, you know March is wide open.
Last year, North Carolina rode four first-round NBA draft picks into the postseason. Carolina was a pretty safe pick to make the Final Four and to win it all -- though I took an embarrassing flyer on 2004 runner-up Georgia Tech, which had beaten Carolina in the ACC tournament.
Yet it took a bad call just for Carolina to survive Villanova in the Sweet Sixteen.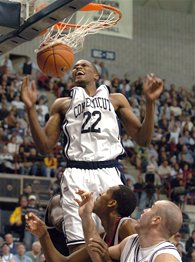 AP Photo/Jessica Hill
Rudy Gay and the Huskies are considered the favorites by many. (AP Photo/Jessica Hill)
That's because the format is so irresistibly flawed. You throw teenagers into strange arenas in strange towns at strange hours with strange refs, and anything can happen in two hours. A 3-pointer isn't much farther than a free throw. Five fouls and you're out, meaning three in the first half can land your best player on the bench for much of the second.
If an inferior team gets inexplicably hot from 3-point range, Madness ensues. I'm as addicted to the first-week upsets as any Mr. or Miss Bracket, but let's be honest: We love them for the wrong reason.
The format is unfair and sometimes -- and maybe often -- fails to prove which team is superior. In fact, even without a postseason tournament, college football has actually done a slightly better job of determining its best team, through computers and votes and finally a championship game.
But selfishly, all I care about is picking three of the Final Four teams so I don't have to slog through hundreds of e-mails saying, "I don't even follow college basketball, and my picks were better than yours."
That's my point.
In 2003, it was quite clear to me before the tournament that freshman Carmelo Anthony was the best player in the country. I picked Syracuse. I was right.
Two years ago, it was pretty clear Emeka Okafor was the best player. I picked Connecticut. I was right.
But now all the best college-age players are in the NBA. Carmelo, LeBron, Dwight Howard, Sebastian Telfair -- the list goes on and on. Yet here's the upside-down irony: The more watered-down college basketball has become, the more popular March Madness has become. Everybody has a chance in the office pool, because any one of 20 or 30 teams can get hot and wreck brackets all the way to the Final Four.
So there I was late Sunday night, agonizing over a team I had written off: Duke. Its two freshmen, Josh McRoberts and Greg Paulus, appeared to grow up before your very eyes in the ACC tournament. So I picked Duke over George Washington, LSU and the field's most unpredictable team, Texas.
Then I remembered how average Duke can look when J.J. goes cold and keeps jacking up 30-footers while Shelden Williams again looks like Tarzan, but plays like Jane.
And my conviction level fell to 62.4 percent.
I got on a roll through the Oakland region, picking UCLA and its dominating guards over Marquette, Indiana and Kansas. Then I reminded myself that, living in New York, I have watched parts of only four UCLA games all year.
Conviction level: 59.3 percent.
I've thought for the last month that Carolina freshman Tyler Hansbrough has matured into the country's best player. So I inked in the Tar Heels over Michigan State, Seton Hall and Illinois (which I picked to knock off UConn, which still has no real chemistry or go-to guy).
Then I reminded myself that Michigan State was one of my preseason Final Four teams. And I thought: "It would be just like Tom Izzo's team to rise up when you least expect it and take that young Carolina team to school."
Conviction level: 52.8 percent.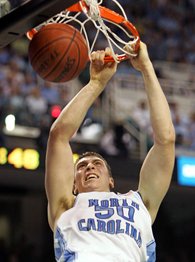 AP Photo/Gerry Broome
How fan can Tyler Hansbrough carry the Tar Heels? (AP Photo/Gerry Broome)
Which brought me back to BC. Not the headache powder. The tough, skilled team that took Carolina behind the woodshed in Greensboro Saturday and would have beaten Duke Sunday if Redick hadn't made three 3s from over near Mount Pilot.
What a shame BC and Nova must meet in the Sweet Sixteen. These might be the two best teams in the country right now.
Give me Nova.
No, BC.
BC over Carolina in the semis, then getting third-time's-the-charm revenge over Duke in the final.
Then I remembered how BC stung me last year, losing to Wisconsin-Milwaukee.
Conviction level: 22.7 percent.
So I gave up and turned into the Mad Hatter.
On Monday's "Cold Pizza," I put the top four seeds from each region in a hat and pulled out my Final Four teams.
Memphis. Iowa. Florida. North Carolina.
Conviction level: 94.9 percent.
Skip Bayless can be seen Monday through Friday on "Cold Pizza," ESPN2's morning show, and at 4 p.m. ET on ESPN's "1st & 10." His column appears twice a week on Page 2. You can e-mail Skip here.