By Skip Bayless
Page 2
If possible, March has been even Madder than usual. George Mason? Bradley? Wichita State?
Yeah, I know, you had all three advancing to your Sweet 16. You had every Big 10 team -- from the conference with the highest RPI! -- losing the first weekend. You had Boston College surviving Pacific in double overtime and Connecticut coming from 12 down with 10½ minutes left to overcome Albany.
Truly Madness.
But of all the early You've Got to be Kiddings, the biggest shocker flew out of Dick Vitale's mouth after Thursday's games. Yes, I heard the Voice of College Basketball say right there on ESPN that Adam Morrison "will be a flat-out superstar in the NBA" and that Adam Morrison should be the first pick in the draft.
You have really got to be kidding.
Understand, I love Mr. Vitale. Love his wisdom, his energy, his crazy love of college basketball. I agree with him that Washington's Brandon Roy is America's most underrated star. But if Gonzaga's Adam Morrison is going to be a top-pick superstar, I'm Jim Morrison, the lizard king, and this is "The End."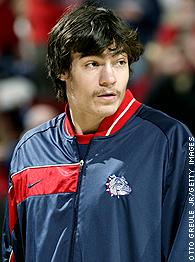 Does this look like a future NBA star to you? Then again, Larry Bird once had a cheesy 'stache too.
An NBA superstar makes the All-Star team every year from his second season on. I'll be surprised if Morrison makes one All-Star team.
Understand, Morrison is a terrific college basketball player and deserving of co-player of the year with Duke's J.J. Redick. Morrison will be a little better pro than two former terrific college players -- Keith Van Horn and Wally Szczerbiak -- turned out to be. But Vitale and other college-loving analysts have gone madder than March when they go gaga over Morrison's NBA potential.
I don't know what made me cringe more: Having to watch those two geeks singing that takeoff of the "Gilligan's Island" theme in that over-and-over Applebee's commercial -- or hearing analyst upon analyst invoke the name of Larry Bird when gushing about Morrison.
Poor Adam. He'll never be able to live up to this buildup. He'll have a hard enough time becoming the Next Peja, let alone the Next Bird.
Sure, I'd like to see the Next American-bred White Star as much as the next white guy. No doubt I root for Canadian-bred Steve Nash because I can better relate to his freakish little-white-guy talent -- his unguardable agility, his ambidextrous hand-eye coordination and his spectacular feel for getting teammates their favorite open shots.
But my job isn't to lose all objectivity and start playing to the majority-white crowd that loves America's Team, Gonzaga, and its college superstar with the Beatle bangs and the geeky mustache.
Larry Bird had as pure a shooting stroke of any man who ever bounced a basketball. Morrison is a good shooter, not a great one.
Bird, at 6-foot-9, had a virtually unblockable feet-on-the-floor, behind-the-head set shot that he could create with extraordinary step-back foot-and-hand quickness. Morrison, at a long-armed 6-8, shoots a jump shot. But it can be bothered by a long-armed defender because Morrison isn't exceptionally quick off the dribble and doesn't get especially high off the floor.
Though Bird wasn't a weight lifter, he had a big-boned stature and a nose for the ball -- a hard nose -- that made him one of the greatest below-the-rim rebounders (10.0 per game in his NBA career) this side of Dennis Rodman. Morrison's veins pop from weight-room dedication, but he doesn't play particularly strong and isn't much of a rebounder (5.5 rebounds per game).
Morrison isn't much of a nose-to-nose defender; neither was Bird. Morrison has a knack for playing the passing lanes and leaving his man or area to make the occasional steal; so did Bird. But he doesn't have Bird's passing knack. Take your pick on which Final Four-making rival had the most basketball genius, Bird or Magic Johnson. Take your pick on the greatest passer ever who was 6-9 or above, Bird or Magic.
I give Magic a slight edge. But I certainly wouldn't put Morrison in Bird's league for setting up teammates or making them better.
Morrison has hit some big, late shots -- including some that lifted Gonzaga past Xavier in the first round. But come on, Larry Bird rivaled Michael Jordan as the greatest clutch shooter ever.
And most of all, Larry Legend was one mean SOB. So far, Morrison has proven to be only extremely excitable and occasionally hotheaded. He'll get into trash-spewing shoving matches with defenders. But so far he doesn't appear to scare anyone but his coach, Mark Few, who had to yank him and let him cool off after he got into it with a couple of Indiana players Saturday night.
So far, Morrison's temperament has proven to be more goofy than intimidating. After he pulled down a big late rebound against Xavier, he was so fired up he repeatedly banged himself in the forehead with the ball. Not sure Bird ever did that. Then, at the line, Morrison carried on an animated conversation with himself before launching a crucial free throw. Can't remember superstars Jordan or Magic doing that, but maybe the memory fails.
Or maybe this poor kid is crumbling under the great-white-hype machine. Maybe, as the 10th or 12th pick, he could ease into his career and turn out to be a pretty good pro -- a starter for a playoff team. But if he's the No. 1 pick, he'll be in as much trouble as the team that takes him.
But for the record, I've talked to a couple of NBA general managers who think Morrison could be better than I think. The night of Dec. 27, while Gonzaga played at Memphis, I was on the phone with one GM while Morrison was in the midst of scoring 34, including 4-of-6 3-pointers and 12-of-12 free throws.
Twice the GM interrupted our conversation on another subject to say, "I love this kid. He isn't afraid." We hung up just before Memphis switched 6-foot-9 freshman Shawne Williams -- with a wingspan the width of the Mississippi -- onto Morrison. He didn't score for the final 9:31. Memphis won 83-72. An NBA preview?
If Redick lands in the right spot, he'll turn out to be the more valuable pro because Redick isn't as all-around good as Morrison. That's right, Redick won't be expected to carry the Bobcats or the Knicks back to the Promised Land, as Morrison might be. Redick's role will be to spot up and shoot weakside 3-pointers -- which Redick already can do as well as any NBA specialist.
Redick is a much better shooter than Morrison -- and if the Miami Heat had Redick right now, Detroit would be in trouble. Heck, if LeBron's Cleveland Cavaliers had him, Detroit would be saying, "Uh-oh."
But if Miami or Cleveland had rookie "superstar" Morrison, neither would be significantly better.
In fact, the reason Gonzaga had too many close games down the stretch against weak conference foes was that it got too caught up in Dickie V syndrome, trying to force the ball to Morrison. The reason Gonzaga had a fairly easy time (90-80) with a fairly average Indiana was that, while Morrison had a rough time getting clean shots and went 5-of-17 (0-of-3 3s), three of his teammates took the game over. It wasn't that Morrison routinely drew double-teams and fed them for open shots. He had one assist. It was that J.P. Batista, Sean Mallon and Erroll Knight looked like underrated college talents who now give Gonzaga a decent shot against UCLA. Adam Morrison, NBA superstar? Will he make a far better pro than Florida's 6-11 Joakim Noah? LSU's 6-9, 310-pound Glen "Big Baby" Davis? UConn's Rudy Gay, Josh Boone or Marcus Williams? Villanova's Allan Ray or Randy Foye? Texas' LaMarcus Aldridge or P.J. Tucker? Duke's Shelden Williams?
Washington's Roy?
I could go on.
Would he be co-player of the year if LeBron or Carmelo were still in college? Dwight Howard? Sebastian Telfair? I could go on. But I leave that to Mr. Vitale.
Skip Bayless can be seen Monday through Friday on "Cold Pizza," ESPN2's morning show, and at 4 p.m. ET on ESPN's "1st & 10." His column appears twice a week on Page 2. You can e-mail Skip here.