By Skip Bayless
Page 2
The real shocker came late in conversation with a conservative NBA general manager the other night.
First, he stunned me with this statement about LSU's Tyrus Thomas: "I believe he's the best leaper we've ever seen."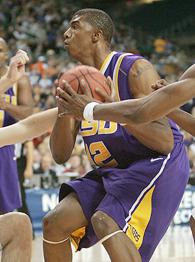 Streeter Lecka/Getty Images
Some NBA scouts think Thomas is a lock for the lottery if he comes out.
Better than a young Michael? Dominique? Ever?
"Ever. He just gets up so quick, so incredibly high -- and he's at least 6-9. At least. He has a chance to be very good in our league."
Then the GM offered some rather startling insights into LSU's Glen "Big Baby" Davis: "Great charisma, but his arms are awfully short for his body and he can't really jump." And Florida's 6-foot-11 Joakim Noah: "A talent, but he needs to put on so much weight and muscle that he's two years from having any impact in our league."
Though the GM marveled at George Mason's run, he picked Florida over LSU in Monday night's title game.
"Wait a second," I said. "What about UCLA?"
This time, he couldn't have surprised me more if he had said John Wooden was a terrible coach.
The GM said, "I cannot stand watching UCLA play, and I don't like a single kid on that team [for the NBA]. I might be wrong, but that team just wins so ugly that it really turns me off."
Yet in a way, this GM's reaction pretty much summed up this week's Final Four buildup. Florida! LSU! George Mason!
ucla.
Once upon a time, when Wooden's UCLA was winning 10 straight NCAA championships, the Final Four conversation began and ended with the Bruins. Now they're the afterthought, the party pooper, the Team Nobody Outside L.A. Wants to Win. Really, do many people in L.A. really care if this team wins?
I've got news for you: This team just might win.
Jed Jacobsohn/Getty Images
Bruins know that they're No. 1.
Once, America didn't want UCLA to win because the Bruins of Lew Alcindor and Bill Walton were too good. Now America doesn't want UCLA to win because it's too boring.
Now, Hollywood's baby-blue team slows it down, plays bump-and-grind defense and manages to make opponents look even worse on offense than it does. It's like Charlize Theron playing that ugly killer in "Monster." Then again, that role won her an Academy Award.
Beware these ugly Bruins.
Sure, America has fallen for LSU because the stocky kid has such a perfect catchy nickname, Big Baby, and because the even bigger baby, redshirt freshman Tyrus Thomas, keeps bumping his head on the arena ceiling.
America has piled onto George Mason's commuter bandwagon because analysts are calling the Patriots' 11-seed run to the Final Four the most improbable ever and because coach Jim Larranaga has been on ESPN more this week than Woody Paige.
America has hitched its fickle star to the ponytailed Noah's sudden rise because he looks like the newest "It Kid" -- the one who woke up one morning a month ago and realized, "I'm almost 7 feet tall, my father was a great tennis player and I can be an even greater basketball player."
And America has pretty much ignored the dynasty that seemingly went out with the hula hoop. What's a UCLA, daddy? A lot of kids wouldn't know "Yookla" from Kookla, Fran and Ollie.
One media theme this week has been, "Will the Final Four ratings suffer without a traditional basketball power?"
Uh, what about UCLA in the nation's second-largest market?
Something's brewin' at UCLA.
The Bruins keep winning games with uncharacteristically roughhouse defense, coached by Ben Howland, who came from Pitt and taught his pretty-boy high school heroes from Southern California some Big East toughness. You can't teach talent, but you can instill some physicality. You can change the culture from Culture Club to Fight Club.
Very quietly, this team has won 10 in a row. If you factor out the miraculous 73-71 comeback win over Gonzaga -- the Bruins didn't score a basket for the game's first 11-plus minutes -- UCLA has held opponents to 53 points during the streak. It also held Gonzaga to 29 in the second half.
The Bruins' defense often reduces opponents to whining to the refs and criticizing each other. It finally reduced Gonzaga's Adam "Big Baby" Morrison to tears -- with 2.6 seconds left, and his team down only two with UCLA going to the line. Naturally, UCLA missed the free throws and the Zags got one last shot.
Naturally, it missed.
Against Memphis, UCLA missed 19 free throws -- but made 20. High-flying Memphis made 9-of-15.
And UCLA won 45-40; Memphis coach John Calipari called it "the ugliest game I've ever seen."
The MVP of that Oakland Regional combined for only 26 points and 17 rebounds against Gonzaga and Memphis. But this is what Howland said about him, "God, did he make some incredible athletic plays ... He's very, very athletic."
Howland was talking about one of his two 7-footers. For the season, this 7-footer averaged only 6.9 points and 4.6 rebounds.
But you can call this guy Noah West.
Once upon a time, four years ago, Ryan Hollins was hailed by Bruins fans as the next great UCLA center -- maybe even the next Alcindor (who, of course, became Kareem Abdul-Jabbar). But Hollins was never anything but a soft, skinny target of ridicule -- until a month or so ago.
That's when he woke up one morning and realized: "I'm 7 feet tall and very athletic and if I just start playing as hard as I can, I can't be stopped."
Sound familiar? Hollins doesn't quite play with Noah's X Games passion and energy. But suddenly he is changing games with his inside scoring and shot-blocking. From nowhere, he has become an underrated force.
He could be the biggest reason UCLA wins on Monday night.
Jed Jacobsohn/Getty Images
Has anyone noticed how Afflalo drives the ball? Where's the buzz?
But here's one more: While these Bruins don't play the way Wooden's did, these guys are still UCLA Bruins. They still believe they are supposed to win more than Florida or LSU or George Mason believe they are.
So why isn't anyone buzzing about 6-5 guard Aaron Afflalo, who's the best combination jump shooter/defender left in the NCAA Tournament? What about Jordan Farmar's retro-cool pompadour and his ability to penetrate and dish off pick-and-rolls? Anyone notice Luc Richard Mbah Moute, the Pac-10 Freshman of the Year who does windows for Team Ugly?
Strong guards, lock-down defense, powerful inside presence (including the second 7-footer: 270-pound Michael Fey).
Isn't this the classic Final Four formula for success?
More from the GM on LSU: "Thomas' offensive skills are still awfully raw. And even though we've seen guys like [6-8, 284-pound Robert] 'Tractor' Traylor find their place in the NBA, I'm just afraid our game would often be played over Big Baby's head. I'd take him down the line, but certainly not in the top five."
As much as I'll root for LSU, I'm afraid its kids will be reduced to frustrated tears by the Bruins.
I'm afraid Noah West will outplay Joakim Noah on Monday night.
Get ready, America. Your party is about to be pooped.
Skip Bayless can be seen Monday through Friday on "Cold Pizza," ESPN2's morning show, and at 4 p.m. ET on ESPN's "1st & 10." His column appears twice a week on Page 2. You can e-mail Skip here.