By Skip Bayless
Page 2
OK, so merely broaching this subject is unfair.
As one NBA scout, who's black, said Sunday when asked to compare LeBron James and Kobe Bryant with Michael Jordan: "They're both black. That's about it."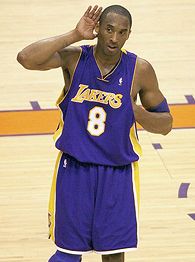 Rick Hossman/AP Photo
Would MJ act like this?
Then again, LeBron chose to wear No. 23, Jordan's old number -- or at least Nike scripted it and LeBron didn't refuse. And next season, Kobe will wear No. 24, his first high school number -- although, knowing Kobe, you have to believe he privately loves that it's one more than 23.
LeBron and Kobe have both made it pretty clear they think they could one day be at least as good as Jordan. So fair is fair: Which one now has the best chance?
LeBron.
Sweet Baby James, at 21, just took a baby step ahead of Kobe, who at 27, just took a giant step backward.
Let's start with Kobe.
Of course, he led the league in scoring and began to lead his teammates on and off the court. He began to win back the media and fans by effectively turning off the 24-hour security system that made him so famously unknown pre-Eagle and letting the outside world glimpse the post-trial Kobe, who can poke a little fun at himself and see the bigger picture and come off as a pretty-human father of two, even after scoring 81 points in one game.
Kobe is a little purer and better outside shooter than Jordan was. Kobe is a much more fluid, picture-perfect shooter than LeBron -- although LeBron has taught himself to be a better shooter at 21 than Jordan was after three seasons at North Carolina. Nothing too pretty about Jordan's or LeBron's jumpers -- LeBron's can look almost awkward. But no more so than, say, Arnold Palmer's swing or putting stroke looked. Like LeBron and Jordan, Arnie just made the ball go in the hole.
Kobe is much closer to Jordan in athletic explosion and gymnastic body control. LeBron's game is more raw power than grace, and compared with Jordan or Kobe, LeBron comes off as a little stiff and robotic. But LeBron is already a little better rebounder and shot-blocker than Jordan was -- and much more of an inside presence than Kobe can be.
Still, Kobe shames LeBron as a man-to-man defender. Kobe is in Jordan's league as a high-energy, lockdown, will-killing perimeter defender -- which was why it was so puzzling during the Phoenix series that Kobe didn't demand to guard Steve Nash and keep him from forcing so many switching mismatches off pick-and-rolls.
But in the first four games of that series, Kobe displayed a new Jordanesque maturity and command. Obviously, the Lakers' only hope against the Suns was for Kobe to take over in a new way -- to effectively play point guard and slow the tempo and get the ball inside when the Lakers had size mismatches and to take and make tough shots at the end of shot clocks … and games.
For four games, Kobe Bryant was right there with Michael Jordan, and it was a sight to behold. Kobe's Lakers -- "we're a team now" -- won three by forcing the Suns to play in the 90s -- 99-93, 99-92, 99-98.
But after Kobe out-Jordaned Jordan in Game 4, hitting "Mission: Impossible" shots to send the game into overtime, then win it at the buzzer, Kobe appeared to decide he was now greater than Jordan.
Well, greater than the pre-championship Jordan who thought he could win even if his teammates were mostly watching.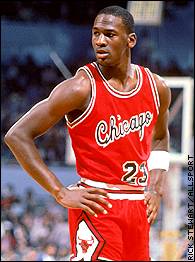 Michael Jordan had to go through growing pains before he became a champion.
Even the immature Jordan, playing with these Lakers, would not have allowed his team to blow a 3-1 lead to these Suns. Don't blame Kobe's teammates, who as a group are no worse than Nash's. Blame their "leader." Blame Kobe.
Kobe let Raja Bell get under his too-thin skin. Kobe's instincts were right: Who the heck is Raja Bell? But instead of ignoring him, he traded insults with him like two children in the school yard. For Kobe Bryant, this was pathetic.
He didn't have enough respect for Nash's leadership to stick with the "Slowtime" game plan in Game 5. He shot too quickly and let the Suns rediscover their up-tempo identity.
Nash left Smush Parker with a wide-open jumper at the end of regulation as he ran at Kobe. No matter how much confidence Parker had lost -- he was 0-for-5 -- Kobe should have built the kind of relationship with him that he could have said during the timeout: "If they double me, you're going to win the game."
That's the kind of confidence Jordan instilled in John Paxson and Steve Kerr. Ultimately, Jordan's greatest strength was making his teammates believe they were capable of doing whatever he asked them to do to win championships.
That's what Nash has done with an entire roster. Nash hosts team dinners on the road. Nash constantly hugs teammates after they make big shots. Nash makes them believe they're far better than they have a right to be.
Kobe is incapable of that.
On the verge of maturing into a leader, Kobe turned back into a one-man show. What a disappointment.
In Saturday night's Game 7, Kobe basically tried to outscore the Suns by himself -- and you had the halftime feeling that he would at least make it crazy close. But the rpm was too hot, especially in Phoenix. Although Kobe had looked unstoppable in scoring 23 in the first half, Phoenix was on pace to score 120 and led by 15.
So when the Suns came out even hotter in the third quarter, Kobe basically quit. For sure, he quit shooting. He scored one more point -- on a technical-foul free throw.
Jordan never would have done that.
Deep down, Kobe is still the spoiled brat.
Nash summed up Kobe Bryant by saying: "I don't know what to expect of him. Sometimes it's a little strange."
When the blowout ended, Kobe trotted straight to the locker room. Sure, the blood had been bad between these teams. But at least he could have shaken Nash's hand, or Shawn Marion's. But no. No class.
Ironically, that has been a legitimate knock on LeBron -- that he's too nice a kid, too chummy with and respectful of his elder opponents. Anyone who spent much time around Jordan knows he was the Chicago basketball equivalent of Capone -- a cold-blooded killer.
But in LeBron's first playoff series, against Washington, LeBron displayed two new Jordanesque qualities.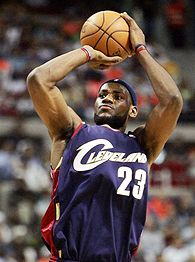 Paul Sancya/AP Photo
LeBron's jumper isn't as pretty as Kobe's, but neither was Jordan's.
First, he's beginning to attack the basket with Jordan's fury. Not Jordan's rage, but Jordan's emotional intensity. When in doubt -- and LeBron still has key-moment doubt in his hot/cold jump shot -- LeBron basically plays football. Yes, at around 260 pounds, this No. 23 is more Bear than Bull.
He's like an overgrown kid who doesn't quite know his own strength, ducking his head and freight-training down the lane. Actually, he has a better full-speed handle than Jordan did early in his career. Yet LeBron is getting as difficult to officiate as Shaquille O'Neal was in his Shaqzilla prime. Is it an offensive or defensive foul?
He's getting more and more of the calls. He got away with a walk before banking in the Game 4 winner. His teammate, Anderson Varejao, got away with basket interference in Friday night's Game 6.
But the key moment came after Gilbert Arenas missed the first of two free throws that could have given the Wizards a three-point lead with 15 seconds left in overtime. LeBron tapped him on the shoulder, basically told him that if he missed both free throws he was going to lose, then gave him a little slap on the chest.
Of course, no opponent should be allowed to touch a shooter before a free throw. Jordan would have sauntered past and made a subtle, side-of-the-mouth comment, something unprintable having to do with the shooter's lack of guts. For Jordan, this would have been calculated gamesmanship.
For LeBron, it looked more like guileless emotion. LeBron was so pumped up that he was just telling Arenas -- whom he respects -- exactly what he was thinking. You miss, we win.
Arenas missed.
LeBron, a much more gifted passer than Kobe, was double-teamed. LeBron passed off to Larry Hughes, who passed to Damon Jones, whose jumper won the game by one.
It had to mean a lot to his teammates to see LeBron play a Jordanesque mind game on Arenas. They had to be thinking, "Hey, maybe this kid can take us places."
Then again, LeBron's 22 first-half points didn't do his teammates much good in Sunday's Game 1 at Detroit. The Pistons led 69-48 at the half on the way to making a 113-86 statement.
It took the pre-rings Jordan three tries to get through Detroit.
LeBron will figure it out, next year or the next.
But he'll never quite be Jordan. And Kobe won't even get close.
Skip Bayless can be seen Monday through Friday on "Cold Pizza," ESPN2's morning show and at 4 p.m. ET on ESPN's "1st & 10." His column appears twice a week on Page 2. You can e-mail Skip here.