Commentary
Super Bowl XLIV's best prop bets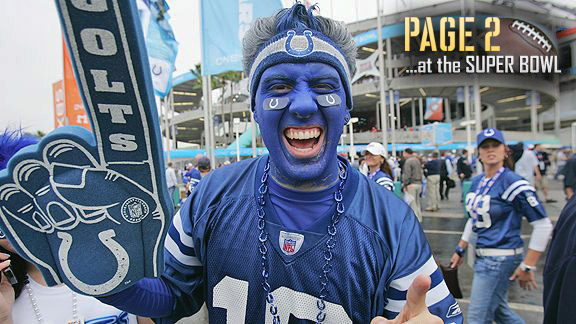 AP Photo/Lynne Sladky
MIAMI -- There are tons of great things about fantasy sports. The fact that I somehow make a living at them is right up there. As are the facts that they're fun and they give a good excuse to keep in touch with people -- but maybe most importantly, they give you a rooting interest in games you might not otherwise care about.
With the Super Bowl, you care about the game because, well, it's the Super Bowl. But unless you are a fan of the Saints or Colts, you don't really care. Maybe you want the Saints to win for a feel-good New Orleans story. Or maybe you hope the Colts do it so Peyton Manning can finally get a commercial. But there's nothing you're passionate about.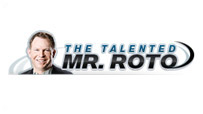 Which is where "props" come in. Many sports books offer proposition bets on just about anything to do with the game. They run the gamut from typical "over/under 36.5 pass attempts for Drew Brees" to the wackier. I'm here, on behalf of Page 2, to talk about the wacky ones. While I'm not advocating gambling, I will say that if you wanted to print out a list of them and pass it around at your Super Bowl party, it might be a lot of fun. Or not. Who knows what you find fun? Of course, you're reading me, so it's not like you have high expectations.
Anyway, without further ado, here are the top 30 Super Bowl props that I've found from a bunch of different sources … along with my predictions.
1. How long will it take for Carrie Underwood to sing the national anthem from first note to last note? Over/under 1:42?
I'm going over. She'll milk it.
2. Coin toss … heads or tails?
Tails never fails
3. Team to win the coin toss? Saints or Colts?
Who dat?
4. Team to receive the opening kickoff.
Which means I say the Colts get it first.
5. How many times will CBS show Kim Kardashian on TV during the game? Over/under 2.5
Over. Easiest bet on the board.
6. How many times will CBS show Archie Manning on TV during the game? Over/under 2.5?
Also over.
7. Who gets shown more during the game, Kim Kardashian or Archie Manning?
Reaction shots usually will happen after "their" player does something, so with Peyton more involved than Reggie, I say Archie here. Although, it's not what I am rooting for.
8. Number of times Hurricane Katrina is mentioned during the game. Over/under 2.5?
I'll say under, but I don't feel good about it.
9. What gets mentioned more? The Saints' connection to the tragic events of Hurricane Katrina or Pierre Garçon and his connection to the tragic events in Haiti?
Haiti is more on our minds these days.
[+] Enlarge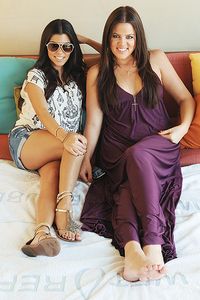 Denise Truscello/WireImageWho will get more camera time, Eli Manning or Khloe and Kourtney Kardashian?
10. Will Kim Kardashian be shown wearing a Saints shirt or jersey during Super Bowl XLIV? Yes or no?
I say yes. And it will be very tight.
11. What's the bigger total number? Kim Kardashian's measurements 34-26-39 or Reggie Bush's rushing + receiving yards?
I'm on Kim. Wait, that came out wrong.
12. During the game, will there be more TV shots of Eli Manning or Khloe and Kourtney Kardashian?
I gotta go Eli here. Same thinking as Archie.
13. Will fans throw something on field most likely: (first caught on camera)
• Soda -- 2-to-1
• Beer -- 4-to-1
• Hot dog -- 7-to-2
• Burger -- 15-to-1
• Nachos -- 10-to-1
• Chili -- 10-to-1
• Popcorn -- 2-to-1
• Pizza -- 3-to-1
• Coffee -- 5-to-1
• Pretzels -- 4-to-1
• Corn dogs -- 10-to-1
• French fries -- 8-to-1
Popcorn is the favorite here, but I'm going with soda. Why waste a good beer?
14. Number of fans ejected from game (on camera): Over/under 1.
I'll take the under. It's not as if the Raiders are playing. Or the Eagles. Or the couple that snuck into the White House will be there.
15. Will a fan run on the field? Yes at 3-to-1.
I say no.
16. Will a fan streak the field? Yes at 5-to-1.
I say no.
17. Will a fan parachute into the stadium? Yes at 9-to-1.
Also no.
[+] Enlarge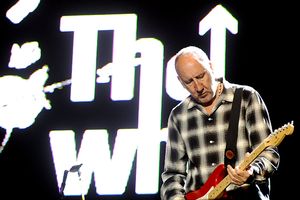 AP Photo/Andrew BrownbillWho says Pete Townshend is too old to smash his guitar? TMR, that's who.
18. Will there be a wardrobe malfunction?
• Pants -- 5-to-1
• Shirt -- 5-to-2
• Hat -- 2-to-1
• Shoes -- 3-to-2
Gimme … shirt!
19. Will there be a lip-synch malfunction? Yes at 5-to-1
No. They won't lip-synch
20. Will there be technical difficulties of any sort? Yes at 4-to-1
No.
21. Will a member of The Who …
• light a joint -- 10-to-1
• smoke a pipe -- 5-to-1
• open a beer -- 3-to-2
• take a shot -- 3-to-1
No, none of the above.
22. Will Pete Townshend smash a guitar on stage during the halftime show? Yes or no?
I say no … he's a bit old for that.
23. How many times will Pete Townshend do his legendary windmill move? Over/under 5.5?
Six strikes me as high, so I'm going under here.
24. Will Reggie Wayne or Marques Colston make a one-handed catch? Yes or no.
No, neither one will.
25. Time on the game clock when the winning team attempts to dump Gatorade on head coach. Over/under 45 seconds left in fourth quarter?
Over, I sadly don't think the game will be that close.
26. What color will the Gatorade dumped on the winning head coach be?
• Yellow: even money
• Clear or water: +150
• Green: +250
• Orange: +500
• Red: +1500
• Blue: +1200
What, "Tiger flavor" is no longer an option? Did something happen? Fine, I'll say clear or water.
27. How many current NFL players will be arrested during Super Bowl week? No = minus 170 (meaning the odds of at least one have been placed at 37 percent)
Maybe it's a new hope. Maybe it's everyone being overly cautious after a certain golfer made headlines. Maybe, just maybe, we, as a society, are evolving. But more than likely, it's just that in Miami, everything goes. So I say no.
28. Will a player give the crowd the "middle finger"? Yes = 8-to-1 against
Sorta feel Rex Ryan stole the thunder on this one. I say no.
29. First end zone celebration will be:
Ball spike: 2-to-1
Flex bicep: 4-to-1
Slam dunk football: 5-to-1
Punch goalpost: 15-to-1
Take out Sharpie and sign ball: 20-to-1
Group celebration: 20-to-1
Heisman Trophy pose: 25-to-1
"Ickey" shuffle: 100-to-1
Under the category of things I never thought I'd write: I'll take "slam dunk football" over "punch goalpost," please.
30. If Saints win, will Reggie Bush and Kim Kardashian be engaged by July 31, 2010? No = -150 (meaning the chance has been placed at 40 percent)
For the love of all that is holy, no. No no no no.
Matthew Berry -- The Talented Mr. Roto -- is on Twitter as @MatthewBerryTMR. He may or may not be interesting on it.