Mock Draft for the Ages big board
Here's the big board of ballyhooed prospects from which the Mock Draft for the Ages was conducted. These players were thought to be the surest of sure things as they headed into the professional ranks.
With a few exceptions, these are players who were selected in the top five overall in the NFL draft. These are pillars of hype, and some even lived up to it. You might argue we've overlooked some deserving candidates, such as Jim Brown and Dan Marino.
But remember, we're basing this on professional expectations. Brown was drafted No. 6 overall in 1957, and he was the third running back selected. Marino was picked No. 27 overall -- the sixth quarterback taken that year. Apparently, they weren't considered sure things.
QUARTERBACKS
Player
School
Draft Pos.
Year
Comment
Troy Aikman
UCLA
1
1989
Went 20-4 at UCLA, throwing 41 TDs and completing nearly 65% of passes
Steve Bartkowski
California
1
1975
Reportedly threw a ball 100 yards in practice; led nation in passing yards; also All-American first baseman
Sammy Baugh
TCU
N/A
1936
Two-time All-American with 39 TD passes; great punter and can fill in at defensive back
Drew Bledsoe
Washington State
1
1993
Pac-10 Player of the Year with 3,246 passing yards; 6-foot-5 junior; led WSU to 9-3 record
Terry Bradshaw
Louisiana Tech
1
1970
Among NCAA leaders in total offense as junior and senior, but Gulf States Conference wasn't best competition
David Carr
Fresno State
1
2002
Strong (bench 390), fast (4.7 40) and threw for 4,839 yards and 40 TDs as senior
Tim Couch
Kentucky
1
1999
SEC Player of the Year completed 71.5% of passes and 38 TDs; scouts love size (6-5) and pro-style offense at UK
John Elway
Stanford
1
1983
All the tools in the book, but never led to a Stanford to a bowl game and might want to play pro baseball
Roman Gabriel
N.C. State
2
1962
Two-time ACC Player of the Year; big and fast enough that he played some linebacker as well
Jeff George
Illinois
1
1990
Led Illinois to 10-2 record, but some scouts question his ability to get along with others
Bert Jones
LSU
2
1973
Son of NFL HOFer Dub, "The Ruston Rifle" threw 28 TD passes in 17 career starts
Bobby Layne
Texas
3
1948
Two-time top-10 Heisman finisher known for his toughness and leadership
Ryan Leaf
Washington State
2
1998
Led WSU to first Rose Bowl in 67 years, throwing for 3,637 yards and 33 TDs, but some question his maturity
Archie Manning
Mississippi
2
1971
One of the most exciting players in SEC history, threw 58 career TDs, finished fourth and third in Heisman voting
Eli Manning
Mississippi
1
2004
Great bloodlines; scored 39 on Wonderlic test; does he have football desire of older brother?
Peyton Manning
Tennessee
1
1998
Won 39 of 45 starts, but three losses to Gators have some wondering whether he falls short in big games
Donovan McNabb
Syracuse
2
1999
Two-way threat has proven to be much more than athlete playing QB: 23-to-6 TD-to-INT ratio as senior
Steve McNair
Alcorn State
3
1995
Put up eye-popping numbers (572 yards per game, 47 TDs) but in a weak I-AA conference
Rick Mirer
Notre Dame
2
1993
Three-year starter has the tools that have drawn comparison to former Notre Dame QB Joe Montana
Joe Namath
Alabama
12
1965
Bear Bryant has called him the "greatest athlete" he's ever coached; went 29-4 as starter
Carson Palmer
USC
1
2003
3,639 yards and 33 TDs as senior; great arm and good mobility for a guy his size (6-5, 235)
Jim Plunkett
Stanford
1
1971
Heisman winner after leading Stanford to first Rose Bowl trip in nearly 20 years
JaMarcus Russell
LSU
1
2007
Great combo of size, strength and mobility; completed 67.8 of passes as junior with 28 TDs
Alex Smith
Utah
1
2005
Led Utah to 12-0 mark with 28-to-4 TD-to-INT ratio and 583 rushing yards; arm strength an issue
Vinny Testaverde
Miami
1
1987
Heisman winner with 26 TD passes, but 5 INTs in Fiesta Bowl against Penn State raise question marks
Michael Vick
Virginia Tech
1
2001
No denying his arm strength and explosive running ability, but completed just 54.2% of passes as sophomore (and left early)
Vince Young
Texas
3
2006
Led Texas to BCS title with 3,036 passing yards, 26 TDs and 1,050 rushing yards
RUNNING BACKS
Player
School
Draft Pos.
Year
Comment
Ricky Bell
USC
1
1977
Led the nation in rushing as a junior in 1975 with 1,957 yards; holds USC's single-game record of 347 yards
Reggie Bush
USC
2
2006
Started in only 14 of his 39 games at USC, yet finished 10th in Division I-A history with 6,541 all-purpose yards
Earl Campbell
Texas
1
1978
Try tackling him one-on-one! Won the Heisman after leading the nation with 1,744 rushing yards
Billy Cannon
LSU
1
1960
Led LSU to AP national title as junior; won Heisman as senior and LSU immediately retired his No. 20
Ki-Jana Carter
Penn State
1
1995
Scored 38 TDs in three seasons; led the Nittany Lions to a 12-0 record and Rose Bowl berth in 1994
John David Crow
Texas A&M
2
1958
Dynamic back won Heisman despite appearing in just seven games; also intercepted five passes
Glenn Davis
Army
2
1947
"Mr. Outside" scored 59 touchdowns in his career at West Point and averaged 11.5 yards per carry in 1945
Eric Dickerson
SMU
2
1983
Wanted to attend Oklahoma, but mom talked him into SMU; 1,428 yards rushing, 19 TDs as junior, third in Heisman voting as senior
Tony Dorsett
Pittsburgh
2
1977
Three-time first-team All-American, rushed for 1,948 yards and 23 TDs in leading Pitt to national title as senior
Marshall Faulk
San Diego State
2
1994
Two-way rushing/receiving threat scored 62 touchdowns in his three collegiate seasons
Red Grange
Illinois
N/A
1925
Considering by many as the greatest college player ever, scored at least one TD in every college game he played
Alonzo Highsmith
Miami
3
1987
Scouts love his combo of size (235 pounds) and speed
Paul Hornung
Notre Dame
1
1956
Notre Dame's "Golden Boy" can do it all: Heisman winner led Irish in rushing, passing, punting, scoring and kickoff and punt returns
Bo Jackson
Auburn
1
1986
One of the greatest athletes scouts have ever seen; averaged 6.6 yards per carry during Auburn career
Edgerrin James
Miami
4
1999
Excellent speed (4.38 40) but not afraid to run inside; 1,572 yards, 19 TDs as junior
Ollie Matson
San Francisco
3
1952
Led nation in rushing and touchdowns; also won bronze medal in 400 meters at 1952 Olympics
Chuck Muncie
California
3
1976
Bruising 240-pounder with 4.5 speed in the 40; 1,477 yards rushing and 392 receiving in stellar 1975 season
Walter Payton
Jackson State
4
1975
"Sweetness" received zero scholarship offers from SEC schools; wound up with 3,563 rushing yards and 65 TDs at Jackson State
George Rogers
South Carolina
1
1981
Led nation in rushing (1,781 yards) en route to Heisman Trophy; at 228 pounds, perfect combo of size and quickness
Barry Sanders
Oklahoma State
3
1989
Some worry about his size (5-8), but had perhaps greatest college season ever: 2,628 rushing yards, 39 TDs, 7.6 ypc
Gale Sayers
Kansas
4
1965
"The Kansas Comet" was two-time All-American with his electrifying speed and open-field quickness
O.J. Simpson
USC
1
1969
Led nation in rushing both years at USC (1,451 yards in '67, 1,709 in '68)
Billy Sims
Oklahoma
1
1980
Won Heisman as junior with 1,762 yards, averaging 7.6 yards per carry; runner-up as senior
Jim Thorpe
Carlisle
N/A
1912
What can't he do on the football field? Could play running back and fill in as a defensive back, punter or kicker
Herschel Walker
Georgia
N/A
1982
Racked up 5,097 rushing yards in three seasons, leading Georgia to 32-2 mark
Curt Warner
Penn State
3
1983
Penn State's career rushing leader, led Penn State to 31-5 record his three seasons as starter, including '82 national title
Ricky Williams
Texas
5
1999
Heisman winner finished his career with 6,279 yards and 20 NCAA records; some scouts question his "quirky" personality
WIDE RECEIVERS
Player
School
Draft Pos.
Year
Comment
Wes Chandler
Florida
3
1978
Two-time All-American with blazing speed; scored 22 career touchdowns
Larry Fitzgerald
Pittsburgh
3
2004
'03 Heisman Trophy runner-up; scored at least one touchdown catch in 18 straight games
Irving Fryar
Nebraska
1
1984
Ranked No. 2 for Huskers in all-time receiving yards (1,196) despite playing on team that led the nation in rushing twice
Desmond Howard
Michigan
4
1992
Led the Big Ten in scoring with 138 points in 1991, winning the Heisman Trophy, Walter Camp Award and Maxwell Award
Don Hutson
Alabama
N/A
1935
All-American in 1934, led the Tide to a national title with a victory over Stanford in the Rose Bowl (6 catches for 165 yards)
Calvin Johnson
Georgia Tech
2
2007
Ranks first in Georgia Tech history in career receiving yards (2,927), touchdown receptions (28) and 100-yard receiving games (13)
Keyshawn Johnson
USC
1
1996
MVP of the 1995 Cotton Bowl and the 1996 Rose Bowl; USC single-season receiving yards leader with 1,434
Johnny "Lam" Jones
Texas
2
1980
One of the fastest men ever to don a football uniform won a gold medal in 4x100 relay at '76 Olympics
Dave Parks
Texas Tech
1
1964
The first Tech player to be named AP first-team All-American, the big end left Tech as the career leader in receptions (80)
Charles Rogers
Michigan State
2
2003
Big, strong receiver who can impact a game as a possession receiver or deep threat; caught 68 passes for 1,351 yards in '02
Charley Taylor
Arizona State
3
1964
Two-time All-American also played defensive back and pitched and played third base for the baseball team
Doak Walker
SMU
3
1949
Three-time All-American, won the Heisman Trophy as a junior; his influence at SMU had writers calling the Cotton Bowl "The House That Doak Walker Built"; also lettered in basketball and baseball
Michael Westbrook
Colorado
4
1995
A 6-4, 230-pound physical marvel with 4.3 speed and big-play ability, finished with ,060 receiving yards in 1992
TIGHT ENDS
Player
School
Draft Pos.
Year
Comment
Vernon Davis
Maryland
6
2006
Scouts drool over a tight end with 4.38 speed in the 40; ended his college career with 1,371 yards and 83 receptions, average 16.5 yards per catch
Mike Ditka
Pittsburgh
5
1961
All-American his senior year (1960), led the team in receiving all three years; also was the team's punter
Kellen Winslow Jr.
Miami
6
2004
First-team All-American in junior year and also won the Mackey Award; outruns linebackers; needs to working on blocking
OFFENSIVE TACKLES
Player
School
Draft Pos.
Year
Comment
Tony Boselli
USC
2
1995
Three-time all-Pac-10 performer, athletic enough to have played tight end and linebacker in high school
Bob Brown
Nebraska
2
1964
Big 6-5 All-American led Nebraska to 10-1 record as senior and first Big 8 title since 1940
Leonard Davis
Texas
2
2001
Mountain of man (6-6, 370 pounds) who projects as a devastating run blocker
D'Brickashaw Ferguson
Virginia
4
2006
Has height (6-6), long wingspan and frame to add to his 312 pounds; technically sound with terrific footwork
Robert Gallery
Iowa
2
2004
Can't-miss prospect won the Outland Trophy with great athleticism (4.99 in the 40) and pass-blocking ability
Chris Hinton
Northwestern
4
1983
One of the best players in Northwestern history, earned All-American honors as a senior
George Kunz
Notre Dame
2
1969
Notre Dame's co-captain has the size (6-5) and brains (academic All-American) to excel in the NFL
Jake Long
Michigan
1
2008
Massive frame (6-7), wingspan and versatile (played left and right tackle), two-time Big Ten Lineman of the Year
Tony Mandarich
Michigan State
2
1989
Some scouts call him the greatest offensive line prospect they've ever seen; should be NFL star
Anthony Munoz
USC
3
1980
Big and athletic (played baseball at USC), two-time All-American but missed most of senior season with knee injury
Jonathan Ogden
UCLA
4
1996
Four-year starter, Outland Trophy winner and NCAA shot-put champ, allowed two sacks his final two seasons
Orlando Pace
Ohio State
1
1997
Two-time Lombardi Award winner and Outland winner didn't allow a sack his junior or senior seasons
Chris Samuels
Alabama
3
2000
Paved way for Shaun Alexander, winning the Outland Trophy and showing speed (5.0 in the 40) and agility
Dean Steinkuhler
Nebraska
2
1984
Outland and Lombardi winner played guard for Cornhuskers but projects to play either guard or tackle in the pros
Ron Yary
USC
1
1968
Opening lanes for O.J. Simpson, unanimous All-American helped lead USC to national title
OFFENSIVE GUARDS
Player
School
Draft Pos.
Year
Comment
Bill Fralic
Pittsburgh
2
1985
Two-time unanimous All-American finished eighth and sixth in Heisman voting as junior and senior
John Hannah
Alabama
4
1973
"In over 30 years with the game, he's the finest offensive lineman I've ever been around," said his coach, Bear Bryant
Tom Mack
Michigan
2
1966
An engineering major, Mack helped Michigan win the 1965 Rose Bowl, its first bowl game in 14 years
DEFENSIVE ENDS
Player
School
Draft Pos.
Year
Comment
Mike Bell
Colorado State
2
1979
Senior season cut short by knee injury, but dominated as a junior with 103 tackles and 15 sacks
Courtney Brown
Penn State
1
2000
Playmaker who finished his Penn State career with 33 sacks and 70 tackles behind the line of scrimmage
Chris Doleman
Pittsburgh
4
1985
Versatility -- fast enough to play linebacker, big enough to play defensive end -- makes him dangerous on the outside
Eddie Edwards
Miami
3
1977
Consensus All-American averaged two sacks a game his senior season
Steve Emtman
Washington
1
1992
Outland winner required three linemen at times to block him in leading Huskies to national title and finishing fourth in Heisman voting
Claude Humphrey
Tennessee State
3
1968
With Humphrey anchoring the defense, Tigers lost just three games during his three varsity seasons
Ed "Too Tall" Jones
Tennessee State
1
1974
Dominated his small college foes and, despite his height (6-9), has the speed to play outside; but will he pursue a pro boxing career?
John Matuszak
Tampa
1
1973
No denying his dominating presence (6-8, 280 pounds), but concerns abound about his bad-boy reputation
Keith McCants
Alabama
4
1990
Big, strong and fast, McCants dominated the SEC with his sideline-to-sideline play
Walt Patulski
Notre Dame
1
1972
The leader of the Irish defense, the Lombardi winner totaled 74 tackles, 17 behind the scrimmage, as a senior
Julius Peppers
North Carolina
2
2002
A great athlete who also played basketball for UNC, the 6-7 Peppers recorded 30.5 sacks and 43 quarterback pressures during his career
Simeon Rice
Illinois
3
1996
The two-time All-American with 4.5 speed in the 40 draws comparisons to Lawrence Taylor
Lee Roy Selmon
Oklahoma
1
1976
With Selmon anchoring the D, Sooners went 32-1-1 during his three years as a starter; Outland and Lombardi winner
Kenneth Sims
Texas
1
1982
"He has the highest grade of any player this year, a grade similar to that of an O.J. Simpson," Redskins GM Bobby Beathard said in '82
Bruce Smith
Virginia Tech
1
1985
"The Sack Man" destroyed offensive tackles, compiling 22 sacks as a junior and winning the Outland Trophy as a senior
Bubba Smith
Michigan State
1
1967
An imposing physical specimen at 6-7, 280 pounds, the two-time All-American led MSU to a 19-1-1 mark his final two seasons
Neil Smith
Nebraska
2
1988
The All-Big 8 defensive tackle should be a feared pass-rusher in the pros with his 4.55 speed
Art Still
Kentucky
2
1978
The 6-7 All-American led the Wildcats to an impressive 10-1 record in '77
Andre Wadsworth
Florida State
3
1998
The onetime 217-pound walk-on grew into a can't-miss 267-pound end who recorded 16 sacks as a senior
Mario Williams
N.C. State
1
2006
Possesses great combo of size, speed and athletic ability, although scouts worry that he took too many plays off in college
DEFENSIVE TACKLES
Player
School
Draft Pos.
Year
Comment
Buck Buchanan
Grambling State
1
1963
NAIA All-American; at 6-7, 270 pounds, scouts rave about his size and speed (reportedly ran the 100-yard dash in 10.2 seconds)
Tony Casillas
Oklahoma
2
1986
Consensus two-time All-American and Lombardi Award winner led Sooners to '85 national championship
Ray Childress
Texas A&M
3
1985
Two-time All-American had 117 tackles and 15 sacks as a junior and 124 tackles and 10 sacks as a senior
Sean Gilbert
Pittsburgh
3
1992
Only played two years at Pitt but has three main stats going for him: 6-5, 318 pounds, 4.8 speed in the 40
Joe Greene
North Texas
4
1969
A consensus All-American, Greene's "Mean Green" defense allowed less than 2 yards per carry during career
Cortez Kennedy
Miami
3
1990
The 300-pounder helped the Canes win the national title as a senior with 92 tackles, 7.5 sacks and 16 quarterback pressures
Russell Maryland
Miami
1
1991
The consensus All-American became the first Miami player to win the Outland Trophy
Steve Niehaus
Notre Dame
2
1976
Consensus All-American who finished 12th in the Heisman voting as a senior
Merlin Olsen
Utah State
3
1963
Won the Outland Trophy as the Aggies allowed just 50.8 yards rushing per game; has professed interest in acting career
Darrell Russell
USC
2
1997
"It's amazing how quick he is for such a big man. He moves around like an adagio dancer," says former Cowboys GM Gil Brandt
Randy White
Maryland
2
1975
A fullback as a freshman, White moved to defense and became the ACC Player of the Year and Outland and Lombardi winner as a senior
Dan Wilkinson
Ohio State
1
1994
"Big Daddy" can bench-press 500 pounds and jump 30 inches; what's not to like?
LINEBACKERS
Player
School
Draft Pos.
Year
Comment
LaVar Arrington
Penn State
2
2000
A two-way star in high school, Arrington became a two-time All-American at outside linebacker for the Nittany Lions
Carl Banks
Michigan State
3
1984
A three-time All-Big Ten selection, at 6-4, 235 pounds, Banks has speed to rush the QB and the size to take on RBs
Chuck Bednarik
Penn
1
1949
All-American who played linebacker and center; finished third in the Heisman voting and won the Maxwell Award
Cornelius Bennett
Alabama
2
1987
His devastating sack of Notre Dame QB Steve Beuerlein shows how unstoppable he can be on the rush
Brian Bosworth
Oklahoma
N/A
1987
"The Boz" captured the Butkus Award twice as college football's top linebacker, but is he more hype than talent?
Aundray Bruce
Auburn
1
1988
At 6-5, 255 pounds and possessing 4.53 speed in the 40, Bruce's physical gifts are unlimited; but some question his intensity
Dick Butkus
Illinois
3
1965
Nobody questions the intensity of Butkus, the Big Ten MVP and two-time All-American who never takes a play off
Johnie Cooks
Mississippi State
2
1982
Ranks third in school history with 24.0 sacks and fifth in total tackles with 392
Quentin Coryatt
Texas A&M
2
1992
Second-team All-American his junior year, known for his famous hit on TCU's Kyle McPherson
Tom Cousineau
Ohio State
1
1979
Prototypical inside linebacker, two-time All-American once recorded 29 tackles in a game
Kevin Hardy
Illinois
2
1996
Consensus All-American as a senior when he won also won the Butkus Award
Marvin Jones
Florida State
4
1993
An intimidating hitter whom scouts compare to Mike Singletary, Jones has all the tools: 4.51 speed and benching 225 pounds 20 times
Bronko Nagurski
Minnesota
N/A
1929
Some call him the greatest college player ever; can play anywhere: tackle, linebacker, end, guard or fullback
Tommy Nobis
Texas
1
1966
Known for his aggressive play, two-time All-American won the Outland Trophy his senior season
Junior Seau
USC
5
1990
A ball hawk with a motor. Pac-10 Defensive Player of the Year in 1989 with 72 tackles -- 27 for loss.
Billy Ray Smith
Arkansas
5
1983
Two-time All-American made 299 career tackles for Razorbacks -- with school-record 63 for loss.
Lawrence Taylor
North Carolina
2
1981
Unanimous All-American as a senior in 1980. That season, he had 16 sacks and forced three fumbles -- recovering all three.
Derrick Thomas
Alabama
4
1989
Butkus Award winner as a senior in 1988 with 88 tackles. Made 204 career tackles.
DEFENSIVE BACKS
Player
School
Draft Pos.
Year
Comment
Bennie Blades
Miami
3
1988
Anchored Miami's defense during 1987 national championship season with big, bruising hits from safety position
Kenny Easley
UCLA
4
1981
Three-time All-American, school leader in career interceptions with 19; also drafted by the Chicago Bulls
Quentin Jammer
Texas
5
2002
First-team All-American and team co-MVP senior year also tied school record with seven interceptions
Mike Haynes
Arizona State
5
1976
Two-time All-American; led the Sun Devils with 11 interceptions as a junior
Terence Newman
Kansas State
5
2003
All-American, Jim Thorpe Award winner and a finalist for the Bronko Nagurski Trophy as a senior in 2002
Bruce Pickens
Nebraska
3
1991
Set Huskers' single-game record for yards lost on tackles with 29; All-Conference in 1989
Johnny Robinson
LSU
3
1960
First-team All-SEC in 1958, the Tigers' national championship year; member of the LSU Hall of Fame
Deion Sanders
Florida State
5
1989
Known for his speed, the two-time All-American had 14 interceptions in his career and also returned punts; ran track and played baseball at FSU
Shawn Springs
Ohio State
3
1997
Big Ten Defensive Player of the Year in 1996; had 152 career tackles, six interceptions and five tackles for loss; averaged 25.2 yards on kickoff returns
Sean Taylor
Miami
5
2004
Ranks first all time in interceptions with 10 and second all time in interception return yards (306) and interceptions returned for touchdowns (3)
Eric Turner
UCLA
2
1991
Intercepted 14 passes for UCLA-record 315 return yards. Ran a 4.49 in the 40 and bench-pressed 408 pounds
Charles Woodson
Michigan
4
1998
Became first primarily defensive player to win Heisman and intercepted eight passes as a junior in 1997
MOCK DRAFT FOR THE AGES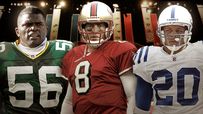 What if we could hop in a time machine and bring back history's best prospects for this year's draft?
• Selections Nos. 25-32, others
• Big board: The top 150 prospects ever
• Len Pasquarelli: Elway at No. 1
• Jeremy Green: Video analysis
• Zoom photo gallery: Top 10 picks
ESPN.COM NFL DRAFT COVERAGE
• Draft Central 2009 home page
ESPN.COM NFL MOCK DRAFTS
• Todd McShay: All seven rounds (April 21)
ESPN Top Headlines