By Gino Bona
Special to Page 2
EDITOR'S NOTE: Page 2, along with ESPN2's "Cold Pizza," is counting down the 15 Most Tortured Sports Cities in America. This week Gino Bona explains the pain of Buffalo fans (below), and we also have our list of the Top 10 most painful moments in Buffalo's sports history.
There's no way to sugarcoat it: Buffalonians are used to torture.
Buffalo gets hammered with snow. And I'm not talking about any ordinary snow. No, I'm talking about "lake effect" snow -- when masses of cold air siphon moisture from Lake Erie and dump ungodly bands of fluffy white stuff across Western New York.
Twenty years ago, after yet another blizzard pounded my hometown, Buffalo's mayor, Jimmy Griffin, went on TV to offer sage advice to thousands of residents trapped in their homes.
"Wait it out with a six-pack of beer and a football game."
That pretty much sums up Buffalonians. We love two things: beer and our football team. And nothing has driven so many of us to tip back too many Molsons more than the Buffalo Bills.
THE 15 MOST TORTURED SPORTS CITIES
15. Tampa Bay
14. Kansas City
13. Cincinnati
12. Phoenix
11. Washington, D.C.
10. Houston
9. San Diego
8. Atlanta
7. Seattle
6. Minneapolis
5. Boston
4. Chicago
3. Buffalo

Want to find out what the No. 2 city is? Tune into ESPN2's "Cold Pizza" next Tuesday morning. Then head back to Page 2 to read all about it.
---
After spending an entire decade as the Miami Dolphins' gimp, the Buffalo Bills racked up a league-best 13-3 record in 1990. Jim Kelly guided the "No Huddle" offense by giving Thurman Thomas 30 touches per game and throwing cloud-scraping bombs to James Lofton.
The defense was equally outstanding as Bruce Smith recorded 19 sacks, Cornelius Bennett terrorized the offense's backfield, and Darryl Talley freaked out opponents with his mullet and Spider-Man Under Armor.
After defeating the Dolphins in the playoffs, Buffalo hosted the Los Angeles Raiders in the AFC championship game.
It was a perfect day. Eighty thousand people came to Rich Stadium to watch the Raiders get a whoopin' and I had tickets in the end zone section. We got exactly what we wanted: a blowout. We celebrated throughout the afternoon by drinking hot chocolate with Rumple Minze as my twin brother proudly displayed his "Howie 'Ain't So' Long" sign to the NBC cameramen.
Speaking of NBC, the most revered player ever to wear a Bills uniform was working the game as a sideline reporter for The Peacock that day. O.J. Simpson came out of the tunnel in the second quarter to a raucous ovation from the crowd.
Simpson was the ultimate sports hero for any kid growing up in Buffalo. He was the first running back to rush for 2,000 yards in a season, and he starred in the "Naked Gun" trilogy. He was the perfect combination of athlete and celebrity -- one day you're chanting "Juice, Juice, Juice" as he's piling up yards, and the next day you're chanting "Nord-berg, Nord-berg, Nord-berg" as he's chasing down bad guys on the big screen.
The final score was 51-3. The Bills were going to Super Bowl to face the New York Giants. And people across Buffalo were eager to be regarded nationwide as a champion instead of the Snow Capital of America.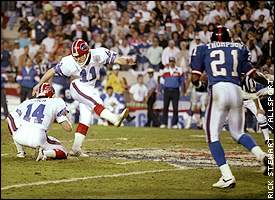 One of the most famous images in NFL history -- Norwood attempting his ill-fated kick.
---
The Bills were a 6-point favorite to beat the New York Giants in Super Bowl XXV.
Well, you already know how the game ended. With four seconds left, Scott Norwood lined up to attempt a 47-yard field goal. The Bills stood on the sideline holding hands, while my group of friends and I joined in with the "Hands Across Buffalo" campaign from my living room.
And then came those two words I still can't type.
(Hint: it rhymes with "fried kite.")
Yup, Norwood missed. The Giants won 20-19, and were presented with the unenviable task of carrying Bill Parcells off the field on their shoulders.
(Scott Norwood Tangent: Norwood faced far more pressure with his kick in Super Bowl XXV than Adam Vinatieri did with his two game-winning Super Bowl boots. Why? Because the Bills were losing when Norwood attempted his 47-yarder. Vinatieri kicked both his field goals when the score was tied. If he misses, oh well, the games go into overtime. Norwood misses his kick and the Bills lose the Super Bowl, Buffalo jumpstarts its case to be included on this dubious list, and the storyline for "Ace Ventura" is hatched.)
---
Moments after the game ended, my brother turned to me and said, "They'll make it back next year."
Now that was an understatement.
The Bills went on to lose Super Bowl XXVI.
And Super Bowl XXVII.
Ditto for Super Bowl XXVIII.
By 1994, I developed a burning hatred for Roman numerals.
Buffalonians felt like Phil Connors in "Groundhog Day" -- we went through the same agonizing storyline for four straight years ... except we didn't have the luxury of blowing off some steam by slugging Ned Ryerson.
We thought Super Bowl XXV was the beginning of a glorious run, but it was the beginning of the most notorious string of second-place finishes in pro sports history.
From 1990 to 1994, I watched the Bills look invincible during the regular season only to suffer mind-numbing atrocities in the Super Bowl.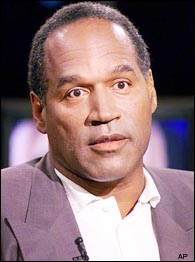 O.J. may have been acquitted, but the whole mess has to still bother Buffalo fans.
I watched Thurman Thomas miss Buffalo's first series in Super Bowl XXVI because he couldn't find his helmet.
I watched Mark Rypien transform into Joe Montana.
I watched the Bills commit nine turnovers in a single game.
I watched Jimmy Johnson coin the phrase, "How 'bout them Cowboys?"
And if that weren't enough, I watched Nordberg get charged with two counts of murder.
It's been 10 years since Buffalo's favorite team and player stumbled in front of a global audience -- no Super Bowl victories and a tarnished sports hero. It's like another brutal storm walloping my beloved hometown.
Perhaps we should heed Mayor Griffin's advice once again. Let's head down to the corner store and grab another six-pack.
Because we're still waiting it out.
Gino Bona is a contributor to Page 2 and the creator of "Wink & The Gun."  He can be reached at gbona@winkandthegun.com.